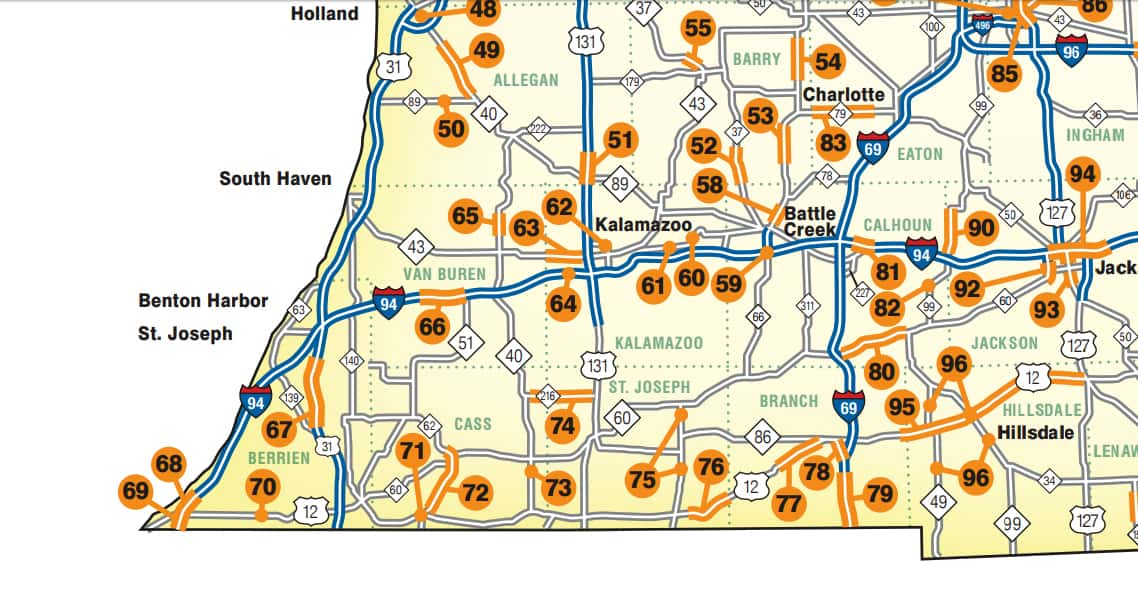 If you were counting on an unfair share of that $175-million in road money recently approved by the Michigan Legislature to come to Michigan's Great Southwest, don't hold your breath. The Michigan Department of Transportation today is rolling out it's 2018 Construction Map online…and there's not a lot in our region on the docket beyond the bridge projects they already announced last week for routes passing over I-94 in several areas.
The new MDOT 2018 Paving the Way state construction map is now online for you to download, and I've created a link to it below. The folks at MDOT are encouraging you to download the map yourself and then print it at home or at your nearest library or print service provider. The map is available online and will also be on display in all rest areas and Welcome Centers across the state in the coming weeks. Here is a link to the newly created map:
MDOT cites these as being among the "high-impact projects" featured on the map:
I-696 reconstruction and resurfacing in Oakland and Macomb counties (projects 117 and 118 on the map),
The two-year I-96/I-196 overpass conversion project in Grand Rapids (136),
The two-year I-94 pavement repair project through Jackson (94),
3 miles of I-69 reconstruction in Flint (104),
Various I-94 resurfacing and reconstruction projects, plus bridge improvements, throughout southwest Michigan (59, 64, 66, 68, 69, and 81),
The two-year US-2 bridge replacement project in Escanaba (8), and
Multiple resurfacing projects along I-75 in the northern Lower Peninsula (14, 20, 21, and 109).
Kirk Steudle is State Transportation Director and head of MDOT. He says, "The yearly construction map is an excellent snapshot showing the extensive work MDOT has planned for the year to improve the state's roads and bridges." He adds, "It's also a useful tool to help drivers prepare for work zones along their planned route. Please remember to slow down in construction zones and avoid all distractions. The workers you're trusting to fix the roads are trusting you with their lives. Drive safely and responsibly in their work area. We want everyone to make it home each and every night."
In our region, these are the highlighted projects on the docket:
Map Point 66 — Repave and reconstruct 5.8 miles of Eastbound I-94 lanes from 56th Street to M-51. Shoulder and lane closures will take place with single lane closures from March to September.
Map Point 67 — Seal cracks and joints on 8.6-miles of Southbound US-31 (St. Joe Valley Parkway) from Napier to M-139, resulting in single lane closures from April through June.
Map Point 68 — Repair bridges at M-239, Kruger Road, Lakeside Road, and Union Pier Road, plus Maudlin Road over I-94. There will be shoulder and lane closures with traffic signals on I-94…a temporary traffic signal on M-239…and detours on Kruger, Lakeside and Maudlin Roads with a temporary signal on Union Pier Road from March through September.
Map Point 69 — Resurface 3.2 miles of I-94 from M-239 to Kruger Road with one and two lane closures from September through November.
Map Point 70 — Repair the US-12 bridge over the Galien River, utilizing a temporary traffic signal from May through July.
From Houghton in the Upper Peninsula to the Michigan-Indiana state line there are a total of 143 projects on the map, including 11 in Grand Rapids, and more than 20 in the Greater Detroit region.
The most up-to-date construction information for state roads is always available on the Mi Drive traffic website at www.michigan.gov/drive.
The photo accompanying this story on Moody on the Market.com is a small piece of the MDOT reflecting the projects in our region.