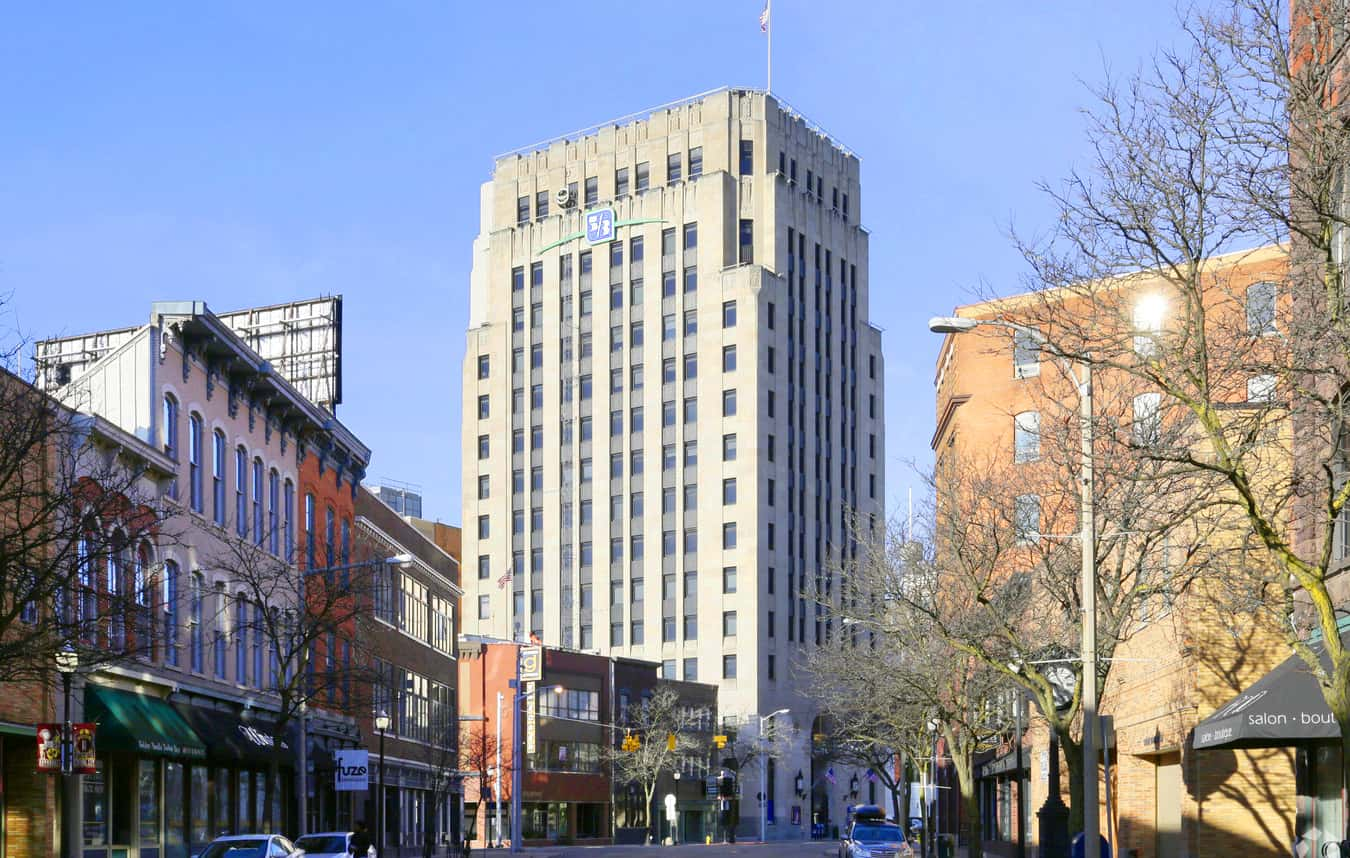 The real estate development and property management company that owns or manages properties from Petoskey to South Bend and many other communities in between has acquired the iconic Fifth Third Bank Building in downtown Kalamazoo, a community where they have extensive holdings.
The Hinman Company has announced their acquisition of the Fifth Third building, at 136 E Michigan Avenue, in Kalamazoo.  Roger Hinman is CEO of the Hinman Company. He says, "Having been invested in Downtown Kalamazoo for many decades, we are proud to bring this iconic building into our portfolio."
The 15 story, more than 80,000 square foot building is located in downtown Kalamazoo, in the heart of the Central Business District near the intersection of E Michigan Avenue and Portage Street.
Kalamazoo's central business district is home to a variety of businesses employing nearly 15,000 people, and much of the downtown's fine dining establishments, retail shops, and entertainment venues are located in that district. Hinman says the Fifth Third Bank Building is an ideal location for businesses looking to be in a vibrant downtown location.
The Hinman Company has had a longstanding commitment to historical structures, including the Kalamazoo State Theatre, the Battle Creek Tower in Battle Creek, and 77 Monroe Center in Grand Rapids. The company has pledged to continue the legacy of the historic Fifth Third building.
Built in 1929, the timeless Art Deco building was designed by Weary and Alford of Chicago, who later designed the Kalamazoo City Hall building at 241 W South Street. Originally constructed for the Kalamazoo Trust and Savings Bank, the building has been under the ownership of the American National Bank, Old Kent Bank, and more recently, Fifth Third Bank.
The Hinman Company will oversee the management and leasing of the building, and Fifth Third Bank will continue to be a major tenant. Hinman says, "The building will remain a multi-tenant office building for the long-term."
Other notable downtown Hinman projects include the nearby Skyrise Business Center, Skyrise Luxury & Elderly Apartments, and its most recent joint venture project with AVB Inc., 400 ROSE; which is a dynamic, four-story, multi-use development that will bring 135 residential units and new retail space to Downtown Kalamazoo, at the corner of Rose and Lovell Streets.
In South Bend, Hinman's portfolio includes the 124,000 square foot Key Bank tower in downtown South Bend.
Founded in 1977 by Roger E. Hinman, the Portage-based Hinman Company has established a diverse portfolio of office, retail and multi-family residential properties. Today, Hinman owns and manages approximately four million square feet of space across the Midwest. Hinman is headquartered at The Trade Centre, 750 Trade Centre Way, Suite 100, in Portage, Michigan.
Photo of Fifth Third Bank Building is courtesy of the Hinman Company.