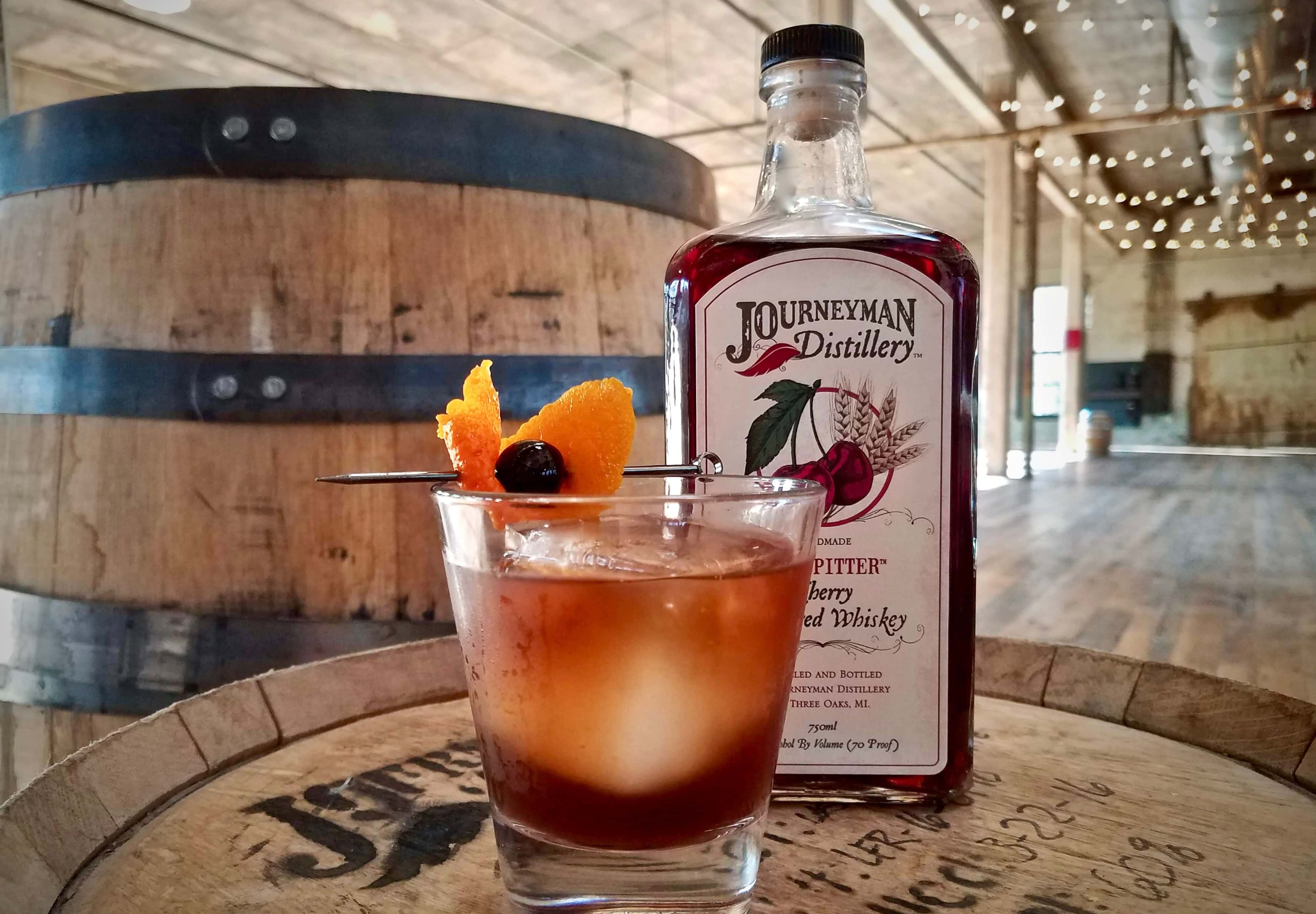 While Journeyman Distillery's newest release will have you feeling like you're sitting on a sun-splashed dock at the lake spitting cherry pits into a bucket, the last thing you'll want to do is spit it out. A week from tomorrow the Three Oaks-based distiller rolls out their new Pit-Spitter Michigan Cherry Rye Whiskey.
Journeyman admits that fresh Michigan Cherries were the inspiration for their new Pit-Spitter Cherry Whiskey, available at their Three Oaks distillery beginning on Friday, October 18th.
Made with Michigan Montmorency cherries, Pit-Spitter starts with Journeyman's acclaimed Last Feather Organic Rye Whiskey. Featuring a mashbill of 60-percent locally produced rye and 40-percent locally produced wheat, Last Feather is Journeyman's best-selling and most awarded whiskey. Macerated whole cherries are added to the cask-strength spirit and soaked for 30 days—imparting the natural colors and flavors that make Pit-Spitter unique.
Journeyman Distiller Matt McClain says, "We're not using short cuts like cherry concentrate or flavored syrup," suggesting that rather, "There's literally a half-pound of cherries infused into each bottle of spirit."
The grain-to-bottle process is time consuming and labor intensive, but Journeyman founder, Bill Welter, believes it is worth it, saying, "We wanted to create a cherry spirit that reflects the heritage and terroir of Michigan's farmlands—not an artificially flavored approximation."
After the macerated cherries are removed, the 120-proof spirit is cut to a bottling strength of 70-proof with natural water and a touch of sugar to give it a nice sweet kick—perfect for mixing or sipping.
Journeyman Distillery will release its new Pit-Spitter Cherry Whiskey on Friday, October 18th, available at their Three Oaks distillery only. The new spirit will be priced at $24.99 for 375ml bottles and $44.99 for 750ml. For more information you can call (269) 820-2050.
Founded in 2010, Journeyman Distillery crafts, bottles, sells, and serves organic and kosher certified spirits at the historic Featherbone Factory in Three Oaks. The distillery prides itself on using the highest quality grains sourced from Midwestern organic farmers in its award-winning spirits as well as at its Staymaker restaurant. Journeyman products are distributed in states across the country and also available for purchase direct from the distillery. Learn more and find your spirit online at journeymandistillery.com.