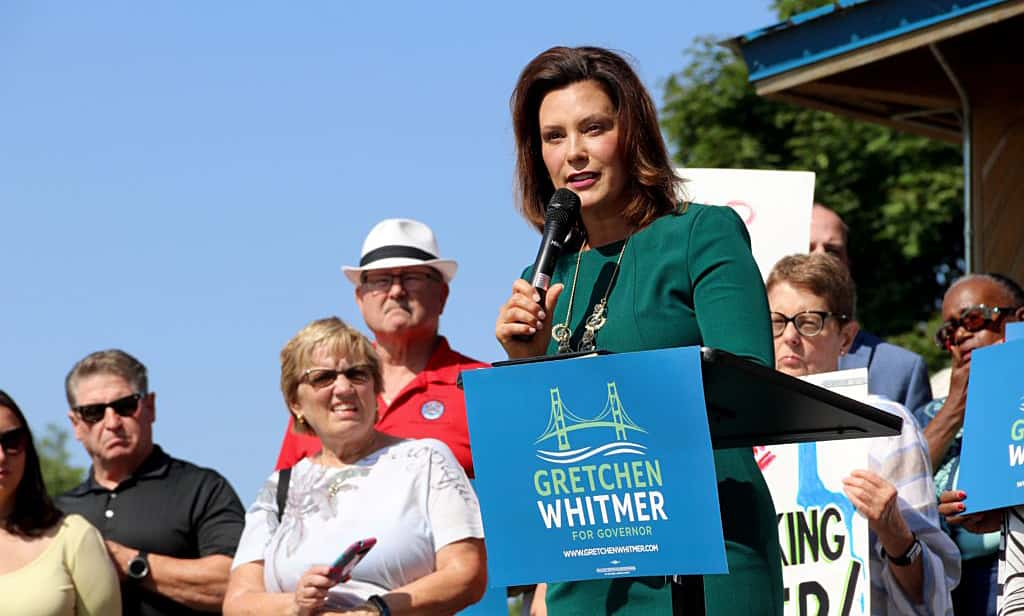 Michigan has a new Governor-Elect and her name is Gretchen Whitmer. Projections this evening from multiple sources have given Whitmer the nod, not the least of them being the Chairman of the Democratic Governor's Association, Washington Governor Jay Inslee who issued the following statement on Governor-Elect  Whitmer's victory in Michigan's gubernatorial race:
"Congratulations to Governor-Elect Gretchen Whitmer on her victory in Michigan. Gretchen won by focusing on the issues that matter the most to Michiganders: health care, education, clean water, jobs, and transportation. Her relentless determination to make the lives of her constituents better and pragmatic approach to getting things done will make her a great governor."
"This is a major Democratic pickup in a critical battleground state. As part of its 'Unrig the Map' initiative, the DGA invested early to ensure Democrats would be a strong position heading into the general election. With Gretchen Whitmer as governor, Michigan will see fairer electoral maps that better represent the state."
"Gretchen Whitmer was one of the strongest, most impressive candidates of the 2018 cycle: That's how she solidly won back a state that Donald Trump carried two years ago. Gretchen will be a great leader for Michigan, working to improve schools, provide clean water and, yes, fix the damn roads."
Inslee points out that the DGA and its allies were "proud to invest more than $15.1 million in Michigan."
Whitmer was leading from the opening gun and was projected to win with more than 53-percent of the vote at the time her race was called.
Whitmer was born in 1971 in Lansing, as the eldest of three children to Richard and Sherry Whitmer, who were both lawyers. Her father served as head of the state's Department of Commerce under Governor William Milliken and was the president and CEO of Blue Cross Blue Shield of Michigan between 1988 and 2006.
Whitmer's mother worked as an assistant attorney general under Attorney General Frank Kelley.
Her parents divorced when she was 10 years old, and she and her siblings lived with their mother in Grand Rapids. Her father traveled from his home in Detroit to visit the family at least once a week. Raised primarily in nearby East Lansing, she graduated from Forest Hills Central High School, just outside Grand Rapids. She received a BA in communications from Michigan State University in 1993 and a JD from Detroit College of Law at Michigan State University in 1998.
The new Governor-Elect served as a Michigan State Representative from 2001 to 2006 and Michigan State Senator from 2006 to 2015.