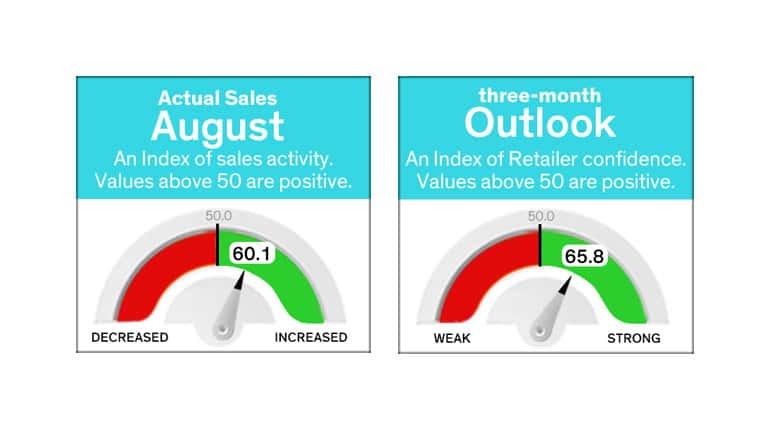 With sales charts starting to look more and more like a Rorschach ink blot test, Michigan retailers up and down swings over the course of the year got a bounce in August to help make up for some of the slowdowns experienced occasionally throughout the first half of the year. 
The Michigan Retailers Association's August Retail Index survey came in at 60.1 at the end of August, a decrease from a year ago, but a jump from July 2019's 54.7. August 2018's reading was a solid 73.2. The seasonally adjusted performance index is conducted by the Michigan Retailers Association (MRA) in cooperation with the Federal Reserve Bank of Chicago's Detroit branch.
The 100-point index provides a snapshot of the state's overall retail industry. Index values above 50 generally indicate positive activity;  and the higher the number, the stronger the activity.
The August survey showed that 50-percent of respondents reported sales increases over July. Twenty-seven-percent of retailers recorded declines and 23-percent reported no change, or flat sales performances.
Looking in the future, the Retail Index shows that 54-percent of Michigan retailers expect increased sales through November, while 22-percent are predicting a decrease; and 24-percent expect no change, or once again, a flat performance level. All said, that results in an adjusted outlook index of 65.8 – a strong sign as businesses edge toward the holidays.
William Hallan is President & CEO at the MRA. He tells us, "August continued the bounce back from the slow spring sales. With high schools starting classes earlier, it forced parents to shop earlier," and he adds, "As store owners prepare their inventory and work force for the holidays, we hope to see another increase in sales."
Halloween is a retail force as well. The National Retail Federation predicts the average shopper will spend $86.27, comparable to last year's record $86.79. That totals $8.8 billion in Halloween spending alone. Costume spending is expected to account for $3.2 billion, according to the National Retail Federation survey stats.
The unemployment rate in Michigan dropped one tick to 4.2-percent in August 2019, while the national rate remained at 3.7-percent. A year ago in August of 2018, Michigan's unemployment rate was 3.9-percent.
According to the state Senate Fiscal Agency, August 2019 sales tax receipts increased 2.8-percent over August of 2018. As a result, sales tax receipts were $6.7 million above the forecasted amount.