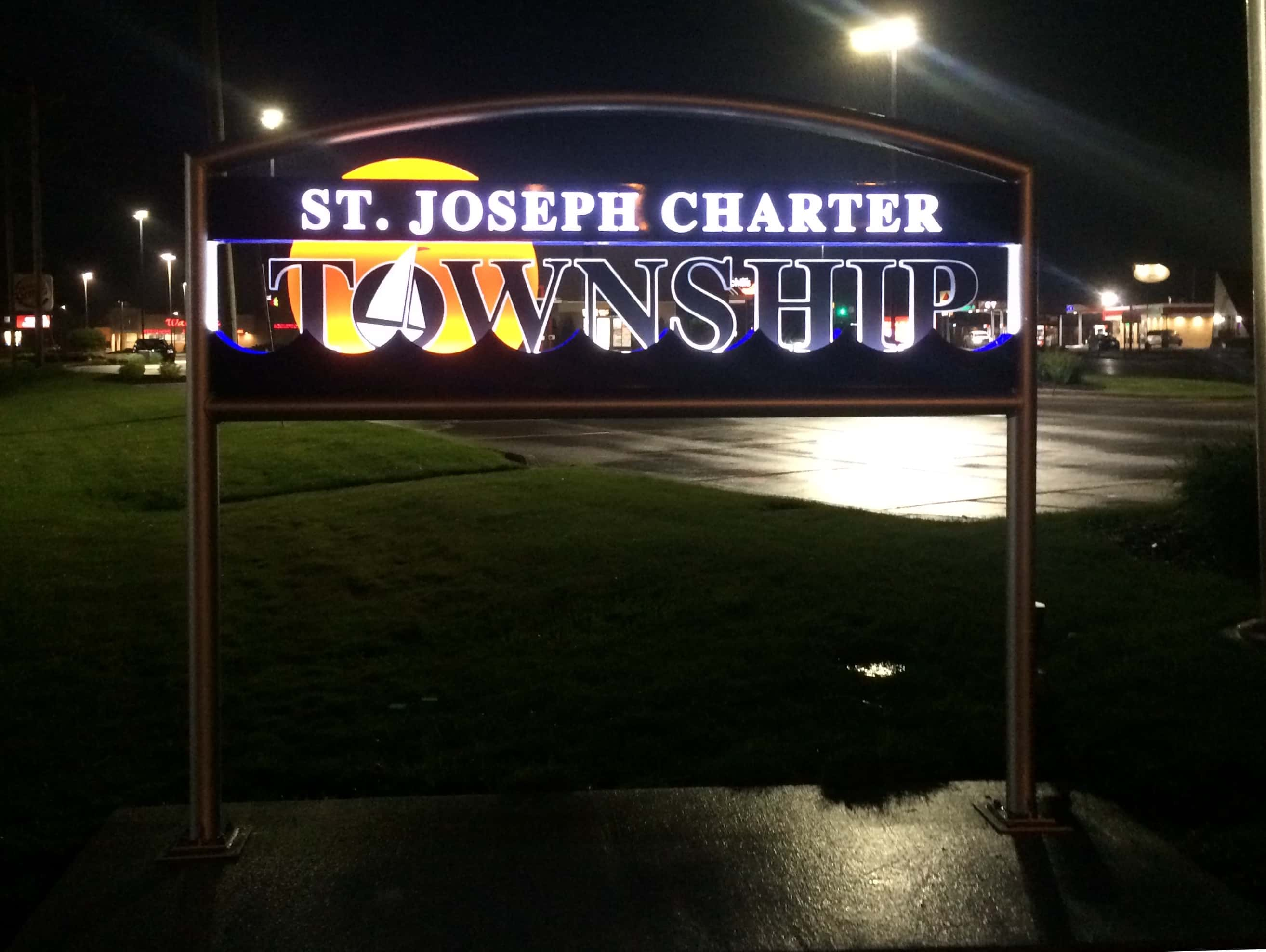 Photo: St. Joseph Charter Township
When Patrice Rose drives by the new St. Joseph Charter Township sign, at the corner of Niles and Washington in St. Joseph, she can't help but look.  And for good reason. She helped create it.  
Rose, the Clerk for St. Joseph Charter Township (SJCT), created a Capstone Project through the Michigan State University Master Citizen Planner Program in 2017.  The project laid out a design for a new gateway sign. When she presented her project to the SJCT board, she was overwhelmed by the positive response.
"When they were ready to approve it right away, I was floored.  Literally floored. We left that meeting and knew it was going on the agenda at the next meeting to be approved.  We were going to make a resolution to approve and start that sign. And it was going to be my sign," said Rose.  
Rose admits she's always been creative and into art, and adds:  "Sculptural. It needed to be sculptural. That's how it was going to be different." Rose worked with Doyle Rodgers of Art-Fx Signs & Graphics in Bridgman to create the sign, which features a combination of halo illumination and push-through acrylic back-lit letters.  It provides a great visual for both day and night.  
After two years of planning, fabrication and some red tape, the sign officially found its permanent home last month.  According to Rose, SJCT will be creating variations of the new sign for other township locations.
"I just thought I was doing a project.  I didn't think it would be approved. Every time I drive by it, I have to look." 
Other partners on the project include: Senator Kim LaSata, MDOT, Quality Dining, Inc. (Burger King), and Dave Rindfield (SJCT Public Works Supervisor).
The Michigan State University Extension Citizen Planner Program offers land use education for locally appointed and elected planning officials and interested residents throughout Michigan. Participants who complete the Citizen Planner Classroom Program are eligible to earn the Master Citizen Planner (MCP) credential. MCP applicants must complete a 20 minute (minimum) presentation on a topic learned in the course that is applicable to the community to a legislative body or planning commission in the community.