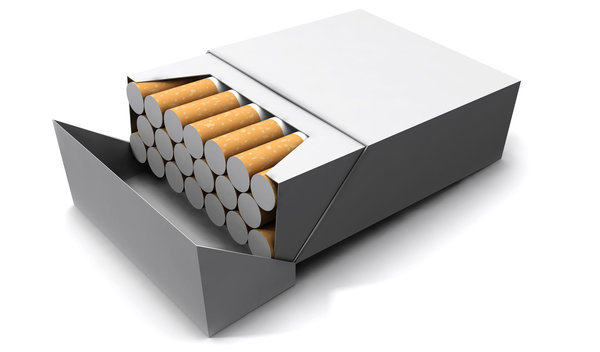 A problem that has long plagued border counties like Berrien, Cass and St. Joseph Counties here in Michigan is increasingly being felt in other border locations nationwide. It's the issue of cigarette smuggling. According updated research by the Mackinac Center for Public Policy and the Tax Foundation, high state cigarette excise tax rates continue to encourage tax evasion and avoidance around the country.
The study updates previous research by the authors that examined the degree to which cigarettes are smuggled across state borders within the contiguous United States, among other unintended consequences. They did so after another thorough review of existing literature on the topic from academics, governments and consultancies, all of which is summarized in the report. Most other scholarship suggests that high cigarette excise taxes encourage tax evasion and avoidance.
The updated estimate of cigarette tax evasion and avoidance among U.S. states was released today by the Mackinac Center. The annual report estimates the percentage of cigarette consumption attributable to smuggling.
Cigarettes have an excise tax placed on them by individual states. States with higher excise taxes typically have higher rates of smuggling. When neighboring states have lower cigarette taxes, it makes it profitable for individuals and organized groups to smuggle cigarettes across state lines.
The smuggling rates are estimated using data from 2017, the most recent year available. New York continued to be the top in-bound smuggling state in the nation. Nearly 56-percent of all consumed cigarettes in New York were smuggled in from elsewhere. Researchers say that is not surprising, inasmuch as the state's excise tax of $4.35 per pack is tied for the highest in the nation.
One unsurprising jump in the rankings was California. The state passed a $2.00 per pack tax hike in 2017, which contributed to the Golden State's smuggling rate increasing to 44.6-percent, making it the second highest in the nation. After California, the top-ranked states for smuggling are Washington at 42.8-percent, New Mexico with 40.8-percent and Arizona at 39.3-percent. Michigan ranks 14th in the nation, with just under 21-percent of all cigarettes consumed in the Great Lake State being smuggled in.
Michigan's rank of 14th highest with a state excise tax of $2.00 per pack of cigarettes, compares to neighboring Indiana at less than half that rate at $0.995 for a rank of 42nd nationwide with a smuggling rate of 18.8-percent. That sends many Berrien County smokers over the state line routinely as many Michigan retailers have long complained about. Ohio's tax rate is $1.60 per pack for a ranking of 24th in the nation or 8.49-percent smuggling rate, and Illinois is closer to Michigan's excise tax rates at $1.98 for 15th highest rate in the nation, and smuggling running at 17.2-percent of all cigarettes sold.
The degree of cigarette tax evasion and avoidance in high-tax states is remarkable, according to study co-author Michael LaFaive, who serves as Senior Director of the Mackinac Center's Morey Fiscal Policy Initiative. LaFaive tells us, "Smokers are obviously not lining up like cows to be milked or sheep to be sheared."
The study also looks at states that export cigarettes. Those states typically have a lower excise tax. The update found that New Hampshire continued to export the most cigarettes; for every 100 cigarettes consumed, an additional 65 are smuggled out of the state.
The study was co-authored by Todd Nesbit of Ball State University and adjunct scholar with the Mackinac Center, and Michael Lucci, vice president of state tax projects of the Washington D.C.-based Tax Foundation.
You can view the updated research at the link below.
The Mackinac Center for Public Policy is a nonpartisan research and educational institute dedicated to improving the quality of life for all Michigan residents. Its policy experts develop solutions to state and local economic policy challenges based on fundamental principles of free markets, individual liberty, limited government and the rule of law. Headquartered in Midland, Mich., the Mackinac Center has grown into one of the nation's largest state-based think tanks since its founding in 1987.