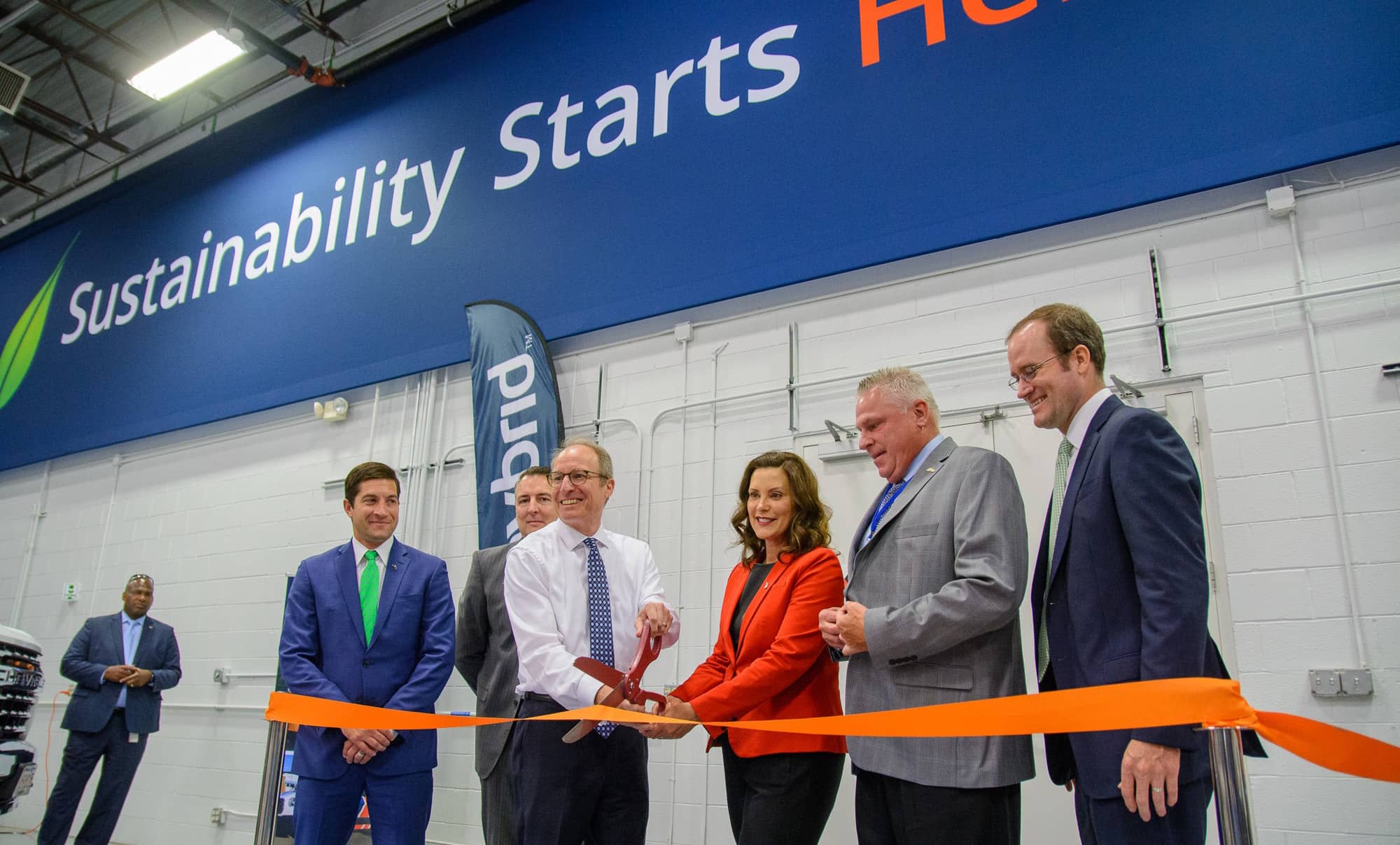 Saying the new XL Fleet Electrification Technology Center in Wixom "reinforces our reputation as the place that put the world on wheels," Michigan Governor Gretchen Whitmer today joined a group of business, state, and local officials in celebrating the grand opening of that new tech center, and in thanking the commercial vehicle technology company for investing in Michigan while helping to fuel the state's leadership in mobility and electrification solutions.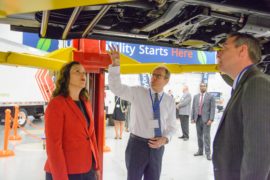 Gov. Whitmer says, "This investment by XL Fleet will create nearly 50 good-paying, high-skill jobs and help us continue our economic jumpstart and put Michigan back to work," and adds, "The new facility reinforces our reputation as the place that put the world on wheels, and a leader in the future of mobility and electrification. We're excited to welcome XL Fleet to Michigan and look forward to the path-breaking innovations that will be created right here in our state."
Whitmer made her remarks at the ribbon-cutting ceremony at the new research and development facility in Wixom. The project has been awarded a $400,000 Michigan Business Development Program performance-based grant from the Michigan Strategic Fund.
XL Fleet, founded in 2009 in Boston as XL Hybrids, is a high-growth commercial vehicle technology company focusing on developing and producing cutting-edge technology to convert conventional vehicles into hybrids. XL Fleet is a leading provider of vehicle electrification solutions for commercial and municipal fleets in North America, with customers in a wide range of industries.
The company is experiencing significant growth and plans to establish an R&D and prototyping tech center in the city of Wixom, a project that is expected to generate a total private investment of $1.2 million and create up to 49 well-paying jobs. Michigan was chosen over a competing site in Boston.
XL Fleet CEO Dimitri Kazarinoff, says, "The grand opening of our Fleet Electrification Technology Center in Michigan marks a milestone for XL Fleet as we expand our footprint into this highly strategic location, positioning us to add capacity to the exceptional talent we already have in-house," and adds, "It is an honor to be joined by Governor Whitmer and other officials to help celebrate and inaugurate our first facility located in the country's top region for automotive engineering innovation."
The project fits with the Michigan Economic Development Corporation's strategic plan by creating high-wage engineering positions in the auto industry. In addition, supporting the project helps further strengthen Michigan's leadership in vehicle electrification and automotive R&D. The project also supports Michigan's rich and diverse mobility ecosystem, which features the largest deployment of vehicle-to-infrastructure technology in the nation and more than one-sixth of the entire U.S. auto production.
MEDC Chief Business Development Officer and Executive Vice President Josh Hundt says, "XL Fleet's new R&D facility will drive new advancements in future mobility and further demonstrate that Michigan is the place where manufacturing and technology converge," and adds, "This project aligns with our strategic focus on growing the mobility and electrification ecosystem in Michigan and fostering high-wage job growth. We're pleased to work with our local partners to support XL Fleet's investment."
The city of Wixom has offered to support the project with job fairs, job postings, and marketing and promotion. Individuals interested in careers with XL Fleet should visit https://xlfleet.com/careers.
Wixom Mayor Patrick Beagle says, "It is our pleasure to welcome XL Fleet to Wixom's growing technology sector," adding, "With XL Fleet's focus on customer success and outstanding technology and reputation, we look forward to partnering with XL Fleet here in Wixom. As we put this pandemic behind us, we are excited by the opportunity to help build the industries of the future and create good-paying jobs for residents."
Today's news underscores Michigan's efforts to strengthen its workforce, research and development efforts, and infrastructure in a way that can help mobility companies from around the world achieve their goals. XL Fleet's ribbon cutting is the latest in a series of electrification investments, building on the recent announcement by Magna International that it was building a new state-of-the art facility where it will manufacture battery enclosures for GM's new GMC Hummer EV, a project that will generate $70.1 million in private investment and create 304 jobs for Michigan workers.
Michigan continues to focus on forward-thinking innovations around mobility and electrification, including through the Office of Future Mobility and Electrification, which is working across state government, academia and private industry to enhance Michigan's mobility ecosystem, including developing dynamic mobility and electrification policies and supporting the startup and scale-up of emerging technologies and businesses.