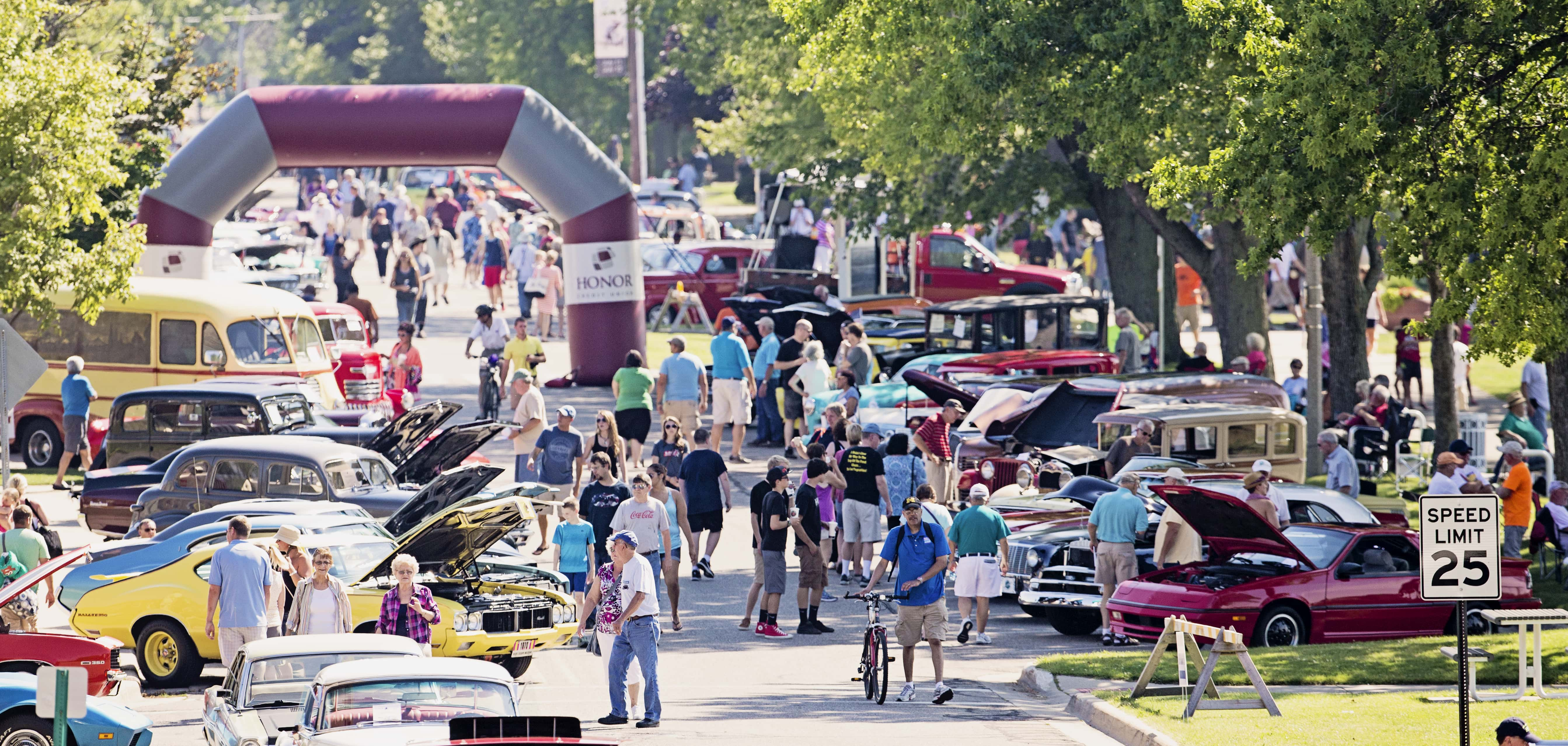 St. Joseph Today invites the community to celebrate all things Southwest Michigan during the Love Local Weekend July 15-17. To kickstart this memorable weekend, check out the Mike Yore Memorial Car Show on Friday, July 15 from 4:00p-8:00p in downtown St. Joe. Step into a time machine and enjoy as classic cars line up along Lake Boulevard. You can cruise and peruse the over 150 vintage vehicles as local DJ Mark Durocher matches the ambiance by spinning classic hits.
Cars can start parking in the event zone along Lake Boulevard at 1:00p on Friday. Participating cars need to be in place no later than 4:00p. Please enter at Lake Boulevard and Park Street. All participants must register day of between 4:00p-6:00p at the Honor Credit Union tent located on the corner of Lake Boulevard and Broad Street. For more information or to sign up for participant reminders, visit stjoetoday.com/mikeyore. The Mike Yore Memorial Car Show is sponsored by Honor Credit Union, Edward J. Todd, Nathan Thomas Orthodontics, and Dr. Kasewurm's Professional Hearing Services. Special thanks to the SWMI Car Collectors.
That is just the beginning of this show stopping weekend, as visitors and residents alike can enjoy extended shopping hours, featured menu items, and other area specials throughout Michigan's Great Southwest.
"Love Local Weekends are jam-packed with summer fun," said Amy Zapal, executive director, St. Joe Today. "It's amazing to see both long-time residents and visitors take part in all the festivities and specials." Visit stjoetoday.com/lovelocal for a complete list of all that our various stores and restaurants offer.
Putting the "local love" into Love Local, the Friday Night Concert Series showcases area talent throughout the summer, and Friday, July 15 is no exception! This free, hour-long concert will be held at the John E.N. Howard Bandshell from 7:00p-8:00p and will feature Lake Effect Jazz Big Band. Be sure to check it out and groove to the sweet tunes! Visit stjoetoday.com/fridaynightconcerts for a complete schedule.
Then on Saturday, July 16 the Love Local Weekend continues with the Race for YMCA 5K/10K presented by the YMCA of Greater Michiana held at the Margaret B. Upton Arboretum at 8:30a. Money raised will benefit the Y's Annual Campaign which provides financial assistance for memberships and programs to local children and families in need. That same morning, head over to Lake Bluff Park for two events – the St. Joe Farmers Market from 9:00a to 5:00p (extended hours) and the Lake Bluff Artisan Fair from 10:00a-5:00p. St. Joe Farmers Market vendors will be handing out a limited quantity of free market bags; first come, first serve.  For more information, visit stjoetoday.com/farmersmarket and stjoetoday.com/artisanfair. While you stroll the bluff, swing by the Krasl Art Center (KAC) for their Summer Art Market on the Green from 10:00a-5:00p to shop more local artisans on the KAC grounds. KAC has indoor and outdoor exhibitions on view during their event.
Saturday evening, stop by the Silver Beach Shadowland Pavilion and listen to the sounds of music as the Southwest Michigan Symphony Orchestra performs "My Favorite Things" at 6:30p, gates open at 5:30p. Ticket information and details can be found at smso.org. That same night, visitors and residents can revisit their inner passions with the City of St. Joseph's showing of Soul (2020) as part of the Summer Movie Series. The film will begin at 7:30p at Whirlpool Centennial Park. Visit stjoetoday.com/movies for a complete summer movie schedule.
On Sunday, July 17, the Love Local Weekend wraps up with a free Municipal Band – Jazz Band Concert held at the John E.N. Howard Bandshell at 7:00p. "Love Local is the perfect way to celebrate the summer season," Zapal says, "There are breweries, concerts, vineyards, beaches, the Whirlpool Compass Fountain, local businesses, and the breathtaking lighthouse and piers–there's something for everyone in Southwest Michigan." All weekend long those 21+ can enjoy the Downtown District, sponsored by Sturgis Bank, for more information visit stjoetoday.com/socialdistrict.
Catch these upcoming St. Joe Today summer events:
St. Joe Farmers Market: Saturdays through October 8 (9:00a-2:00p)
Love Local Weekends: Third Weekend of the Month, June-September
Chalk the Block: August 5-7 (All Weekend)
Friday Night Concert Series: July 15, August 19, September 16 (7:00p-8:00p)
Antiques on the Bluff: August 7, September 4, October 2 (10:00a-5:00p)
Lake Bluff Artisan Fair: July 16, August 20, September 3 (10:00a-5:00p)