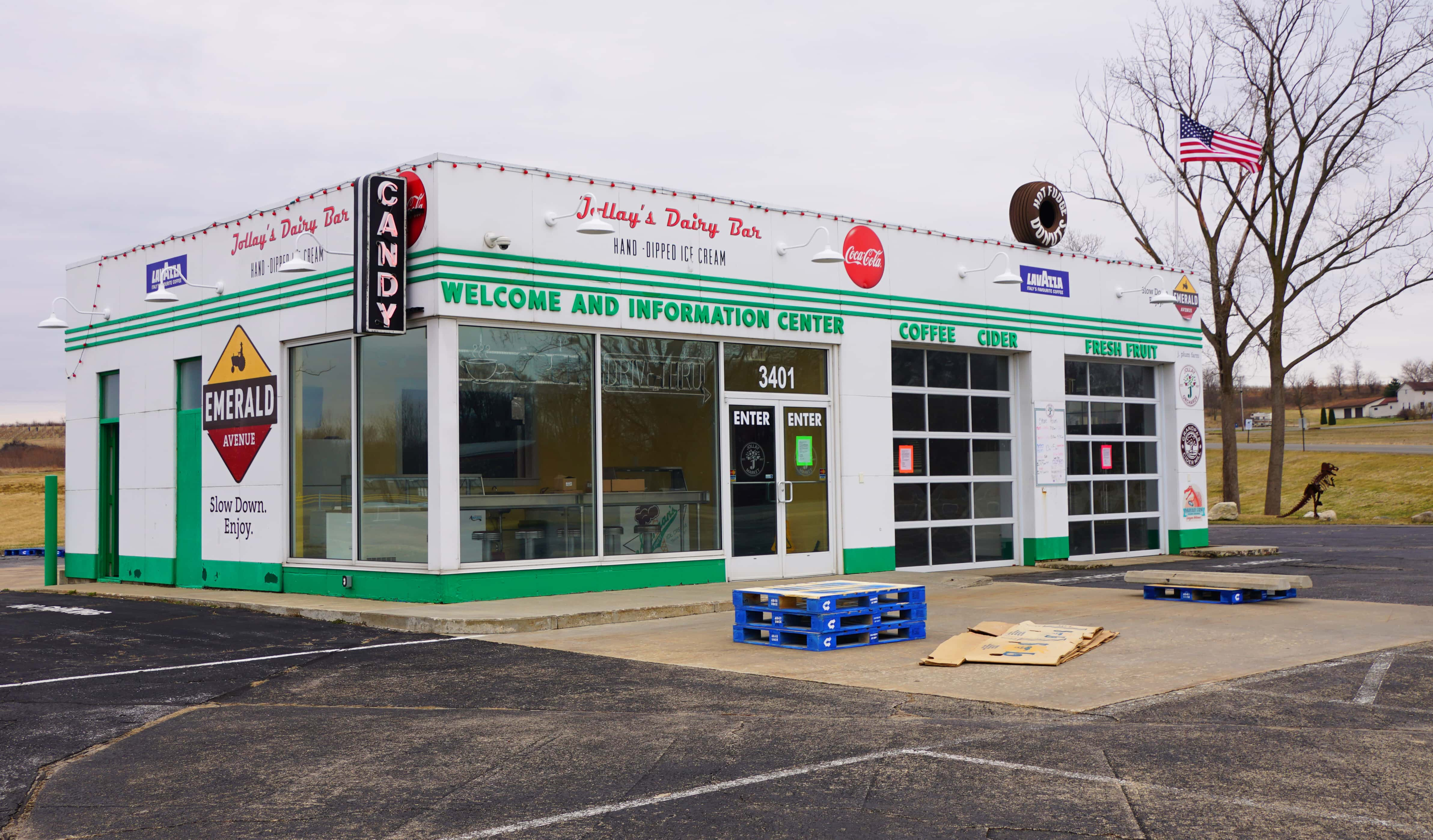 When Round Barn Winery owner and CEO Matt Moersch first learned that the Jollay family of Coloma planned to mothball their Jollay Dairy Bar & Market at I-94 Exit 39 in late February he moved swiftly to craft a deal to lease that space at the gateway to Southwest Michigan's Emerald Avenue with hopes to replicate the tasting room his family established years ago at the other end of that Avenue in Union Pier at I-94's Exit 6.
Moersch reached out to the Jollays so determine their plans for the future after they elected to suspend operations to "take a pause and see what life brings us." The Moersch family and the Jollays already had a long running business relationship, inasmuch as the Moersch Hospitality Group has been purchasing cider for both wines and hard ciders from the Jollay family's enterprise, Grandpa's Cider Mill on Friday Road in Coloma. That decade long relationship paved the way for discussions about the team at Moersch leasing the former service station site to create a new tasting room such as the one they have had for years at Union Pier.
Coloma is already a destination attraction on the Southwest Michigan Wine Trail thanks to the successes of nearby Karma Vista and Contessa Wineries.
Moersch tells me that plans are, "To have wine, beer and spirit tastings, as well as mixed drinks, a beer garden with live music and a limited menu of panini sandwiches, sharable foods and lots of fun." He also promises, "Don't worry, the dinosaurs will be staying too!" That's a reference to the filed of iron sculptures of various dinosaurs created by Coloma High School industrial trades students a number of years back, which the Jollay family shared on the site of the former dairy bar and market.
Up next for Moersch Hospitality Group is a public hearing before the Coloma Township Planning Commission on Wednesday, April 25th at 6pm to take up a request for a special land use permit to allow the tasting room operations to be sited there.
The street address of the former roadside market is 3401 Friday Road, immediately adjacent to the I-94 exit ramp.
The Coloma Township Planning Commission meeting is open to the public and will take place at the Township Hall located at 4919 Paw Paw Road in Coloma.
If the project gets a green light from authorities, Moersch says his team hopes to be up and running for the coming summer season.
The closure of the Jollay Dairy Bar & Market does not impact the beverage operations at the site of the former Grandpa's Cider Mill further up Friday Road or the Jollay Orchards agri-tourism site further still up Friday Road, both of which are thriving operations for the Jollay family.
Stay tuned.