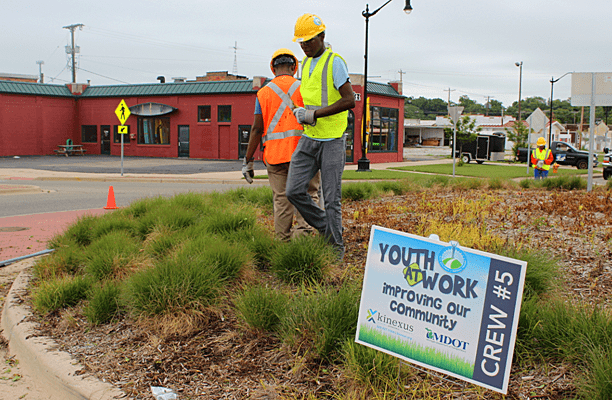 At least 60 young people, eager to both learn and work when school is out, will be earning money during their summer break thanks to the 9th Anniversary Year of the Youth Development Mentoring Program.
The Michigan Department of Transportation (MDOT) and the team at Michigan Works! through Kinexus have joined forces for the 9th consecutive year to hire 60 youth for a Youth Development Mentoring Program (YDMP).
MDOT and Michigan Works! are bringing this program to local youth ages 16-to-24 who are interested in earning money during their summer break. Youth will be paid for 37 hours per week, with 21 of those hours spent doing physical labor, such as area grounds maintenance, park and ride upkeep, and more. The remaining 16 hours will be spent on educational and cultural enhancement that ties in with the interests of engineering and transportation career pathways.
Don Marshall is Program Manager for the Youth Development Mentoring Program. He says, "This is a great opportunity for youth to learn the importance of maintaining their communities and roadways," adding, "Moreover, the program exposes them to the importance of showing up on time, being accountable, and many of the other soft skills that they must know before they enter the workforce, college, and life in general."
Applicants must be a high school graduate or enrolled in a program to earn a diploma. They also cannot have any violations of the law on their record. Last year, the local program had 427 applicants for 56 positions. People interested in the program, can expect to be working 37 hours a week from June to September.
Will Thompson, MDOT Southwest Region Engineer, says, "We have found great success with this program across the state and are excited to see it come back for another year to Southwest Michigan," noting, "This partnership is proving to be a game changer when it comes to arming the incoming workforce with the technical skills and soft skills they need to succeed in the future."
To apply for the Youth Development Mentoring program, visit Indeed.com and search for MDOT Crew Member in Benton Harbor. All Applications are due by Friday, June 7th. For more information, contact Don Marshall, Program Manager at (269) 927.1064, x1192, or MarshallD@Kinexus.org.
The Michigan Department of Transportation (MDOT) is responsible for Michigan's 9,669-mile state highway system, comprised of all M, I, and US routes. MDOT also administers other state and federal transportation programs for aviation, intercity passenger services, rail freight, local public transit services, the Transportation Economic Development Fund (TEDF), and others.
Kinexus Group is an organization that invests its time and resources into inspiring positive economic change one individual, one business, and one community at a time. For more information, visit www.Kinexus.org, follow along on Twitter @KinexusGroup or "like" them on Facebook @KinexusGroup.
The photo accompanying this story on Moody on the Market is courtesy of Kinexus Group.