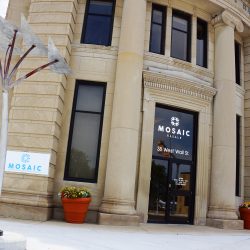 The vacuum cleaner has been running seemingly around the clock, the book cases are being filled to capacity, shelving units are being decorated with hundreds of retail displays, and the furniture and fixtures are being arranged, re-arranged, and slotted to best fit the space in an absolute flurry of activity.
The longtime home of Cornerstone Alliance and Cornerstone Chamber of Commerce is nearing the end of the transition that is taking the space at 38 W. Wall Street in downtown Benton Harbor and making it over into the new home of Mosaic Resale and the Jobs for Life Program.
Three quarter walls that had been erected more than 20 years ago to carve out office space and activity centers have been removed, fresh paint is on the walls, directional signage is largely in place and the balance of the finishing touches are underway as the Mosaic Christian Community Development Association continues the transformation and wraps up the moving process from their previous home on Main Street across from Kinexus.
Having outgrown that space, and needing to release it to Whirlpool Corporation who purchased it to expand parking for the expansive new Riverview Campus in the next block, organizers and associates have been a busy lot making the transition. Signs are already in the window at the old place saying, "We've Moved," and on Monday, August 21st Cornerstone Chamber of Commerce officials will have the quirky task of helping cut the ribbon on what used to be their offices but will now be the Resale shop and headquarters for the Jobs for Life Program.
The public is invited to that celebration at noon on the 21st, but first you are being asked for a hand up. In preparation for that Grand Opening celebration, Mosaic CCDA is seeking donations of gently used professional clothing for graduates of their workforce development program, Mosaic Opportunity, which, through a combination of training and mentoring and in partnership with local businesses, prepares its Jobs for Life graduates for successful employment.
One critical element to job success is proper attire for the job interview process, which MOSAIC provides free of charge to all Jobs for Life graduates. Unfortunately right now, they are meeting only about 25-percent of that need.
From next Monday, August 14th through August 25th, MOSAIC CCDA is conducting a clothing drive to boost their supply of the following professional apparel items:
Men's & Women's Clothing
Dress Shirts, Dresses, Skirts, Tops, & Pants
Blazers, Jackets & Sports Coats
Suits & Sweaters
Dress Shoes & Socks
Dress Shoes & Belts & Ties
Donations can be made at the new location, 38 W. Wall Street in downtown Benton Harbor, during regular business hours.
For more information on how your company can get involved, contact Jay Haynes at jhaynes@mosaicccda.com or Blair Johnson at bjohnson@attorneypeterjohnson.com.
You can learn more about MOSAIC's full array of programs and services, by clicking this link:
Mosaic is a 501c3 nonprofit dedicated to building a stronger community in Benton Harbor and Berrien County by helping residents learn new job skills, rebuild relationships. and work toward an independent life through job training and support from a network of mentors, coaches, and local businesses.