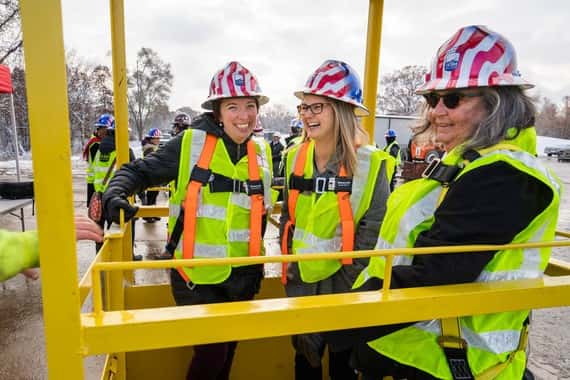 Michigan Gov. Gretchen Whitmer recently issued a call to lower the gender parity and skills gap in the Great Lakes State and with this being National Women in Construction Week, the state's Department of Talent & Economic Development is collaborating with the National Association of Women in Construction to highlight the high-demand, high-wage professional trade career opportunities in Michigan to drive home the Governor's message.
This week of March 3rd-to-9th, 2019, is the week set aside for that recognition by the National Association of Women in Construction, which was founded nationally in 1953 by 16 women construction pioneers, to enhance the success of women in the construction field and highlight women as a valuable asset to the construction industry.
Women account for roughly 9-percent of the construction industry, a virtually untapped source of high-demand, good-paying jobs for women – and Women in Construction Week helps the state elevate those opportunities. Yet, despite being a male-dominated industry, the gender pay gap is much narrower in construction -- women in the U.S. average 81.1-percent of what men make, compared to 95.7-percent in construction fields.
Acting Department Director Stephanie Beckhorn at TED says, "Whether they're starting out as a finish carpenter, or working their way up to a construction foreman, we want young girls and women to know that they have a place in the Professional Trades," adding, "And we hope that other influencers will join us in encouraging women to explore these viable career paths."
Women in Construction Week also provides an avenue for the thousands of NAWIC members across the country and internationally to raise awareness about the career prospects available for women.
Dove Sifers-Putnam, CBT, is President of the NAWIC, and contends, "Women working in the industry, in the skilled trades, is only 3-percent – what better way to educate women that construction is a viable career than through NAWIC," adding, "NAWIC is an organization of women for women. It builds leaders by offering education, leadership and professional development at the chapter, regional and national level to all women in the construction industry."
Specifically, the four local NAWIC Michigan chapters have an opportunity to promote the jobs available throughout the state. Construction jobs in Michigan are expected to grow 10.6-percent through 2026, or 16,430 additional openings, according to the Michigan Bureau of Labor Market Information and Strategic Initiatives.
Rita Brown, who heads up NAWIC's North Central Region, and a construction business owner in her own right, says, "NAWIC Detroit is a professional association that aspires to build on women's strengths and remind the construction industry that women can and do fill the roles they need." She adds that the association, "Reinforces the influence of already established career women."
To emphasiize the growing need for women in construction, and expose them to unique, economically desirable career paths available in the construction fields, Rita created Project Accelerate, a program of which NAWIC Detroit and a number of industry entities are a foundation partner. This free, seven-week, program partners with local colleges and businesses to give women an overview and hands-on experience exploring the many viable career areas in construction. The program provides a resource to the needed networks and mentors, women in construction find essential to their success.
Brown points out, "The future of our industry depends on our ability to collaboratively engage and leverage resources," and says, "NAWIC is a vibrant community of women who understand that with our own hard work, preparedness, and authenticity we can secure a stable future for our families. Adapting to the challenges and transforming them into success, we all move forward."
Highlighting the state's vast pipeline of opportunities is a focus of the statewide Going PRO campaign, which aims to attract talent to Professional Trades careers, including filling the 811,000 jobs coming open through 2024.
In addition to the boots on the ground Professional Trades jobs, the construction industry needs women in the science, technology, engineering, arts and math fields, or STEAM, to consider high-demand construction jobs such as architects, electrical engineers, construction managers or environmental engineers. STEAM careers help solve the real-world problems businesses need to support their bottom line, allowing for innovation to stay competitive.
For more information on NAWIC and how to become a member or participate in a construction industry event, you can visit online at NAWIC.org to find a chapter near you.
Women looking to find their high-wage career in construction or other Professional Trades can get started at Going-PRO.com.