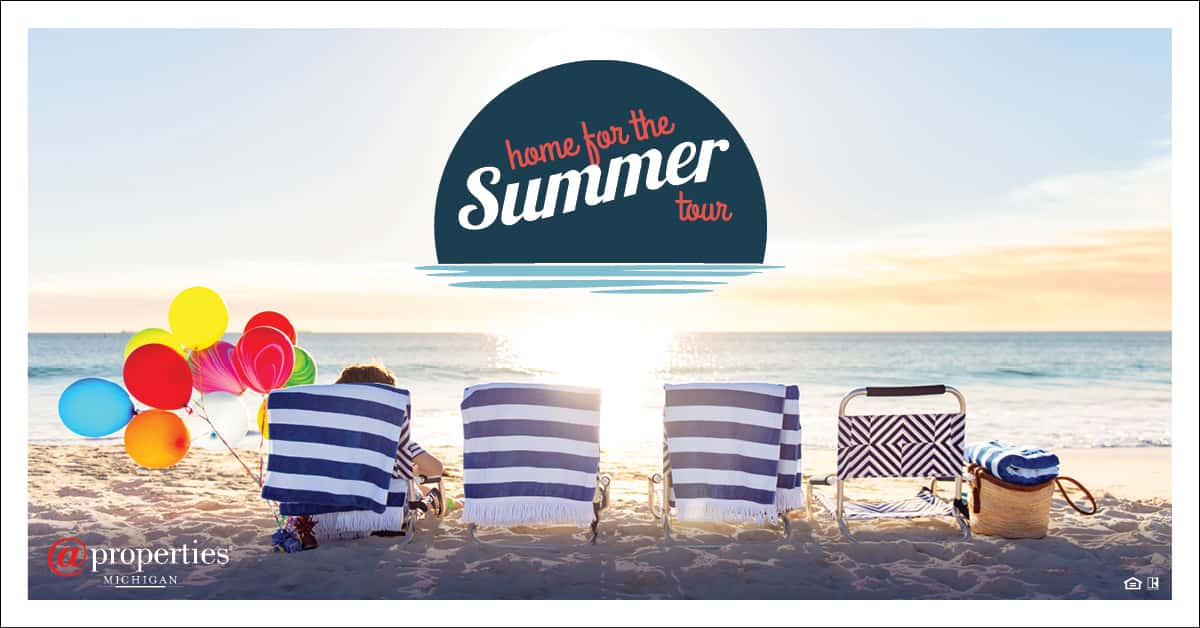 If you find yourself in search of your place in the sun, you will have an unprecedented opportunity to view some of the most striking homes along the Lake Michigan shore in Michigan's Great Southwest in the second annual "Home for the Summer Tour" hosted by the team of @properties.
This Saturday July 14th and on two other summer Saturdays coming up, @properties will host an encore of its highly successful showcase of remarkable properties currently on the market from noon until 4pm each of those days, with each successive event showcasing a different market in the region.
Overall, this unique home tour will feature more than 50 properties from throughout Southwest Michigan and Northwest Indiana.
Prospective home buyers will have the opportunity to visit some of the area's most coveted homes for sale. The portfolio of properties includes everything from a secluded cottage surrounded by woods,  to a lakefront estate with a pergola-covered deck and 80 feet of beach frontage.
With summertime hitting its peak, the Realtors of @properties are offering to help anyone find their place in the sun.
The team of @properties is the largest real estate brokerage firm in Chicago and one of the largest brokerage firms in Southwest Michigan, where it has offices in New Buffalo and St. Joseph.
Each Saturday of the showcase will bring self-guided home tours in various towns throughout Southwest Michigan and Northwest Indiana, including St. Joseph, Benton Harbor, New Buffalo, South Haven, Dune Acres, Long Beach and Michiana Shores. The tours are designed for prospective home buyers looking for a summer retreat or year-round living, or anyone who wants to experience a glimpse into some of the unique communities along Lake Michigan.
http://www.athomeforthesummer.com
Here are the show dates and where to look:
Saturday, July 14 , 12 – 4 PM (Harbor Country)
Saturday, July 28, 12 – 4 PM (St. Joseph)
Saturday, August 25, 12 – 4 PM (Northwest Indiana)
Established in 2000, @properties is the No. 1 residential brokerage firm in Illinois and one of the top 11 residential brokers in the U.S. @properties has more than 2,450 licensed brokers in 26 offices throughout downtown Chicago, surrounding suburbs, southwest Michigan and Lake Geneva, Wisc. For additional information, visit www.atproperties.com.