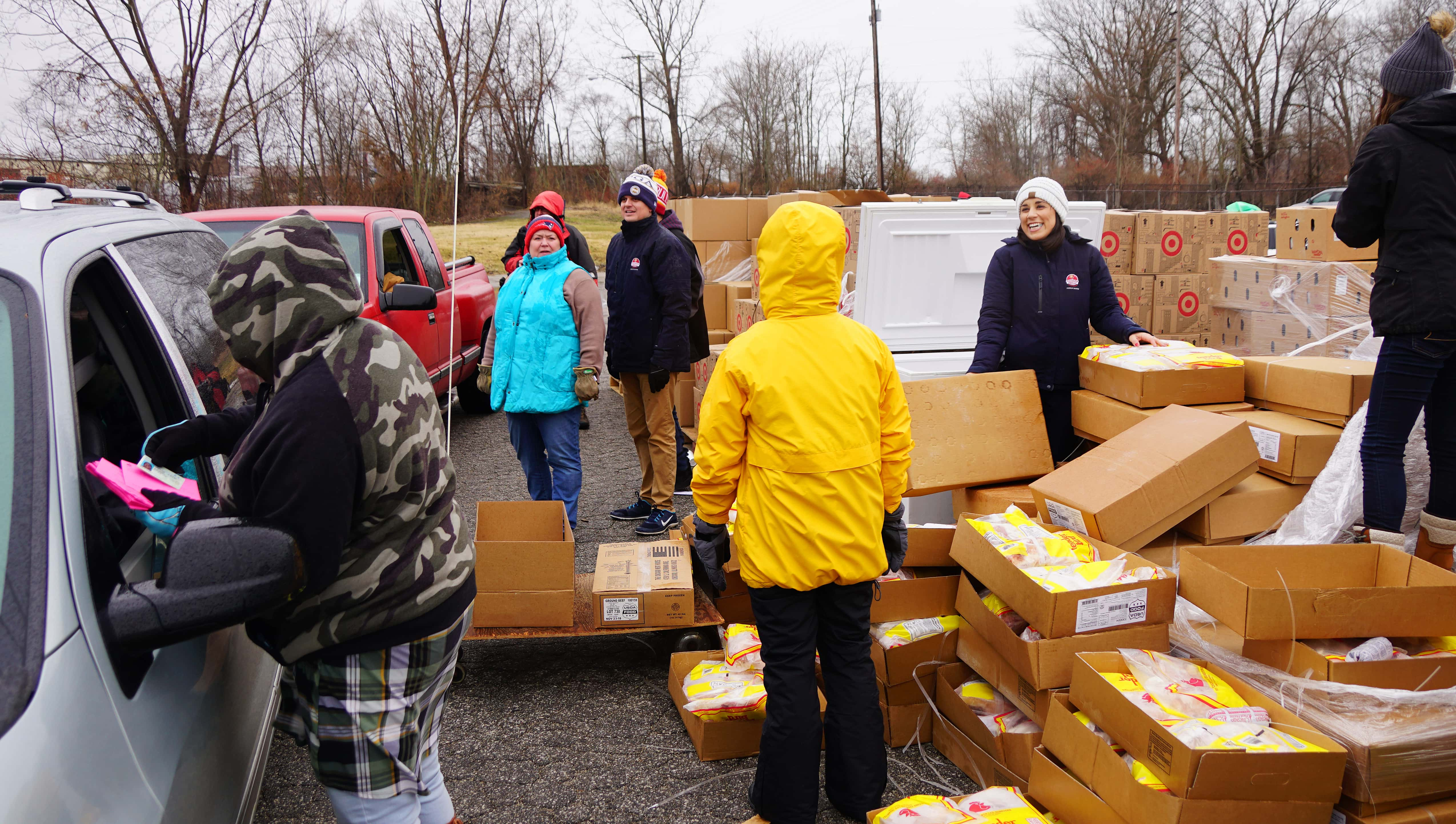 When the clock struck 1:30pm this afternoon, several hundred families had already been queued up for an hour or longer waiting patiently in a slight drizzle to accept a turkey and lots of other great holiday food offerings in the 4th Annual Holiday Food Sharing program to brighten their Christmas celebrations.
As the first of nearly 500 families and individuals began to roll through the streamlined process line without even having to get out of their cars, trucks or SUVs, the drizzle turned to a light snow and with holiday music playing from a wireless speaker, the annual ritual was underway.
Yvonne Vidt, Director of the Southwestern Michigan Community Action Agency which handles logistics for the annual event says it's one of her favorite times of the year, "Because it's the holidays and we're giving food out to our community and it's a wonderful feeling." As she paused in the staging area to survey her volunteer army and the towers of food boxes awaiting distribution, she was almost overwhelming, saying, "We've got so much food!" Included for each pre-qualified recipient she says, were, "The traditional turkey, strawberries, chicken quarters, oranges, hamburger, two separate boxes of just basic canned items, cereal and so forth…essentially, a lot of food!"
Vidt said that the application process yielded plans for some 480 people to come through but, she added, "We might have more. We did a food give away two weeks ago and we had 600. The need never ends."
There were 10 volunteers from Whirlpool, five from KitchenAid, the Southwestern Michigan Community Action Agency had seven crew members on hand, and there were five community service people plus the entire staff of the PGA of America's 2020 KitchenAid Senior PGA Championship at Harbor Shores.
Those being provided the turkey and fixings were welcomed into what Vidt calls, "The perfect set up, as everybody comes down Miller Street and makes a loop where we deliver right to their car without anybody having to get out,  and then send them on their way."
Jeff Noel, Corporate Vice President of Communications & Public Affairs at Whirlpool Corporation, was slinging turkeys two and three at a time after un-crating the frozen birds and approaching each vehicle making its way through the queue. As the finishing touches were being put into place, he said, "It's great to see everybody from the PGA of America, from KitchenAid and Whirlpool, the City of Benton Harbor and other volunteers from the community doing something to give back and working together as a team." Noel added, "My favorite part of this is working with the group and having fun, and a little competition and giving each other a hard time, and then, every time a car pulls up, you look inside and your heart melts and you say, we're doing the right thing."
Noel was deeply gratified by the experience as he has been every year, noting, "Everybody says thank you, everyone looks up and gives you a little story about what they're going to do with the food, and it's very heartwarming, but it also tells you that there's a real need out there, and the more that folks can step up and help others, especially during the holidays, it's just the right thing to do, it's how you build a community, and it's that sense of community that I think makes Michigan's Great Southwest so special."
Ryan Ogle, Championship Director of the KitchenAid Senior PGA Championship at Harbor Shores, concurs wholeheartedly with Noel about the experience telling me, "I was surprised to hear that it's the fourth time, because it feels like every time we do it it is the first time due to the excitement."
Ogle had his entire PGA staff on board at the giveaway and says, "I think the part I enjoy the most is just the opportunity to give back to a community that has given so much to us. On top of that, to work as a team with the wonderful people at Whirlpool Corporation, the City of Benton Harbor, the Southwestern Michigan Community Action Agency, and then our team from the PGA of America, it's a lot of fun."
Berrien County Commissioner Marletta Seats from Benton Harbor worked steadily from the moment she arrived, slinging boxes and greeting people. She says, "It's an honor to have a community sharing program to continue with the three agencies that work diligently to provide service to our community. The PGA, Whirlpool, and Southwestern Michigan Community Action Agency, and all the volunteers work hard together, because the need exists." She added, "We're always grateful for the cooperation from and the collaboration with the agencies. I'm excited!"
SWMCAA Director Vidt noted as things were starting up, "We always reach out to our partners and we never have a problem with people responding and we like being partners but there's another part to being a partner, too, so we're always very fortunate that we have partners that also pay for the turkeys."
As the steady flow of traffic traversed Miller Street, teams lined up on each side of the core stacked with goods in the middle of the large turning circle parking lot, and while the camaraderie was clearly evident, so too was the spirit of competition as each side of the core worked hard to deliver higher numbers and faster service.
Jeff Noel, prime instigator in the friendly competition says, "We've got really good people as our partners and every year we divide up teams and have a little competition for who can do it faster and better and all, and I've never been defeated according to any rules that mattered." (Editor's note: He clearly makes up the rules as he goes along!)
The PGA's Ogle concurs, "We make it into a kind of competition to see who can get the most meals out, but at the end of the day it's about us serving the people who really make this community go. Seeing the faces of the people that receive the meals that we give out is the most memorable, and something that I take away with me during the holiday season, and just being able to show our appreciation for the community and the giveback and an opportunity just to serve is something that our team always rallies around."
The need was readily evident to Noel, as well, as he said, "Cars have been lined up for an hour and everyone wants to come in and get their full meal and make sure that they take care of their families and there's nothing that separates us from those that are getting the meals today but the grace of God that we are on this side giving things out and I think that it's fantastic that we as a community can come together and do the right thing."