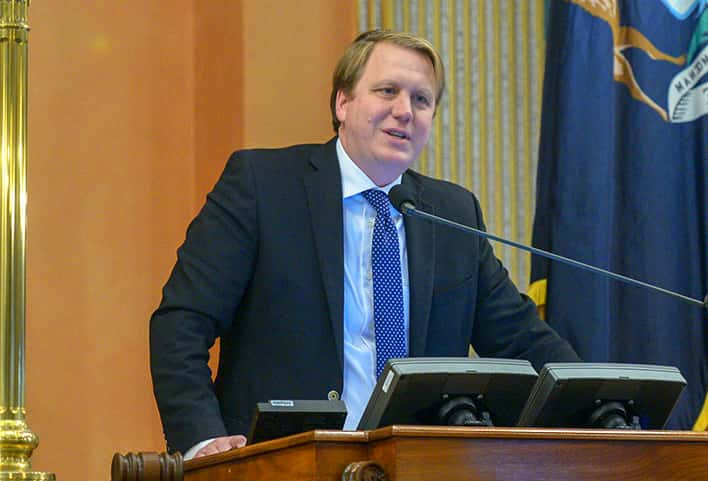 Lawton State Senator Aric Nesbitt is rapidly becoming a cult hero of sorts with multiple organizations after the State Senate today approved his resolution calling for the Whitmer administration to reverse their licensing rules requiring a marijuana business to receive approval from a union to be allowed to operate.
The administration calls it a "labor peace agreement," but Nesbitt said it is nothing more than requiring businesses to receive written approval from a union in order to receive or renew a license from the state of Michigan. The response today has been swift and sure on multiple fronts.
As Nesbitt explains, "This forced unionization scheme to benefit the governor's union boss friends is a grotesque abuse of executive powers," and adds, "Michigan's economy rebounded by expanding freedom and opportunity, but unfortunately Governor Whitmer has been focused on promoting massive tax increases and now imposing costly, job-destroying mandates."
Senate Concurrent Resolution 18 formally opposes the so-called "labor peace agreements" that the governor's regulatory agency is attempting to put in place. The resolution also echoes the arguments of many legal scholars claiming the requirement violates federal and state labor law. Small businesses and leaders in this new industry have universally condemned the requirement.
The Mackinac Center for Public Policy was one of the first to praise the Michigan Senate for passing Nesbitt's, noting that the Marijuana Regulatory Agency, a state department, has been pursuing rules that would force any company applying for a marijuana license to enter into a "labor peace agreement." The Center contends, it would essentially force the employer to accept unionization, whether they want to or not. It applies to growers, processors, transporters, retailers and even event organizers.
Jarrett Skorup, Director of Marketing & Communication at the Mackinac Center says, "Groups of employees have the right to unionize in Michigan and can do so by a vote of the workers in a business – but the state has no right to force unionization down the throats of companies and workers," adding, "Michigan citizens elect lawmakers to make laws; not un-elected bureaucrats imposing their will via fiat."
One of the largest advocacy groups for small business, the NFIB, swiftly issued a thanks to the Senate for today's resolution, saying, "NFIB supports Senate Concurrent Resolution 18, outlawing union agreements between employer and employees of marijuana retailers and their employees as a requirement to obtain a state license to sell marijuana." State Director Charles Owens says, "The resolution is a much-needed check on administrative rule power as the Michigan Department of Licensing and Regulatory Affairs works through writing rules for the new marijuana industry in the state."  Owens notes that first and foremost, NFIB has taken no position on the issue of marijuana legalization or use, "nor do we intend to do so, however our concerns are that the rules, as currently proposed for this industry, could have serious repercussions for all businesses in Michigan, especially small business."
The NFIB contends that if a state agency can require the employees of a specific company in a specific industry to be union members in order to receive a license to conduct business in the state, then they could impose the same requirement on any trade or business that requires a license from the state to operate. Michigan currently requires licenses to operate for many different types of businesses and occupations. The precedent that could have been established in the marijuana licensing rules could have spurred new proposals to require forced unionization before issuing licenses for any type of business in Michigan.
Owens concludes, "NFIB thanks the Michigan Senate for halting this abuse of the rules process, where un-elected and unaccountable career bureaucrats continue to usurp the legislature's constitutional authority to make the laws in our state."
The Small Business Association of Michigan — SBAM — also chimed in, with President Brian Calley saying, "Requiring marijuana businesses, most of which are small businesses, to sign agreements with unions before allowing them to be considered for a license is unreasonable and underhanded. This dishonest provision being pushed by the Marijuana Regulatory Agency is exploiting a burgeoning industry in our state." He adds, "SBAM applauds the Michigan Senate for taking a stand today against the illegal scheme being perpetuated by the state. This attempt to bypass the regular law-making process is an immoral shakedown of vulnerable small businesses. This is a critical issue for the marijuana industry, but also important for nearly all businesses who could fall victim to unethical bureaucratic rulemaking in the future." He concludes, "We are greatly appreciative of Michigan Senators for standing up for Michigan's small businesses and urge the administration to reconsider this illegal proposal."
Michigan Freedom Fund Executive Director Tony Daunt was even more blunt in thanking Republicans in the State Senate for "fighting back against a mob-style shakedown scheme that pitted Governor Gretchen Whitmer's administration against small businesses and their employees in a protection racket straight out of Hollywood."
Daunt says, "Labor peace agreements' are a racket, and they're an assault on the ability of Michigan residents to work an honest job." He adds, "We're grateful Republicans in the state Senate are standing up and fighting back for workers and small businesses. It's a shame that Governor Whitmer and Senate Democrats who opposed SCR 18 have decided that stacking the deck for the special interests that fund their campaigns is more important than providing economic opportunities for Michigan workers and job creators."
As author of today's Senate Resolution, Sen. Nesbitt from Lawton concludes, "The outrageous requirement that businesses must obtain approval from union bosses in order to receive a government license needs to be removed."
The photo accompanying this story on Moody on the Market is courtesy of Sen. Aric Nesbitt.