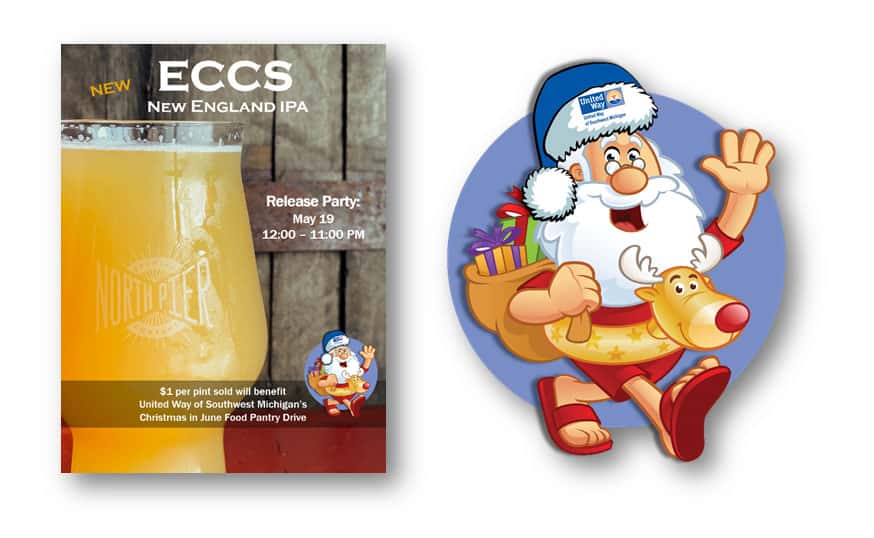 What do you get when you pair a nuclear engineer with a craft brewery owner who both want to end hunger in Michigan's Great Southwest? You get an exciting plan for a new craft beer whose sale will directly benefit the United Way's "Christmas in June" food drive.
Jim Petro is the engineer and Jay Fettig the brewer. Petro is Director of Design Engineering & the D.C. Cook Plant in Bridgman, while Fettig owns & operates North Pier Brewing Company of Benton Harbor. Both serve on the United Way of Southwest Michigan Board and they are collaborating on the new beer project with an official release party coming up this Saturday at North Pier Brewing.
As board members the two have worked together in a different way to make a difference by creating their special craft beer designed to benefit local food banks with the proceeds going to United Way's 2nd annual "Christmas in June" food drive.
The public is invited to enjoy the tapping of the first of 28 kegs of "Emergency Core Cooling System," a New England IPA, this Saturday, May 19th from noon until 10 pm at 670 N. Shore Drive in Benton Harbor. $1 from every pint sold will be donated to the Christmas in June food bank cause.
The Cook Plant's Petro says, "This is a great opportunity to have some fun while raising money for people whose children don't have enough to eat in our community." He adds, "There is a real need in our community for the services provided by United Way. It is a privilege to be a small part in filling that need."
A Facebook event has been created on North Pier's Facebook page and you can see it by clicking this link:
https://www.facebook.com/events/205149223623796/
Last November, on Giving Tuesday, United Way of Southwest Michigan held an online "Bid United Auction," entirely on Facebook, where items—from Whirlpool appliances to YMCA memberships—were sold to raise money for the community. North Pier auctioned the opportunity to brew a custom craft beer, and a team of AEP, D.C. Cook Plant employees were the winning bidders.
AEP engineers worked with North Pier last March to choose the name and style, design the recipe, and make the beer. The participants wanted to take the giving a step further and donate part of the release-party sales to the "Christmas in June" campaign.
Petro tells us, "As part of the 'Christmas in June' food drive last year, I was witness to a family of five at a local food pantry with nearly empty shelves." He adds, "The food donations from the 'Christmas in June' drive ensured that family and others had enough to eat. The need for food donations is higher in the summer, which makes this an important event."
Every year across Southwest Michigan, food pantries see themselves fully stocked in the winter months because of the holiday giving season. However, when summer hits, food donations go down and their shelves are harder to keep stocked. This can leave low-income, hard-working families with very few options. United Way is asking local businesses to help stock the local food pantries with items (in groups of 100 items) to help them through the summer months.
Participating organizations will collect items that will be dropped off on June 20 and June 21 at the following locations for sorting:
Upton Middle School at 800 Maiden Lane in St. Joseph
Buchanan Middle School Cafeteria at 610 W. 4th Street in Buchanan
Brookside Learning Center at 61662 Dailey Road in Cassopolis
The items will then be distributed to 32 different food pantries throughout Berrien and Cass counties.
United Way of Southwest Michigan fights for the Health, Education, and Financial Stability of every person in every community. They have the influence and relationships to make sustainable change a reality. By harnessing resources from corporate, nonprofit, and public partners, they provide immediate assistance to the community's most vulnerable populations while addressing the root causes of longstanding challenges and changing lives for the better. To join the fight—through giving, advocacy, and volunteering—visit www.uwsm.org.