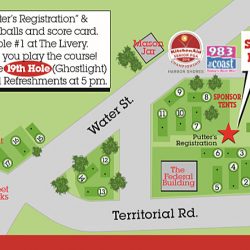 The newest venue in the Benton Harbor Arts District is jumping in full tilt by playing host to the first ever Bi-Annual LINK'D IN Putt-Putt Tournament on the eve of the return of one of golf's most prestigious championships to the golf club at Harbor Shores.
The GhostLight Theatre in the Benton Harbor Arts District is sponsoring the new family-friendly event on Sunday, May 20th from 12 noon until 5pm. There is no charge to play, as admission is free. All you have to do is check in at the Registration Tent, located behind The Livery at 190 5th Street in Benton Harbor, were game putters, golf balls and a score card will be distributed to get in the game.
Putters may begin at any time between noon and 4pm, and there will be a 5pm Prize Ceremony with refreshments at the "19th Hole", just next to the 18th hole at the GhostLight Theatre.
Registration begins behind the Livery where each player will be given a scorecard and a golf ball to begin play at hole #1 – The Livery. From there, you will have a map, and the other corresponding holes are sponsored as follows:
#2 – ARS Gallery
#3 – Renaissance Athletic Club
#4 – Hawk's Nest
#5 – The Collective
#6 – Dwellers Coworking
#7 – Thayer Products
#8 – Mason Jar Cafe
#9 – The Quarternote Lofts
#10 – 210 Arts Space
#11 – The Inn at Harbor Shores
#12 – 3 Pillars Music
#13 – Charlie's Piggin' & Grinnin'
#14 – Phoenix Coffee Shop
#15 – The Citadel Dance & Music Center
#16 – Water Street Glassworks
#17 – The OutCenter
#18 – The GhostLight Theatre
The team at GhostLight is appreciative to Larry Underwood and Meredith Best-George for their inspiration, creative hole designs and construction work.
More information about The GhostLight Theatre and about this event is available on the GhostLight's website:
http://GhostLightBH.com/events
The GhostLight also has several co-sponsors for the event, in addition to the hole sponsors from around the Arts District. The co-sponsors include Whirlpool Corporation, the KitchenAid 2018 Senior PGA Championship, The First Tee of Benton Harbor, and Prairie Real Estate Group.
The event's media sponsor is 98.3 The Coast, and they are sending Meagan Francis from the morning show Jonny and Meagan to broadcast from the LINK'D IN event. You can find her broadcast vehicle near the Registration Tent.
Restaurants in the area will be open during the Putt-Putt event, and there will be live music and entertainment all around the mini-golf course.
The GhostLight is a new theatre performance venue in the Benton Harbor Arts District, at 101 Hinkley Street, that seeks to illuminate the arts and culture of the area. They are planning to create events where children and adults are more than observers, and become active participants in creation and exploration of a variety of performance media, much as the Putt-Putt Tourney will do this weekend.