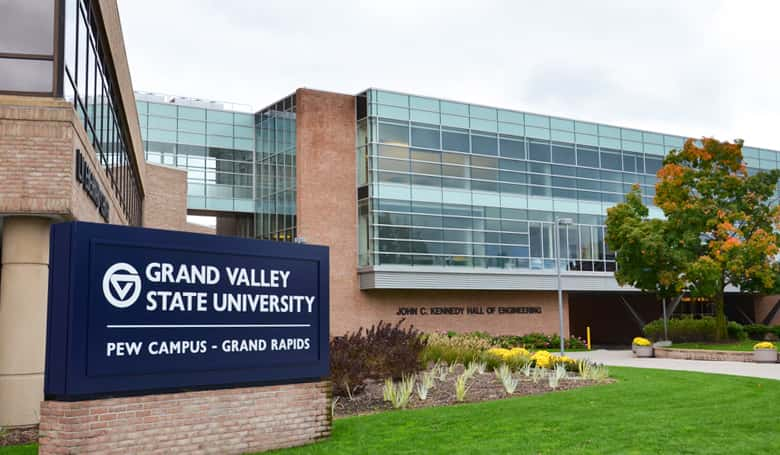 According to the forecast of the Associate Dean of the Seidman College of Business at Grand Valley State University in Grand Rapids, the West Michigan economy will see flat employment growth, weakening sales growth and strengthening export growth in the year ahead.
That's the word from Paul Isely, Professor of Economics and Associate Dean there, as he unveiled his benchmark survey of the regional economy yesterday, during the 2020 Colliers Annual West Michigan Economic and Commercial Real Estate Forecast event at DeVos Place in Grand Rapids.
The economic survey encompasses the greater Grand Rapids economy which includes Kent, Ottawa, Muskegon and Allegan Counties, and was conducted in November and December of 2019. The survey was mailed to more than 1,000 organizations based on a representative sample.
Isely said weakness in manufacturing has become the biggest issue in West Michigan. He says the number of manufacturing workers has increased nationally, but the hours that they work have decreased.
Isely argues, "By some measures, this puts the manufacturing sector and the corresponding transportation sectors in a mild recession," adding, "The data for West Michigan and the United States both show 2020 will likely continue a measured slowdown. It is possible that the annual growth will be positive, but a recession occurs for part of the year."
Isely said exports have traditionally been a bright spot in the West Michigan economy, however, over the last few years, export growth has been weak.
Looking at the year ahead, Isely suggests, "The expectation for 2020 is a moderate improvement in exports compared to 2019," noting, "The optimism in exports is being helped by some positive news about trade agreements."
Isely said the primary uncertainty for 2020 surrounds the presidential election. He said the uncertainty created by the Republicans and Democrats moving further apart also generates problems for business leaders trying to plan for the coming year.
Here are key overall findings for 2020 from Isely's survey:
The Current Business Confidence Index for 2019 was 81-percent, essentially the same as the year before…
The Forecast Business Confidence Index for 2020 is 77.5-percent, a drop from the expectations seen in the last few years…
Employment is expected to grow by 0.3-to-0.7-percent in 2020, an expectation that is less than half what the expectation was for 2019…
Overall nominal sales are expected to increase by 2.2-to-2.8-percent in 2020, a slowdown from 2019…
Exports are expected to grow by 1.0-to-5.0-percent in 2020, increasing from 2019…
All indicators signal the West Michigan economy will continue to slow in 2020, particularly employment growth…
The West Michigan economic survey was conducted by Isely, along with staff members from the West Michigan Regional Small Business Development Center, housed in the Seidman College of Business at Grand Valley State University.