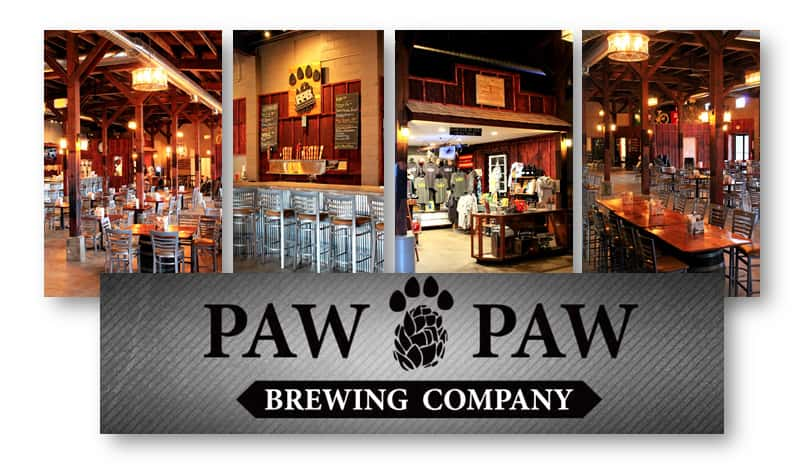 Nine years ago Paw Paw Brewing Company joined the Craft Brew Trail in Michigan's Great Southwest as a pioneer in a tight little 800-square foot space. When you brew incredibly popular offerings that keep the taproom filled beyond capacity day after day like they do, you yearn to set everyone free in a sizable new venue and that's exactly what they have done and now they're ready to celebrate with a formal Grand Opening Celebration.
The team at Paw Paw Brewing Company is excited to invite you to the formal opening of their new taproom at 780 South Gremps Street in the Village of Paw Paw. Their pub, formerly at 929 E. Michigan, has matured from that tight little 800 sq ft beginner space into 6,000+ sq ft adjacent to the brewery's more than 10,000 sq ft production space.
In addition to a sizable stage for performances and more room for patrons, the new location features a full service kitchen, allowing the company to explore new and exciting food offerings.
Chef David Lodygowski has become an integral part of the team, helping to build the new kitchen and staff, and is excited to offer a full menu highlighting the great beer produced on site as well as the varied produce available throughout the changing seasons of the Great Lakes State.
The new facility also offers a private rental space available for meetings, private events, and parties. Throw into the mix an 80's themed arcade room, outdoor seating, and a dog friendly patio and you have ventured into the dreamspace that they hope to bring to fruition as just some of the upcoming features the brewery plans to add in the coming years.
Zachary Morris, Economic Development Director for Van Buren County, was unable to hold back on his excitement level, saying eagerly, "Van Buren County is proud of the growth made by the Paw Paw Brewing Co. team. They are a great example of passionate people working hard in a business they love and the risk is paying off!"
​Co-Owners Ryan Sylvester and Eric Pearlstein are "humbled and overjoyed at the opportunity to further invest in the Paw Paw community."
The official Grand Opening will take place on Thursday, April 4th, 2019, with a ribbon cutting ceremony set for 12-noon. The Grand Opening celebration will feature live music, beer releases, special menu items, and brewery tours.
Paw Paw Brewing Company was founded in 2010 by Paw Paw resident and Western Michigan University alumnus, Ryan Sylvester. What began with four brewing mainstays, St. James Mild Amber, Jake's Vanilla Bean Porter, 2 Paws IPA, and Black River Oatmeal Stout, has grown to over one hundred unique recipes and distribution of nearly 20 brands throughout the state of Michigan.