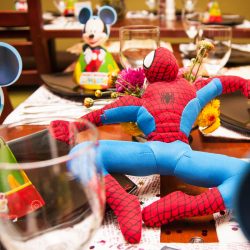 Nothing gets a kid's engine running quite like the appearance of a real live cartoon character, super hero or other well known childhood personality, and that's exactly why Cameron Robertson has invested in a home-based business that can bring the party to life for your next celebration.
Robertson, a school teacher and father of two young children himself, knows the attraction of a well recognized character and he has created My Party Characters to help parents everywhere to bring a whole new dimension to birthday parties, and any event where kids would love to see their favorite super heroes and other characters.
Robertson held a grand opening last Friday of his new business venture with the assistance of his counselors at Cornerstone Alliance Small Business Services and the Women's Business Center in Benton Harbor. Lincoln Charter Township officials were also on hand to welcome the new business which is expected to employ four part-time players who will make personal appearances at parties and other events dressed as favorite childhood characters.
My Party Characters, owned and operated by Robertson, provides entertainment for children's parties and community events. As Margaret Adams from the Women's Business Center says, "It is exciting to see another small business open in Berrien County. Cameron had a dream and the courage to move forward to make it a reality."
Robertson says, "Being a teacher and a dad of a two year old and a five year old, I knew that if I started a business, it was going to be in the form of entertaining kids. I look forward to all the smiling faces and memories I am able to create for kids during their special events."
If you'd like to schedule an event with My Party Characters, you can learn additional information by calling (269)760-3235 or online at the link below:
http://www.MyPartyCharacters.com
The team at Cornerstone Alliance Small Business Services, who helped in the business planning for My Party Characters, provides technical, business and financial assistance to small businesses with emphasis on income disadvantaged and women owned businesses. The Women's Business Center at Cornerstone Alliance and Microloan Program are funded in part through a Cooperative Agreement with the U.S. Small Business Administration.