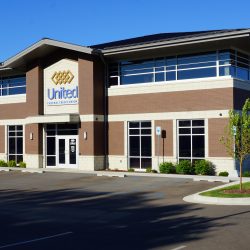 A veteran of the financial services industry has earned his stripes and a nice promotion at United Federal Credit Union, where he will now head up the institution's treasury management-related products going forward. Ryan Jessen has been boosted to the role of Treasury Management Manager for UFCU.
Jessen's promotion places him squarely in charge of United Federal's treasury management solutions for individualized business needs in the marketplace.  In that new role, Jessen will drive the sales and support of treasury management-related products, while simultaneously leading a staff of sales advisors and a support specialist.
Tony Mandarino is Director of Business Sales at United Federal. He tells us, "As United's business services department continues to grow, treasury management will become an increasingly important part of our service." Mandarino adds, "Ryan excels at customer service and project management. His expertise makes him the ideal person to lead the effort."
Jessen is a 14-year veteran of the financial services industry. He has been with UFCU for two years, most recently serving as treasury management specialist.
He received an MBA from Bethel College in Mishawaka, Indiana, and a bachelor's degree from St. Joseph College in Rensselaer, Indiana.
Jessen and his family reside in Plymouth, Indiana, where he currently serves as vice president of Plymouth Junior League Baseball. Prior community involvement includes president of the Plymouth Chamber of Commerce, president of the Plymouth Economic Development Corporation, treasurer of the board of directors of Saint Michael Catholic School, and trustee of Ancilla College.
United Federal Credit Union has served its members since 1949 by helping them to build a sound financial future, and consists of more than 150,000 member/owners worldwide, managing assets in excess of $2 billion. Corporate offices and main branch are headquartered in St. Joseph, with additional branches in Arkansas, Indiana, elsewhere in Michigan, North Carolina, Nevada, and Ohio.