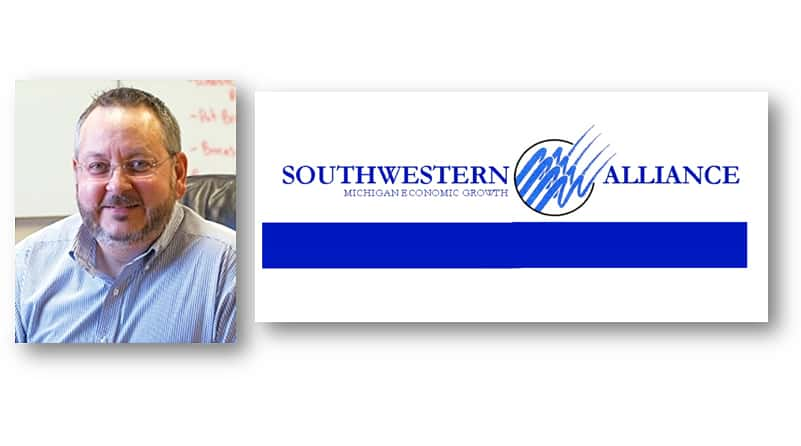 For Barkley Garrett, Tax Day 2019 will hold a special meaning forever. Using two simple, but precious, words, Garrett announced to the world this week that he is leaving Michigan's Great Southwest for his beloved alma mater in the deep south. Proclaiming, "Roll Tide!!!" Garrett has revealed his impending departure from the role of Executive Director of the Southwestern Michigan Economic Growth Alliance in Niles in order to return to Tuscaloosa, Alabama to take over as Vice President of Economic Development for the Chamber of Commerce of West Alabama.
Garrett, a University of Alabama graduate, told Facebook friends Tuesday, "An opportunity presented itself that was just too good to pass up." He admits, "Anyone who knows me is aware of my love for the University of Alabama," and adds, "As Coach Paul 'Bear' Bryant famously said when he left Texas A&M for Alabama, 'Momma called...and when Momma calls, you just come runnin'." He says he and his wife Diana believe, "This is my 'Momma called' moment," adding, "If I can be half as successful at economic development as Coach Bryant was at football, we will be doing OK."
Garrett begins his new job on Income Tax Day, April 15th, after three years at the helm in Niles, and replaces a five year veteran who retired earlier this year.
Garrett will be charged with all economic development activities of the West Alabama Chamber, including efforts to expand the knowledge-based business sector and continue recruitment of new-to-market retail investment.
Jim Page, President & CEO of the Chamber of Commerce of West Alabama, says, "We are fortunate to add someone with such impressive credentials and proven economic development experience to this community." He adds, "Barkley brings a very unique perspective having not only worked in economic development for state and municipal government, but also through a public-private partnership that had a regional focus."
Page goes on to say, "That broad experience, coupled with his genuine passion for his home state and alma mater, will help us take our economic diversification efforts to the next level."
Prior to his role with the Southwestern Michigan Economic Growth Alliance, Garrett had served as Director of Economic Development for the city of Elkhart, Indiana. He also served two Indiana Governors as a project manager, director of the Office of Business Recruitment & Expansion, and Director of the North Central Region for the Indiana Economic Development Corporation/Indiana Department of Commerce.
In his new role Garrett says, "I will be working as a liaison between the Chamber, the City of Tuscaloosa, and the University of Alabama to help spur economic growth in the region."
Garrett earned a bachelor's degree in corporate finance and investment management from the UofA. He also holds a master of business administration degree from Spring Arbor University, earned the Certified Economic Developer designation through the International Economic Development Council and is a graduate of the Economic Development Institute at the University of Oklahoma.