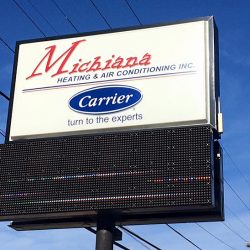 The building in Niles that once housed an Internet sensation is getting new life thanks to a burgeoning heating and air conditioning contractor.
Furniture Find was an early adopter of the Internet and a prolific early success in the world of online ordering, but their former building on S. 11th Street in Niles had been empty for some time until the team from Michiana Heating & Air Conditioning changed all that recently with their purchase of the building.
The building, as a result, will be transformed into one of a kind customer showroom for Michiana HVAC which completed the deal for the property located at 2439 S. 11th Street in Niles. Company officials say that the finishing touches are being made on the facility which is being transformed into a unique, one of a kind Heating, Air Conditioning and Indoor Air Quality Showroom. The Grand Opening is currently being planned for late spring and will be announced soon.
Company President Steve Gillispie says, "I'm a lifetime resident of Niles, I am excited to not only have our headquarters here, but to be able to see our long-term vision coming to life. We'll have an interactive & educational showroom for our current and future customers."
Gillispie also tells us their new headquarters will hold a state of the art training facility for their technicians. When asked why he purchased the building Gillisipe said: "It's important to me to be able to provide our customers with a one of a kind showroom so they can see and learn about the whole 'Michiana HVAC Experience'", and adds, "Plus we are a family business, so I also want to build a solid future for my sons and my grandkids."
Michiana Heating & Air Conditioning, formerly Garwood Heating, is family owned and has been serving the Michiana area for more than 25 years. Despite the company's remarkable success, Michiana Heating & Air Conditioning remains a family business at heart. The company has been recognized in 2018 as a winner of the President's Award as a factory authorized dealer of Carrier.
Michiana Heating & Air Conditioning, Inc. is the largest Factory Authorized Dealer in the Niles area, providing Furnace & Air Conditioning Service, Installation and Maintenance, as well as Indoor Air Quality such as Duct Cleaning and Duct Sealing for over 25 years. They service a large area, as evidenced by the full list available online at the following link: