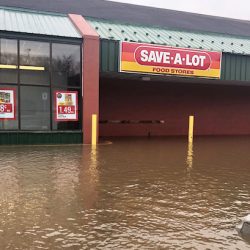 There are many stories emerging from the historic flooding across Southwest Michigan over the last couple of weeks both public and private. For Steve Eagle and his family and colleagues what had been hard work and hope poses the serious threat of turning into an abrupt end of a decade old business that has provided groceries to Niles area neighbors for the past ten years.
Eagle is the owner and operator of Save A Lot in Niles. His store was one of those impacted by the flooding that began on February 21st. On that day, Eagle and his daughter Jody and other family members discovered the flood waters were threatening the business and worked for hours trying to build barriers around the store to keep the river water out. Unfortunately, those efforts fell short, and over the next several days a foot or more of water flooded the Save A Lot, the neighboring Dollar General and the Hot Wok restaurant.
As the flood waters receded in recent days, the Eagles and their staff and friends began the clean up in earnest, washing, disinfecting, and throwing out contaminated items preparatory to getting the store ready to re-open for business. Then, the hammer came down.
Jody tells me that on Thursday they learned from authorities that their entire store has to be literally taken apart. They will have to open every wall up to four feet off of the floor, get things dried out, sanitized and rebuilt. Additionally, all coolers have to be removed in order to get to the walls for that process. They have also been told they must remove and replace all floors in the building as well. The entire commercial strip will have to have that work done, but insurance will not cover the cost because the government placed them in a no flood zone and they will not be offered any rehabilitation assistance.
Eagle says that the business will be forced to close for good unless they can produce the nearly $300,000 to rebuild as required in addition to the cost of re-stocking the store.
They are hopeful that friends, customers, interested parties and generous people with a heart will help them not only get back on their feet, but retain the business and flourish once again.
They have established a Go Fund Me Campaign, but insist they are not begging or asking for hand-outs so much as a hand-up. Jody says, "I just really don't want to see something our family has started from the ground up, to be gone because of a foot of water. Our employees depend on us as well as many of people in the Niles community, who only walk, to be able to go back to the store they've depended on for years."
Here is a link to the Save A Lot Grocery Go Fund Me Campaign if you are inclined to help the Eagle family and the Niles community at large: