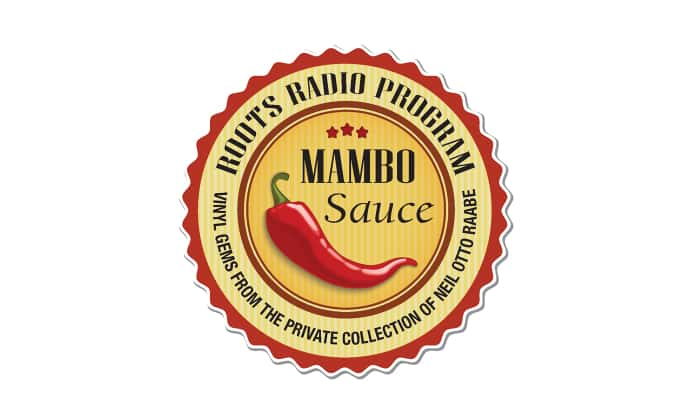 Justin Flagel has lived in Michigan's Great Southwest for most of his life, growing up in Bridgman and living now in Niles, but his cosmopolitan nature has taken him well beyond the boundaries of the region both literally and figuratively as he shares outstanding content through the universal magic of podcasting.
Flagel has been a maker and a creator for a long time, working as a freelance writer interviewing local & national figures and previewing & reviewing events, hosting regular events at Bridgman's Tapistry Brewing and at The Brass Eye Lounge in Niles.
More importantly for his podcasting career, Flagel has created great audio and web content from his studio in Niles, including the successful podcast, Anywhere The Needle Drops. Last week, however, he released his biggest and most ambitious project yet, Mambo Sauce.
Mambo Sauce is a music-heavy podcast where Flagel and his co-host, Tom Moore, are digging into the massive vinyl music collection left to Tom by his late friend, Neil Otto Raabe. As Flagel tells it, "We're telling the stories of the artists, as well as the tales of Tom, Neil, and friends discovering their music."
It hasn't been a cake walk by any stretch of the imagination, as Flagel tells me, "We've spent 2 1/2 years working, writing, preparing, and navigating the legal world of music licensing. We're very excited about the show and have been receiving great feedback."
Justin has been writing and creating podcasts and other works since 2005 under the name Red Chuck Productions. He found his voice in writing, working on his own projects and as a freelance writer in magazines, newspapers, and online, and has had conversations with artists, musicians, and other wondrous folks, telling their stories on his podcast Anywhere The Needle Drops. A lifelong music fan, he's hoping to bring American Roots music to a wide audience through Mambo Sauce.
As teenagers in South Bend, Tom Moore, Neil Raabe, Thomas McGlinn and companions became immersed in recorded and live American blues and related roots music. Tom has always been a rambler, and his early travels lead him through hotbeds of music such as LaFayette, Louisiana, Dallas, Austin, Memphis, New Orleans, Cincinnati, Jackson, Mississippi, Indianapolis, Cleveland, Chicago, Detroit, Phoenix, and beyond. Neil accompanied him on some of those "cultural fields trips." Along the way, they met many of America's finest musicians and were able to form great relationships which will be shared on Mambo Sauce in the form of music and interviews. Tom excels at providing handpicked musical gems of the highest quality for each episode.
Mambo Sauce's inaugural episode, A New Orleans Soul, focuses on three incredible New Orleans pianists/vocalists; the late Ronnie Barron and Henry Roeland Byrd, aka "Professor Longhair", and still-living legend Mac "Dr. John" Rebenack. Thrown in for good measure is Washington, DC treasure, vocalist/drummer-supreme Big Joe Maher, featured along with his stellar pianist Kevin McKendree. The episode also showcases Dr. John playing some amazing guitar solos on Professor Longhair's masterpiece, Crawfish Fiesta. Justin provides excellent biographies on the artists. This initial episode captures the soul of New Orleans and Neil Raabe.
That's just the beginning. Two more episodes drop in the next two months, and future podcasts are scheduled to drop the second week of each month. Coming on May 9th: Episode 2 is called "Soul City," and will feature "A marvelous array of 60's- style soul singers from the 1960's through the 1990's, from the likes of James Carr, Otis Rush, O.V. Wright, Little Milton, Otis Clay, Arlester Christian, Wilson Pickett, Joe Hughes, Robert Ward and others.
Then, on June 9th they will drop Episode 3, "Ann Arbor's Finest." That episode features three of America's greatest roots musicians who reside in the Ann Arbor area. Pianist/vocalist Mark Lincoln Braun (aka Mr. B), guitarist/vocalist George Bedard, and Guitarist/harmonicist/pianist/vocalist Steve Nardella, have been thrilling audiences together and separately in the Ann Arbor/Detroit area for more than four decades. They still pack houses weekly and they are the kind of hidden gems that Neil Raabe loved to turn people on to. A mix of full tilt boogie, low down blues, and rockabilly are the signatures of 3 great artists, with several tunes featuring all 3 of them together.
If you'd like to check out Flagel's new Mambo Sauce podcast, and find further details, click the link below: