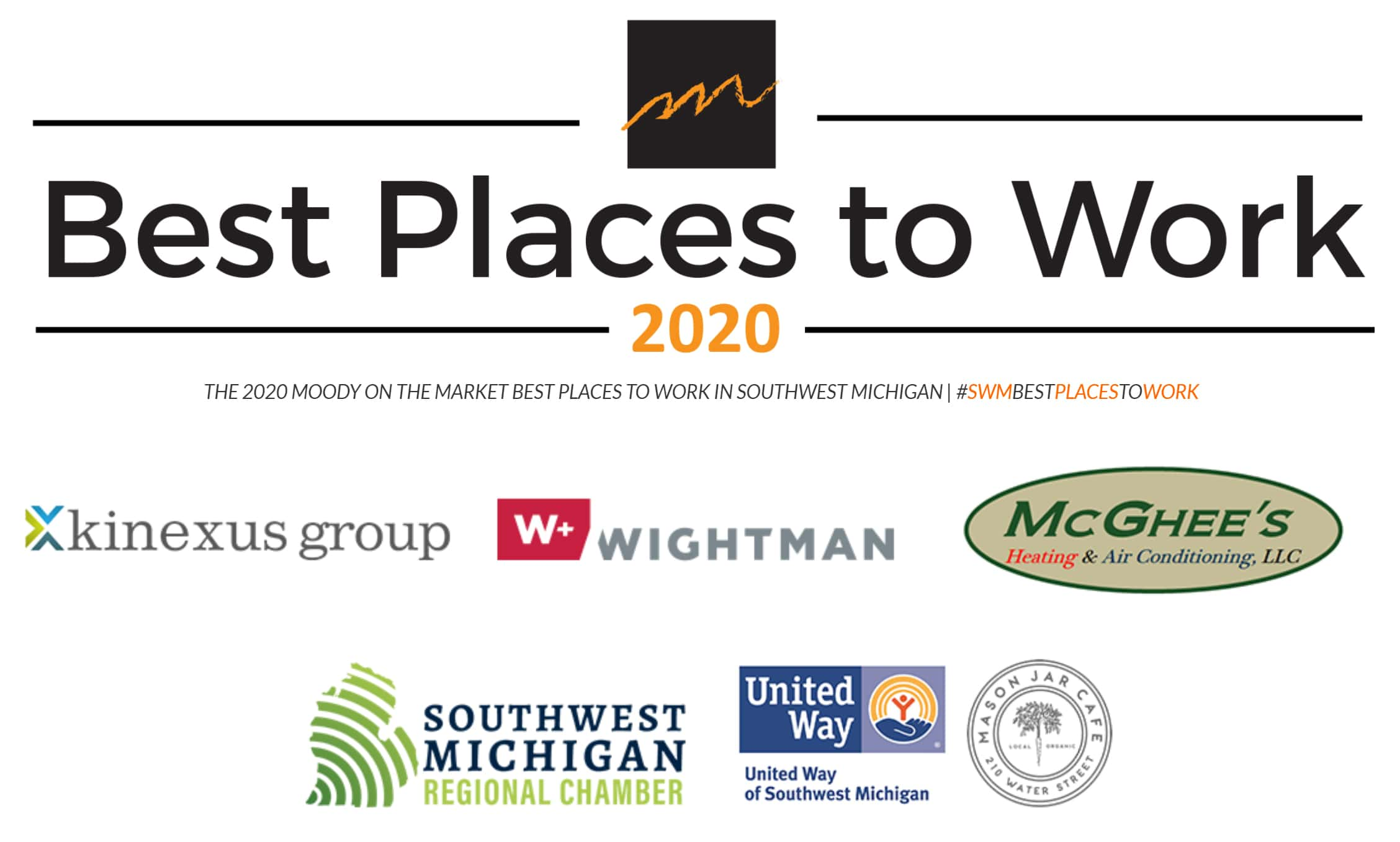 Many times over the years I've shared the stories here of amazing businesses like Whirlpool, Competitive Edge and others who have garnered nationwide recognition as being among the best places to work in America. Clearly, most businesses on a local scale rarely have the opportunity to share in that bright of a spotlight, but that doesn't mean that they aren't equally awesome places to work. Last year we launched the inaugural version of the Moody on the Market 20 Best Places to Work in Michigan's Great Southwest. It was a resounding success. So, the search begins anew today for the Best Places to Work in Michigan's Great Southwest for 2020.
Join me and local business leaders today as we mark the second-year effort to identify the 20 local businesses with the best morale making a difference for their employees as well as others in our community.
Today, Moody on the Market renews the search for the Best Places to Work in Michigan's Great Southwest, the prestigious recognition program that first took flight last year and one that is reserved exclusively for the best businesses in our region. We are appreciative of the support of our major sponsors for the campaign, Kinexus, Wightman and McGhee's Heating with support from the Southwest Michigan Regional Chamber of Commerce, United Way of Southwest Michigan, and the Mason Jar Cafe.
Do you work for or know a business that is doing it right for their staff and employees, and even making a positive impact in our community? The nomination process officially begins today, February 17th, 2020. You are invited to submit nominations online here at MoodyontheMarket.com. The deadline for entries will be the end of the day, Friday, March 6th at 11:59pm. A committee of business people from the community will then select the twenty top businesses for 2020.
Then on Tuesday, March 31st, I will unveil the 20 Best Places to Work during the Taking the Lead with Jim Gifford Radio Show on News/Talk 94.9 WSJM and 98.3 The Coast Social Network, and detail each honoree in a special section here, inside MoodyontheMarket.com. Plus, all of the Best Places to Work will be invited to a cocktail reception in April where they'll be recognized and receive their recognition award.
Please note that there are eligibility requirements, and they can be found under the tab at the top of the page. Best Places to Work recognizes the type of business that everyone would like to work at – they're the businesses that are going above and beyond for their team and the community, setting the gold standard for others to aspire to. Please note, too, that the 20 Best Places to Work selected in our inaugural year of 2019 are not eligible to repeat, so should not be nominated.
No matter the industry or sector, we'd love to hear about those stellar businesses among us that are making a difference at their workplace, excelling in their industry and making valuable contributions to the betterment of Michigan's Great Southwest. These companies clearly stand head and shoulders above all others in the region and have been able to excel at what they do regularly. Those selected for representation in the Best Places to Work will be those that set the tone for what every good company or organization should ascribe to in Michigan's Great Southwest.
To submit a nomination beginning today, click the link to go to an online survey where you will be asked to answer less than 20 questions about the business being nominated. Be sure to read the information under that tab, which explains requirements and eligibility. Don't forget to share about your nominations and spread the word about this program on social media using hashtag #MoodyBestPlacesToWork!
Good luck to everyone, and we look forward to hearing and sharing your stories of stand-out businesses right here at home.
To see the rules, and find your direct link to the online survey for nominations, click the link below, or the Best Places to Work tab on the top of the page. Here's the link for more: