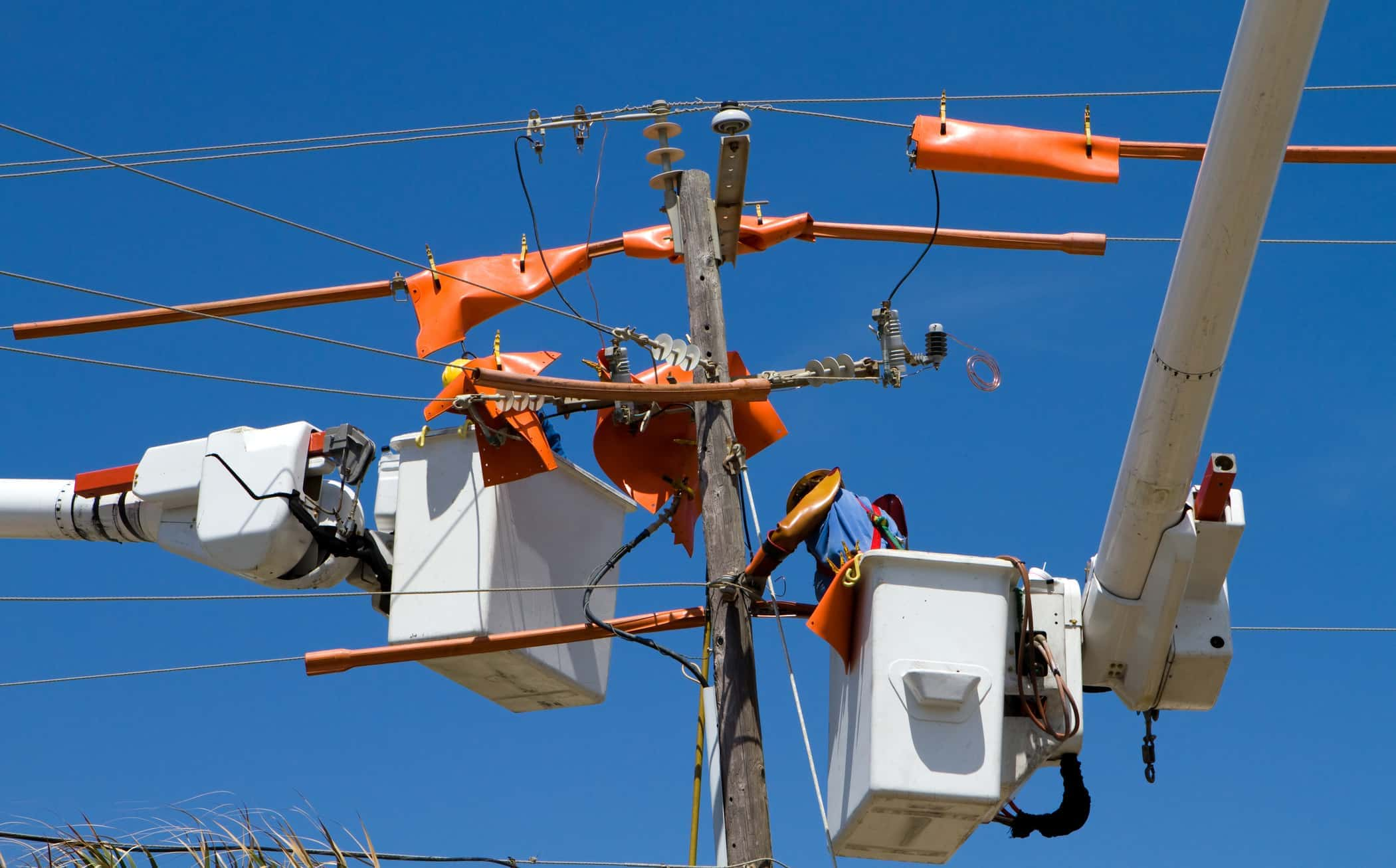 A lot of folks who were hoping to spend the day today shopping for their Thanksgiving dinner items or cooking and baking preparations for the big feast have been stymied by power outages stemming from intense winds and huge gusts of upwards of 60-mph throughout the day, and those same winds that caused widespread outages are also playing havoc with the return to service.
Strong, frequent winds gusts upwards of 60 miles-per-hour continue have continued to move across Indiana Michigan Power's service territory all day, leaving approximately 8,400 customers still without power at 4:30pm,  down from a peak of 13,000 around 11 am.
I&M officials warn that weather conditions are not expected to subside until the evening hours, which could hinder restoration efforts and cause additional outages. During high wind gusts, it is unsafe for crews to use bucket trucks, however they have more than 250 employees and contractors in the field assessing damage and restoring power.
Officials say, "I&M understands the inconvenience the prolonged strong wind event brings given the Thanksgiving holiday. A full contingent of I&M crews and contractors will work as safely and as quickly as possible until the last customer is restored."
They remind people to report any power outages. You can report outages and hazards on the utility's mobile app or website, and you can also call 24 hours a day, 7 days a week at 800-311-4634.
The utility asked people to please be aware of some potential hazards:
Downed power lines. Stay away from any downed wires and report them to I&M. You can call at 800-311-4634, report on the app or website, or call 911.
Some trees are likely damaged and could fall or drop limbs at any moment; please look up and stay out of the line of fire.
Limbs, leaves and objects moved by the wind could hide downed wires. Investigate your surroundings before trying to clean up any debris.
Roads will likely be wet, slick and covered with debris or blocked by trees and limbs.
Traffic lights may not be functioning. Treat all such intersections as stop signs.
With holiday traffic, many people unfamiliar with the area are traveling the roads and young adults are home from school. Please use extra caution on all roadways.
Watch for utility workers and first responders at the side of the road and slow down near any work areas.
Before using a generator or a portable heater, be sure to review the manufacturers' instructions.
Generators release carbon monoxide as exhaust and should never be run in the house or near an open window.
Refuel heaters, lamps, and generators outside, and stay away from any flames or sparks. Wipe up fuel spills immediately.
Never burn charcoal indoors. It releases carbon monoxide.
OUTAGE NUMBERS
The approximate number of outages in Indiana and Michigan areas as of 3:30 p.m. are:
Indiana Total Customer Outages: 3,150
Fort Wayne area: 1,300
Muncie/Marion area: 700
South Bend/Elkhart area: 1,150
Michigan Total Customer Outages: 5,250
Benton Harbor area: 4,300
Buchanan area: 850
Three Rivers area: 100
ESTIMATED RESTORATION TIMES
Estimated restoration times will be established once the weather moves through and crews fully assess the damages.
I&M encourages customers to use the Indiana Michigan Power app to monitor the status of any outage affecting your home or business. IndianaMichiganPower.com/App
You can sign up for text and email alerts on the app or at IndianaMichiganPower.com/Alerts
See the location and status of outages using our outage map at IndianaMichiganPower.com/OutageMap
For the latest updates you can also follow Indiana Michigan Power on Facebook and find them on Twitter @IN_MI_Power.