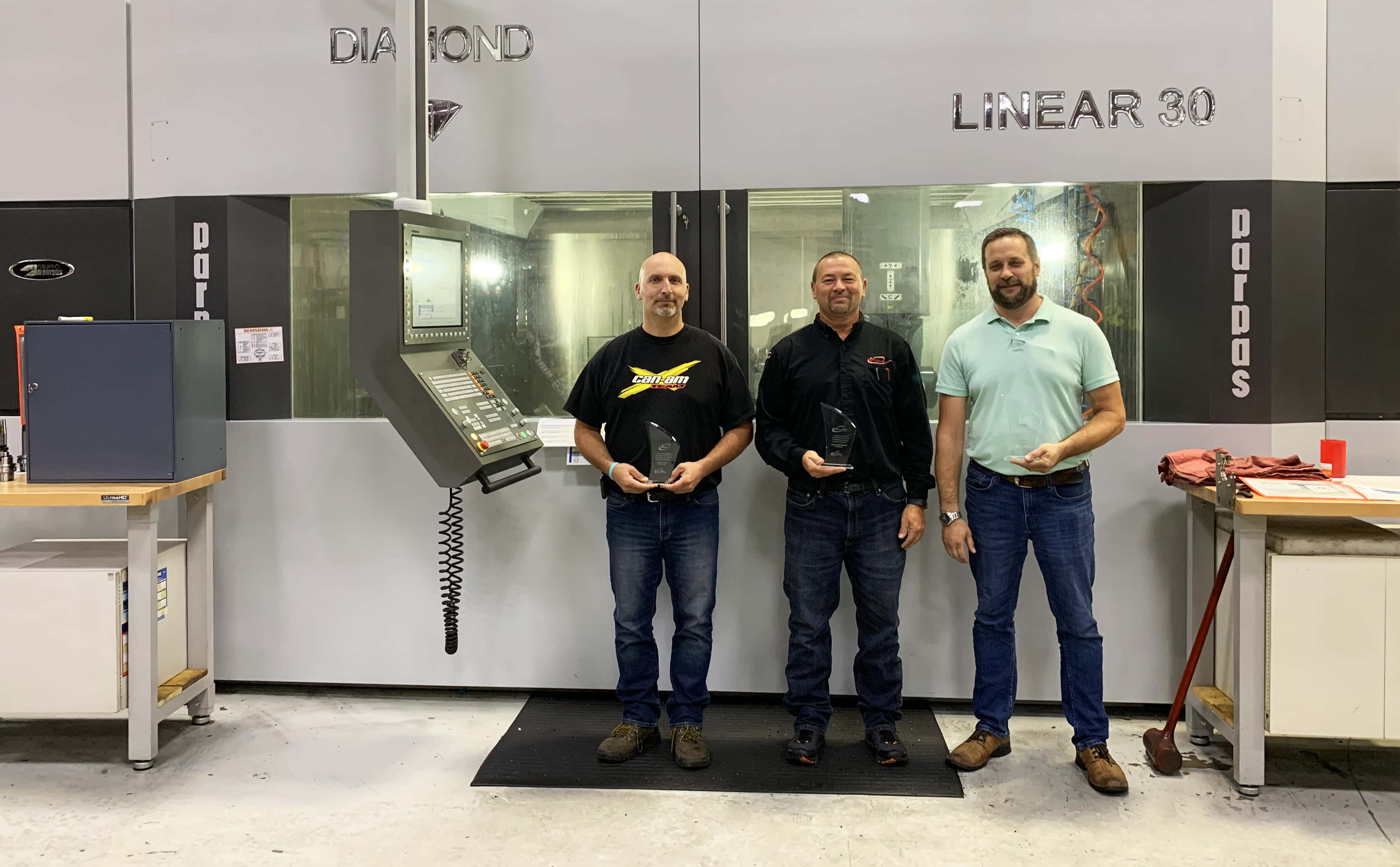 A passion for moldmaking driven by the singular mission of providing customers with a better alternative for tooling development has helped David & Cynthia LaGrow to not only survive but to thrive in the world of advanced manufacturing right here in Michigan's Great Southwest.
As owners and operators of the Maximum Mold Group of companies, the LaGrows first launched operations in Coloma 23 years ago with a single plant, Maximum Mold. In 2009, when many moldmakers across the nation were shutting down plants and closing their doors forever, LaGrow actually bought a larger building in order to expand. He told MoldMaking Technology Magazine last summer, "I had a lot of people telling me that I was crazy to buy a building, not to mention purchase three new pieces of equipment." Nevertheless, he persevered, bolstered by his moldmaking passions. As a matter of fact, they were made the magazine's Leadtime Leader Award winner in 2018.
Fast forward to today and David & Cynthia have expanded to a group of companies that include:
Maximum Mold
Max 2
Max 3
Magnum Manufacturing
The Maximum Mold Group specializes in project management, engineering, injection molding, die cast dies, and trim dies. The companies have grown through the years and now employ more than 100 employees across the group.
The LaGrows believe not only in their own capabilities and expertise, but equally believe in the future of manufacturing. In fact, they support various local schools Career and Technical Education (CTE) Training programs through the U.S. Department of Labor Journeymen Apprentice Program. Over the last year, the company has again made a transition in preparation for our future growth in manufacturing.
The group now features three strong, experienced Plant Managers, ready to take on the future in their new roles as Vice Presidents at each of their divisions. They include:
Maximum Mold — Skip Thibeault, now Vice President, has been employed as Plant Manager at Maximum Mold since September 12, 2013. He attended Lake Michigan College where he completed his Journeyman Mold Maker requirements. Skip has worked in numerous sales and project management roles during his career in the manufacturing of Die Cast Dies and Plastic Injection Molds.
Max 2 — Charlie Kreitner, now Vice President, was hired at Maximum Mold on June 23, 2014 as an addition to the Sales Team. In 2016, in addition to his continued role in sales at Maximum Mold, Charlie was named as Plant Manager of Max2. Charlie completed his Journeyman Mold Maker requirements while attending Lake Michigan College. Charlie's experience in project management, sales and the building of Die Cast Tooling has aided in the manufacturing of custom components being performed at Max2.
Max 3 — Gavin Dewey, now Vice President, started with Mach Mold on August 7, 1995. He is a Journeyman Mold Maker having completed his apprenticeship while attending Lake Michigan College. After successfully completing the Journeyman requirements he worked his way to Plant Manager. He has continued in this role since the acquisition of Mach Mold, now Max 3, by the LaGrow family. Gavin's years of experience building and managing the production of Plastic Injection Tooling has helped make the acquisition of Mach Mold a success.
The ongoing investment in state-of-the-art machinery and equipment is a hallmark at the Maximum Mold Group. The company serves the die casting, injection-molding and blow-molding markets, offering complete project management from concept and design to sampling and production.
The group builds prototype molds and dies, molds with undercuts, two-shot molds, injection molds with rotating cores, trim dies, high-pressure die cast dies, rack-and-pinion dies, low-pressure die cast dies with hard plumbing, high-pressure dies with vacuum assist, valve body dies and more.
With that wide range of capabilities, the Maximum Mold Group serves multiple industry markets from automotive to aerospace and appliances to medical, packaging, agricultural, telecom and wind-turbine manufacturers.
The original Maximum Mold in Coloma moved to new quarters in Benton Township years ago but then bought Michigan Mold in Coloma which became Max 2. They boldly acquired Mach Mold, a neighboring shop in Benton Township nearly double the size of their own facility two years ago in 2017. That acquisition of Mach Mold became Max 3, and LaGrow retained all 42 employees when they took over operations.
The Maximum Mold Group works diligently to maintain a viable workforce, parlaying their aggressive apprenticeship program into a solid workforce, with LaGrow saying, "Part of our recruiting strategy is to have current employees discuss our company environment with potential candidates," adding, "We can say all we want about the company and how good we think we are, but we believe it is best if it comes from our team members."
They are always focused on training the next generation, by maintaining solid relationships with educators like those at Lake Michigan College and their apprentice programs.
The Maximum Mold Group is proof positive that strategic acquisitions and diversified capabilities combined with a passionate and "can-do" culture can clearly pave a pathway of success for a team of focused, hard-working people doing things with their hands every day in Michigan's Great Southwest.