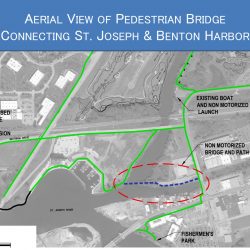 The proposed new million-dollar pedestrian bridge connecting St. Joseph and Benton Harbor by crossing over the Paw Paw River near the Harbor Village development alongside The Inn at Harbor Shores will advance another step Monday night when St. Joseph City Commissioners consider a second amendment on the proposed easement sought by Cornerstone Alliance.
The proposed new 12-foot wide, 210-foot long span would link the Harbor Village neighborhood and the existing public pathways to the opposite side of the river and establish a path along the former Benton Harbor Ship Canal to weave it into the trail systems both completed and in process.
It was back on August 28th that Cornerstone President Rob Cleveland addressed the St. Joseph City Commission with the proposed pedestrian bridge which could be used by pedestrians, cyclists, residents of the Harbor Village and anyone else wishing to traverse the span of the Paw Paw River at that site. It is designed to connect the public waterfront trails adjacent to the Harbor Shores Resort community with future trails in Benton Harbor east of the river.
The concept of a pedestrian bridge in this area has been under discussion for several years and is an
extension of the existing Linear Park property owned by the Cities of St. Joseph and Benton Harbor.
Cornerstone applied for and received a grant to fund the construction of the bridge, which would be
constructed from the Linear Park property along the path of the Paw Paw River across to property
owned by Harbor Shores Community Redevelopment LLC. Harbor Shores has agreed to extend an
easement for public access across its property from the eastern end of the Bridge to Riverview Drive.
Under terms of the proposed easement, Cornerstone will construct the bridge and extension and
upon completion, transfer ownership of the bridge to the Cities. Harbor Shores will be responsible
for maintenance and upkeep of the bridge and extension.
The original easement for public access, dated March 20, 2014, was amended September 19,
2017 to relocate the easement area and include the successor-in-interest. City Manager John Hodgson has asked the commission to approve a second amendment needed to address the bridge and extension, and notes that city staff members have reviewed the plan and recommend approving the terms of the proposed second amendment.
Bob McFeeter, of Harbor Shores, will be on hand at Monday night's City Commission meeting to describe the request and to answer questions.
The accompanying photo to this story on Moody on the Market.com shows the placement of the bridge from an aerial perspective and is part of the City Commission's packet for the Monday, November 13th meeting at City Hall.