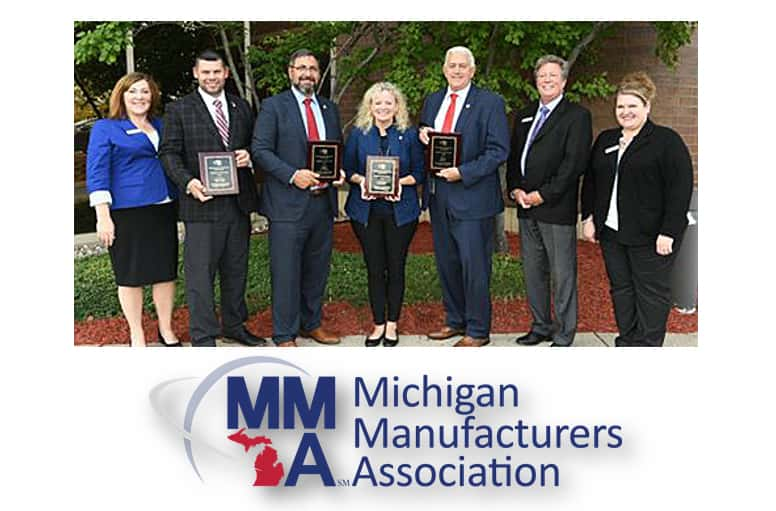 She's been a junkyard dog on issues relating to student career choice opportunities and career and technical training, and now, State Representative Beth Griffin is being rewarded for her diligence by the Michigan Manufacturers Association.
Manufacturers joined with Legislators and agency leaders last night during the Michigan Manufacturers Association's (MMA) Legislative Reception to honor the recipients of the 2019 MMA Legislator of the Year Award. That reception, held last night, Tuesday, September 10th, 2019, is the annual stage for recognition of the Association's highest policy honor.
The MMA Legislator of the Year Award recognizes state legislators for their leadership and dedication to Michigan's manufacturing sector and their role in advocating on behalf of Michigan's largest job-creating industry.
The 2019 Legislator of the Year Award recipients include:
Senator Ken Horn (R-Frankenmuth)
Senator Jim Stamas (R-Midland)
Representative Triston Cole (R-Mancelona)
Representative Beth Griffin (R-Paw Paw)
Paw Paw State Rep Griffin is being recognized for her diligent work to create more opportunity for students in Michigan to pursue their best path to a rewarding career choice by championing greater curriculum flexibility. She is working to make sure today's brightest students have multiple paths for accessing lucrative and fulfilling careers.
Senator Horn is being recognized for his steadfast leadership in securing Michigan's Going PRO Talent Fund as a resource for manufacturers now and in the future. His work with MMA and manufacturers has solidified the Going PRO program into law so that the critical funding is an option to employers for years to come. And, as chair of the Senate Appropriations Committee on Talent and Economic Development, he is a leading champion for even greater investment in that program.
Senator Stamas is being honored for his constant and unwavering support, even in the face of numerous obstacles, toward legislation which will improve awareness of available manufacturing careers. He is helping students gain access to programs that will open their eyes to what careers are possible.
Representative Cole is being honored for his championing legislation to help Michigan manufacturers compete with their counterparts in other states by prohibiting state regulations in excess of federal standards. With the help of Representative Cole's "No Stricter than Federal" law, employers in Michigan know that they're playing on a level playing field.
Chuck Hadden is President & CEO at the Michigan Manufacturers Association. He says, "Over the last year, four exemplary legislative leaders stood with the MMA and its members on legislation to increase manufacturing career awareness, protect much-needed funding for workforce training, and maintain consistent and reliable regulatory standards." Hadden says, "Thanks to their hard work and unyielding support to Michigan's manufacturing sector, our state has been able to continue nation-leading job creation and achieve countless new investment opportunities to strengthen our economy and maintain Michigan's role as a global manufacturing location."
The 44th annual MMA Legislative Reception was held at the MMA Headquarters at 620 South Capitol Avenue in Lansing and was attended by manufacturers, legislators, executive branch officials and manufacturing champions and partners from across the state.
For over 115 years, the MMA has been serving Michigan manufacturers and related industries by providing effective representation at Michigan's Capitol, timely educational seminars; quality and competitive-rate insurance programs, informational e-newsletters and a monthly magazine. You can visit online at www.mimfg.org for more information.