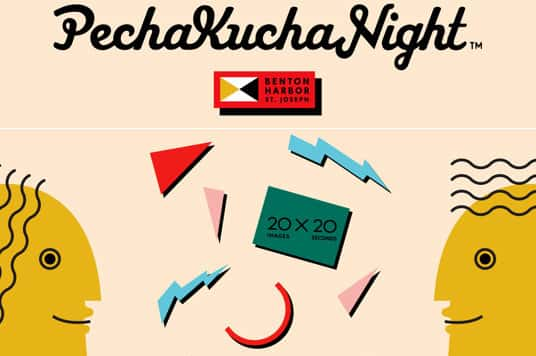 What if you wanted to tell a wide-ranging and eager audience all about something you are passionate about? Which would be harder for you…settling in for a good long story line…or having to share a total of no more than 20 images with your audience and having each image remain on the screen for no longer than 20 seconds each? That's the basic challenge behind the Pecha Kucha premise as the eclectic story tour returns to the local community this week with a total of 10 presenters ready to share their work.
The public is invited to witness Pecha Kucha — Volume Four this Thursday evening, February 11, 2016, from 7pm until 9pm at The Box Factory for the Arts in St. Joseph.
Pecha Kucha Night was first conceived in Tokyo by Astrid Klein and Mark Dutham. It has since grown into an international phenomenon taking place regularly in more than 700 cities around the world, and attended by more than 250,000 people each year. Pecha Kucha Night has been described as the world's biggest physical social network.
The key to the success is the simple format where presenters are restricted to just 20 images at 20-seconds each, thereby allowing virtually anyone the chance to present their project or passion.
Pecha Kucha here is a collaboration between the Whirlpool Creatives Association, Wightman & Associates, and the Krasl Art Center in St. Joseph. The host site for Volume 4 on Thursday evening is The Box Factory for the Arts located at 1101 Broad Street in St. Joseph.
The doors at The Box will open at 6pm and beer and wine will be available for sale with the event launching at 7pm. Here's the line up for Thursday night:

Ann R. Miller — Nymphs, Duns, and Spinners: The Making of a Hatch Guide
Stacy Gleiss — The Six Foot Bonsai — A Tale of Cultural Addiction
David Baker — A Sense of Place — New Paintings from a New Locale
Gloria Weberg — Looking Inward, Looking Outward — Almost 94…Wow!
Michael Gross — Eat. Drink. Beer Happy — The Journey of Silver Harbor Brewing Co.
Navya Mastanaiah — Aaja Nachle! (Let's dance!)
Stefany Holland — 07.13.08, Here's What Happened…
Jerry Anderson — Photographic Perspectives
Angela Reichart — Ibrahim's Story with a Twist
Mark Strauss — Story
Many cities often lack spaces where creative people can share their work, and so Pecha Kucha Nights are about exposing the hidden creativity in a city. Pecha Kucha Nights are organized by passionate and enthusiastic people of any creative field.