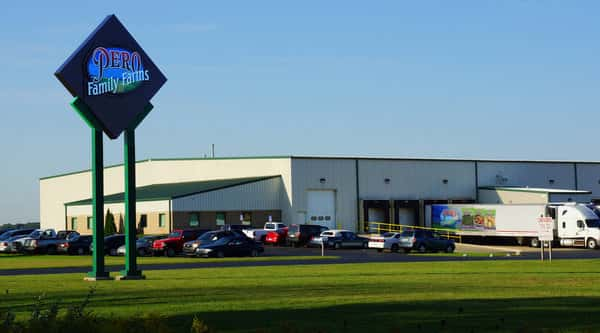 It's only appropriate that the sizable expansion of operations of one of the premier food processing companies in the nation is happening in the Heart of the Fruit Belt in Michigan's Great Southwest. Pero Family Farms Food Company was awarded the Food Processing Large Business Award by Cornerstone Alliance at their first ever Business Recognition Breakfast at Lake Michigan College's Mendel Center for Arts & Technology. Pero's major local facility is literally in the shadow of the Napier Avenue Campus at the corner of Yore and Meadowbrook in Benton Township.
Cornerstone Alliance President Rob Cleveland welcomed Pero's Benton Harbor facility General Manager Alphonso Chavez with the award in front of some 350 business people in attendance at the ceremonies. He told onlookers, "We are honored to celebrate Berrien County businesses and individuals this morning," as several companies earned well-deserved recognition.
In Pero's case, the company has more than 18,000 acres of family farms through the nation and is a branded specialty packaged producer and marketer of fresh vegetables. Last year Pero announced the expansion of its existing cold storage and distribution facility to a state-of-the-art cut vegetable operation in Benton Harbor. The expansion is expected to be complete late this year, and will create additional employment opportunities benefiting the local community. An increase in national demand for the company's packaged fresh vegetables, as well as the recent introduction of new wide ranges of vegetable side dishes and snacks, spurred the decision to expand the plant to Benton Harbor. The expansion will benefit customers, employees, and the Berrien County community.
Pero Family Farms Food Company is a sales, marketing and distribution group and part of the agricultural corporation headquartered in Delray Beach, Florida. The company is family-owned and was founded in 1908 with additional facilities in Georgia, Tennessee, New York, Pennsylvania and here in Michigan.