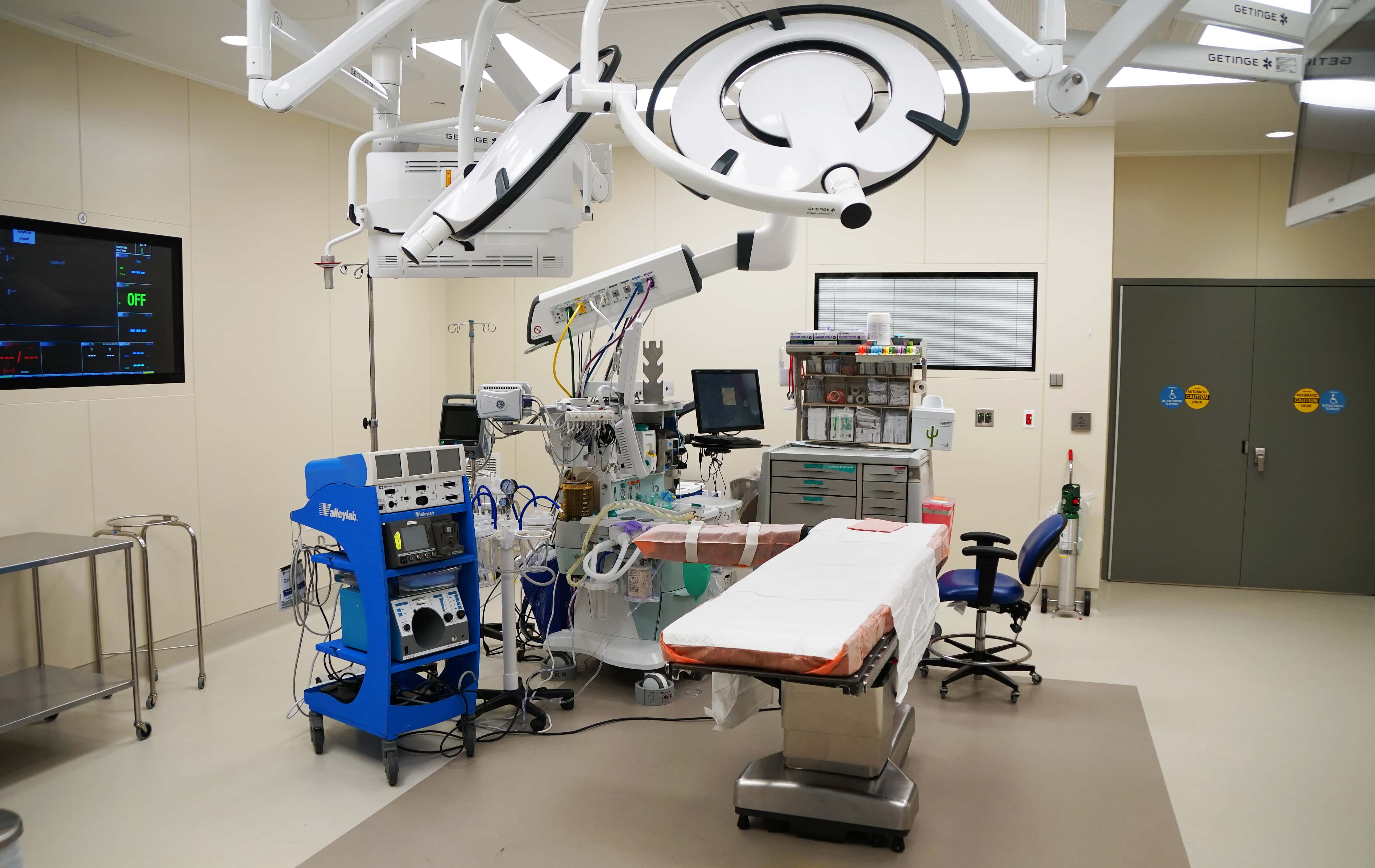 While one portion of the new $168-million Pavilion project at Spectrum Health Lakeland was expedited in light of the coronavirus pandemic, Phase 2 was briefly derailed by the COVID response, but is slated to get back on track beginning next month.
Spectrum Health Lakeland's Manager of Facilities Planning Design & Construction, Philip Cooper, conducted a media tour today that was originally planned for when the Pavilion first opened in the spring but cut short due to deep restrictions on who had access to the building at the height of the pandemic.
As he wrapped up a more than hour-long tour of facilities from the new operating room suites and ICU to back-of-house corridors, the central processing unit, imaging departments and beyond, he called it, "A long journey."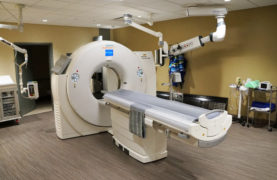 Cooper says, "It started out as just an update to our operating rooms, but developed into a 250,000 square foot addition to our existing hospital to replace our imaging and endoscopy, our intensive care units, our surgery center, and our central processing unit."
Still to come, is another 80,000 square foot renovation due to get underway in earnest in August that will create the ultimate connection concept that the hospital system is calling their "Main Street Corridor," reflected for now in this mural painted to replicate what that corridor will look like when complete.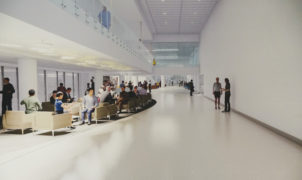 Copper says, "The whole concept is to provide a patient experience wherein you come in one door, and have access to literally everything. So if you look down the hallway, you can see that we're actually flipping our emergency department by moving our ambulance bays to the far side of this new Main Street corridor, so that the emergency room is accessible by this route as well as pretty much every one of our departments which will have access from this main corridor." Equally as important for patient well-being and ease of movement for staff members, Spectrum Health Lakeland also created back-of-house corridors so that patients can be transported and moved to different departments with dignity.
Looking to the completion of the project, Cooper says, "In August, we will finally restart the construction phase for the renovation. It starts with developing the prep recovery bays for surgery, which are currently in our old operating rooms. That will make additional room because right now the cath labs are still in the old spaces due to lack of sufficient prep recovery rooms." He adds, "As we finish that prep recovery space we'll move our cath labs in, and then we'll finish remodeling the rest of the Main Street corridor to connect everything."
The renovation will include a 23-hour short stay option, which will give the system more private beds for those who are in for a full overnight stay, as a space to recover after a procedure, giving patients a place to do that. The Main Street is also designed largely to connect the front entrance of the hospital, which Cooper admits, "is currently kind of confusing and feels like somewhat of a labyrinth to get back here," so when complete as soon as you walk in the front door, you can see the healing garden all the way at the opposite end. Cooper says, "That will greatly improve the patient experience."
The intent of the project was to replace obsolete spaces, with construction costs running at $168-million, however, furnishings and equipment costs are on top of that.  The project was executed through use of integrative project delivery systems, which Cooper says makes it only the third such contract in the state of Michigan to do so, admitting, "It was definitely a learning curve for the whole team and we've been tweaking it throughout the whole process and we're still tweaking it now to figure out how exactly it's going to work best going forward."
The construction schedule for the Pavilion, "slid a little bit from the initial plan and design," according to Cooper, which, he says, "Actually turned out to be a benefit for us, because we were getting close to completing things as the COVID-19 pandemic was starting to ramp up here in the United States. As the lockdowns began to happen, and everything was getting shutdown, we were canceling our elective surgeries and similar procedures, and as a result we were able to expedite the completion of the new addition, so that we could create space for COVID patients." They were especially fortunate to be at that stage of the game, because, as Cooper notes, "A lot of places were getting hit with the need to erect tents and place patients in corridors in an attempt to do everything possible to accommodate the need. This new addition gave us the ability to open up our old ICU, through special provisions from the state to use that space because we didn't have the specific license for that, but due to the pandemic, they gave us a special provision to use those spaces to house COVID patients and create as quality of an experience as possible under the conditions."
The best part about the Pavilion project for the community at large is everything is now "right-sized" as Cooper says, "So we can have the right people in place and not feel cramped, and they will be able to work more appropriately with their colleagues, and the patient experience is significantly improved." He adds, "We've also made it easier to be able to find where you need to go to obtain the procedures that you need."
Another clear victory in the project for everyone is that the hospital system's technology is now top of the line. By way of example, Cooper points to the laminar flow system in the 12 operating room suites and four cath labs. Use of that system, which uses positive pressure air currents through filtration units to direct the air streams away from the operative field and the patient in order to create an ultra-clean zone, is the first such instance anywhere in the Spectrum Health corporate system including all of Grand Rapids and beyond. That continuous flow changes out the air in the room completely every 2-minutes to keep sterile conditions at their highest levels. Cooper calls it "first rate technology" and also notes the inclusion of fortress panels in those suites where technology is incorporated for maximum flexibility and to not only speed turnover times, but also to cut costs, to make the procedures more efficient and for everything to be more effective.
The Pavilion is a huge boost to the healthcare system in Michigan's Great Southwest and the work is set to continue on Phase 2 getting underway within weeks.