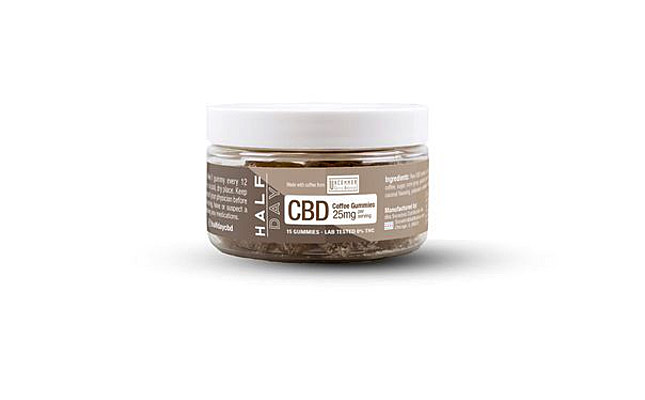 One of the hottest selling coffees in Michigan's Great Southwest has partnered with a Chicago company to bring coffee-infused CBD Gummies to West Michigan and the rest of the world.
Uncommon Coffee Roasters, a small batch specialty coffee roaster founded originally 25 years ago as a cafe called Uncommon Grounds in Saugatuck, has announced a partnership with Half Day CBD of Chicago for cannabidiol-infused gummies, called Calmer Coffee, which are caffeinated and taste essentially like a latte.
On their Facbook page Uncommon Coffee Roaster says that the gummies are lab-tested for quality CBD and made with their own Uncommon Coffee Roasters Cold Brew. They became available for purchase both retail and wholesale this week according to the Saugatuck founders.
Uncommon Coffee Roasters is the small batch specialty coffee roaster owned and operated by Guy Darienzo and Stephen Keye. After opening as a cafe in 1994, the began roasting their own coffee in 2000, and due to popular demand, opened a wholesale business in 2010 in the neighboring city of Douglas.
They now provide services to more than 200 small businesses and large corporations throughout the Midwest, working closely with coffee producers to better understand their products, sourcing green coffee globally and traveling to the origin whenever possible. The company has always taken pride in their diverse partnerships, always striving to work with companies who share similar values. With a goal "to provide a variety of delicious and unique coffees and coffee products to as many people as we can while creating and maintaining sustainable partnerships with customers, coffee producers and everyone in between," the new deal with Half Day CBD is a natural extension of their plan.
Dave DiCosola is CEO of Half Day CBD. He says, "There isn't anything like it on the market, and we expect it will quickly become an in-demand item in our assortment of flavored CBD products." He says the new product goes right to the heart of the recent trend of morning delivery of CBD with one's morning coffee to "calmly start the day."
Half Day CBD says the gummies are made with Uncommon's Cold Brew coffee, and each unit contains 25mg of CBD and is THC-free. A container of 15 has a recommended retail price of $24.99.
The photo of Calmer Coffee CBD gummies from Half Day CBD is courtesy of the Chicago-based company.