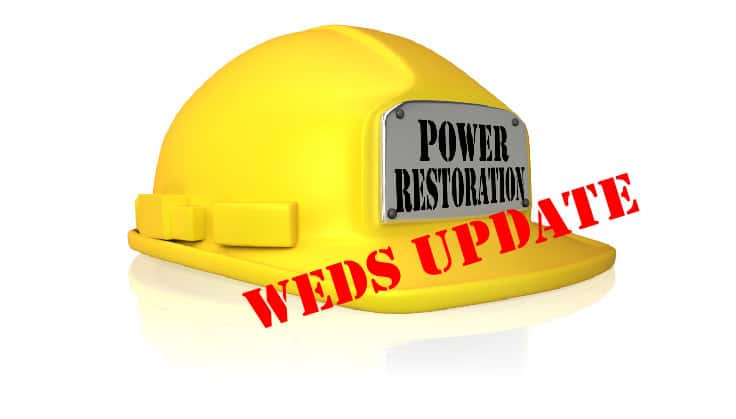 For those who are still without power in the region, Indiana Michigan Power says progress continues to be made with about three quarters of those who were out at the worst part of the outrage now restored and ongoing work on the balance continuing.
I&M is channeling a multitude of resources to restoring power to more customers in Southwest Michigan while nearing completion of the restoration of Indiana customers today, Wednesday, August 12th.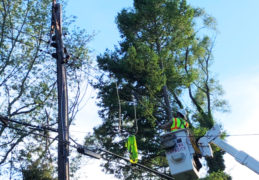 By 9 am, I&M had restored power to more than 75-percent of the nearly 52,000 customers across I&M's service territory who lost service in Monday evening's derecho.
In the hard-hit Benton Harbor area, about 200 power restoration professionals from I&M, other energy companies and I&M business partners are in the field now restoring power. By this afternoon, a total of about 450 power line professionals will be in the area to restore power. As crews across I&M complete repairs in other locations, they will move in to help the Benton Harbor area.
I&M is also using drones to evaluate damage in harder-to-reach rural areas around Benton Harbor. In some areas, use of the drones is more efficient and can result in faster restoration. All drone flights are conducted by an FAA-licensed drone pilot accompanied by a qualified observer.
Estimated times of restoration are listed below. Earlier times of restoration are being established for customers in the Benton Harbor area and other places as individual outages are assessed and crews assigned. Customers who sign up for mobile alerts or check the online outage map may find earlier times have been entered by crews assigned to specific outages.
Damage was less severe elsewhere in I&M's service territory. All customers in the Muncie/Marion/East Central Indiana area have been restored, and crews continue to restore power to the remaining customers in and around South Bend and Fort Wayne.
OUTAGE COUNTS
Michigan total customers: 10,300
Benton Harbor area: 10,100
Buchanan area: 100
Three Rivers area: 125
Indiana total customers: 1,200
Fort Wayne area: 425
South Bend area: 775
Muncie area: Zero
ESTIMATED TIMES of RESTORATION (ETRs) I&M has set estimated times of restoration for its service territory. These are the estimated times when the last customers are expected to be restored. Power to most customers will be restored before those times. Customers who sign up for mobile alerts or check the online outage map may find earlier times have been entered by crews assigned to specific outages.
INDIANA
Fort Wayne and Avilla area: 11 p.m. Thursday
Decatur area: All restored
South Bend/Elkhart area: 11 p.m. today
Muncie/Marion area: All restored
MICHIGAN
Benton Harbor area: 11 p.m. Friday
Buchanan area: 11 p.m. today
Three Rivers area: 11 p.m. today
STAY INFORMED
I&M encourages customers to use the Indiana Michigan Power app to monitor the status of any outage affecting your home or business. http://IndianaMichiganPower.com/App You can sign up for text and email alerts on the app or at http://IndianaMichiganPower.com/Alerts See the location and status of outages using the outage map at the link below:
http://IndianaMichiganPower.com/OutageMap
For the latest updates you can follow Indiana Michigan Power on Facebook and find them on Twitter @IN_MI_Power
SAFETY INFORMATION
I&M reminds customers and the general public of the possible dangers in the wake of the storm:
Downed power lines. Stay away from any downed wires and report them to I&M. You can call in to 800-311-4634, report on their app or website, or call 911. Downed wires may be hidden by limbs and debris or touching a fence, so look carefully before cleaning up after the storm.
Trees could fall or drop limbs at any moment, please look up. Even after the storm subsided, damaged trees, branches and limbs could still fall.
Standing water could hide debris or even downed wires.
Roads will likely be wet, slick and covered with debris.
Traffic lights may not be functioning. Please use caution and be mindful of first responders and utility workers on the roadways.
As they move into working on individual outages, crews will be working in smaller neighborhoods, side streets, and backyards. Please keep pets secured and away from work areas.