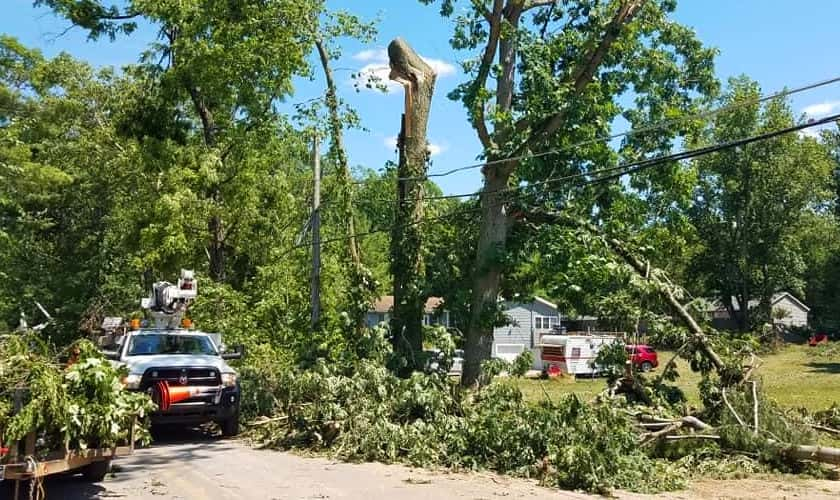 Utility workers on the job around the clock have successfully restored the vast majority of the thousands of homes that had power knocked out by powerful storms Friday night, with hopes of finishing up much of the rest yet this evening.
In less than 48 hours, Indiana Michigan Power has restored power to 95-percent of the nearly 20,000 customers who lost service in the damaging weekend storm that struck southwest Michigan and northern Indiana with winds in excess of 60 mph and frequent lightning strikes.
Many of the locations where crews are now working to restore power involve smaller outages, some in harder-to-reach, off-road areas. More than 200 employees and contractors remain on the ground working to restore customers in the remaining outages.
Crews continued to find damaged equipment as they addressed outages throughout the day, bringing to 34 the total number of broken poles, including 22 in the Benton Harbor area. And 34 spans of wire that were down.
As of 5:30 pm tonight, Sunday, June 28th, about 1,750 customers remained without service in the Benton Harbor area and about 100 in the Three Rivers area. I&M crews are continuing to work in the field to restore a vast majority of those customers remaining out by 11 pm tonight.
Due to extensive storm damage complete restoration to fewer than 200 customers in the Paw Paw area will take place on Monday, as well as fewer than 100 customers in the Almena area and less than 60 customers in the Covert area. Crews will continue to work to restore power until all customers have service.
Specific estimated restoration times can viewed online for all remaining storm related outages on the I&M outage site.
I&M reminds all customers that temperatures and humidity levels remain high, and they urge anyone working or spending much time outside, to look for signs of heat stress and take appropriate precautions at the first sign of heat-related fatigue.
I&M thanks customers for their patience and understanding as they continue to restore each and every customer who remains without service.
I&M encourages customers to use the Indiana Michigan Power app to monitor the status of any outage affecting a home or business. IndianaMichiganPower.com/App
You can sign up for text and email alerts on that app or at IndianaMichiganPower.com/Alerts
You can also see the location and status of all outages using the online outage map at this link:
http://IndianaMichiganPower.com/OutageMap
For the latest updates you can also follow Indiana Michigan Power on Facebook and find them on Twitter @IN_MI_Power.
The photo accompanying this story on Moody on the Market is courtesy of I&M and depicts some of the damage that struck in Paw Paw.