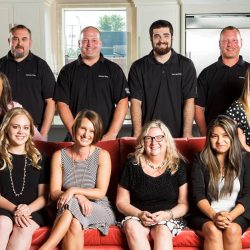 Karen Garlanger's track record of exponential growth in St. Joseph has taken her to the point where she has re-branded to a full team concept. As a result, the founder and owner of Karen Garlanger Design has announced a full re-brand to the Welcome Home Design Group anchored in the Southtown neighborhood of St. Joseph.
Following years of solid growth including new employees and additional services, Garlanger decided it was time to recognize the full-on team approach she has evolved to in recent times.
Garlanger's world of interiors and architecture continues to grow, and she couldn't be more proud of her work and her team, as she has officially renamed her "Welcome Home Design Group" to better reflect a broader range of amenities from their full service design center just off of Niles Avenue.
Whether the project is a small home remodel, an office makeover, or new residential or commercial construction, Welcome Home Design Group has the skills and the network to bring any vision to life.
Karen says, "Along with adding creative strength, we're partnering more with contractors to offer homeowners a complete catalog of services so they can skip the hassle of working with multiple vendors."  Her colorful St. Joseph office is located behind Dunkin Donuts at 813 Highland Avenue, just off the intersection of Niles and Highland.
Garlanger's line of custom cabinetry is one prime example of how clients can benefit from her expertise. As she tells it, "Our Welcome Home custom cabinetry has really taken off." She adds, "People can walk in and choose their design, the doors, the finish, the profile . . . every decision necessary to make the final product unique to their taste and needs." She notes, "We have other private label lines for furniture, fabrics, rugs and framing that are just as beautiful, but the difference is how our team makes the experience so enjoyable."
Garlanger leads an inspiring team of experienced, award-winning talent including Penny Tanis, who specializes in restaurant interiors; and Madeline LaSota, an accomplished painter with a flair for creating photorealistic 3D designs for clients to preview.
Looking forward, Karen says, "By the end of this summer we'll have four incredible designers under one roof for clients to choose from." New to the team is Amber Overhiser. Previously with Outline Interiors in Chicago, Overhiser holds a BS from Eastern Michigan University and has extensive design experience for residential and commercial spaces.
The newly re-branded Welcome Home Design Group was founded here in Michigan's Great Southwest by Karen Garlanger eight years ago in 2010. The design group is an architectural and design firm "creating fresh, insightful, and timeless environments for residential and commercial properties."
For more information click the link below or call (269) 281-7984. Here's the link: