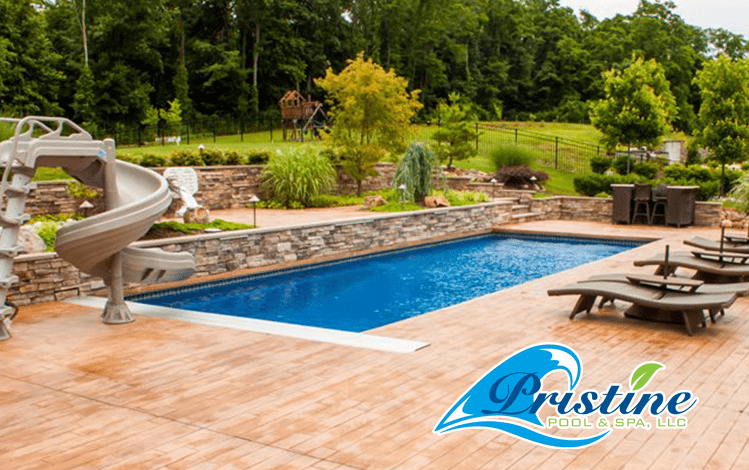 ---

---
Pick up your iPhone and ask Siri for the definition of pristine and she'll tell you immediately it means "original and pure," and "not spoiled or worn from use." When most people issue forth a dream in their life, they're hoping for exactly that sort of experience…clean, pure, unsullied. As a team who celebrates their work every day in Michigan's Great Southwest by fulfilling other people's most ardent dreams, Glenn & Dawn Fadden of Pristine Pool & Spa are, in reality, not so much pool crafters as they are dream merchants.
In fact, the veteran leader of more than 40 years in the business, Glenn Fadden still has the effervescence of a teen-ager when he regales you with the tales of pools and spas he has built over the years to the point that you almost want to pick up a shovel and go shoulder to shoulder with him to bring the next dream to fruition somewhere across the region large or small.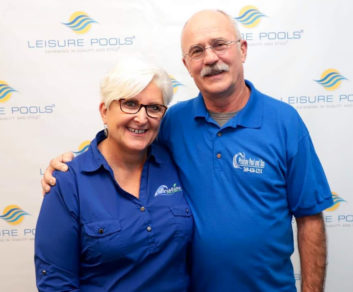 Husband and wife Dawn and Glenn Fadden are the owners and operators of Pristine Pool and Spa, anchored in the heart of Harbor Country but with a wanderlust that takes them well beyond the normal circle of commerce for a local company with a crew of roughly two dozen artisanal experts at the veteran-owned business.
Glenn served his country during peacetime with the U.S. Army with an assignment in Germany working in the tank corps. When he left his military service he looked for a job in the Chicagoland area and "a friend of a friend or somebody related to somebody" he knew who was in the swimming pool business hired him as a laborer back in 1979. As Glenn tells it, "I was a laborer for the tile guy, for the plumbing guy, for the excavator, and even for the steel and concrete guys, and I did that for two years. However, in my third year, the two partners split up and I went to the 'other guy' and said, 'Hey this is what I know, can you use me?' He said yeah, and they just handed me the blueprints and gave me some guys and said here, you're going to make this much if you do a perfect job and you're going to make this much less if you don't make it such a perfect job." Needless to say, if once you learn of Glenn's reputation, he says, "Well, I've gotten the perfect job every time and I've been doing it for 40 years," and adds, jokingly, "and have been trying to get out ever since, but once the pool business gets in your blood, you're stuck."
He clearly has built a huge affinity for it, has been at it for 40 years and demands that unsullied perfection on every job, and at the very top of his game. He'll be the first to admit, "I'm very passionate about it. I did concrete pools in the Chicagoland area and then I traveled the country when we moved here, 20 years ago, with a commercial company for 10 years. I flew to work every Monday and flew back home every Friday. We went from Olympic-sized competition pools to an 11th floor pool down in Texas, and off to Washington DC, or wherever, putting them in multiple high-rises and hotels and up and down Highway 65 all the way to Knoxville, Tennessee."
Amazingly, Glenn tells how he ended up being the top guy on the totem pole and "essentially trained myself out of a job. So we started Pristine Pool and Spa eleven years ago, and while it was a tough couple of years at the start, we stuck with it." Reality is that's an understatement on Glenn's part, because the year he started nearly 40-percent of all pool builders in America went out of business. He says, "It was a very scary time. Nevertheless we started little by little. Now I've got around 25 employees, a fleet of trucks, and we service accounts, we sell spas, and three types of in-ground pools and we're a five-star rated company." That's because Pristine Pool & Spa is staffed by a really good group of people that the Faddens are totally dedicated to taking good care of every day. The crew is of equal importance to the company as the myriad clients they work so hard for.
The Pristine Pool & Spa track record is solid largely thanks to a crew whose tenure is rock steady. Glenn is proud to say, "Our average length of service is probably five years, but we have one guy who's been with us for nine years of our eleven years so far. That longevity is frequently unheard of in the swimming pool industry in the Midwest.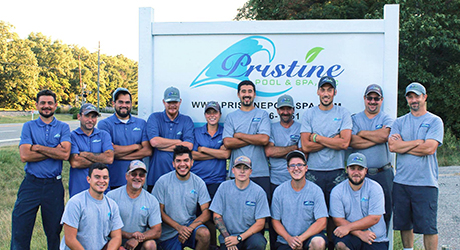 Glenn quickly points out, "While it blows some people's minds that in Michigan you can build swimming pools year round, we've gone six years straight without any downtime. Sure, the first couple of years, it was a little slow in the winter for us, but now our name's really gotten out there." Recognizing early on that the bills don't stop in the winter time, Pristine Pool and Spa figured out how to keep going year round. The company offers a huge bonus in the form of work 12 months a year.
Glenn explains, "Even in the dead of winter it will be 80 degrees under a big, heavy duty, tent that we erect over the site. In fact, we build concrete custom beautiful pools, all winter long, and we have a lot of accounts we service in the winter for indoor pools. We also have spas we take great care of all winter long. So we have two crews full-time just doing service, which is quite unusual for this area.
Pristine's crews know the drill, "It's not back-breaking work, we have machinery that does a lot of the stuff that typically scares a lot of people away, figuring they're going to have to be digging trenches all day. While every now and then we do, and even I still do after 40 years, just shoveling gravel yesterday, we've got the tools to streamline operations." As a result of both the nature of the work and the regularity of year round work, their team has been around and seem to be staying, speaking to their enjoyment and their desire to stick around and work side by side with their colleagues.
In order to continue to grow, Pristine Pool & Spa, anchored at 18703 U.S. 12 in New Buffalo, is recruiting for additional team members to join the crew. Asked what the primary requisites are for the job Glenn responds, "The biggest requirement that we really like you to have is a driver's license and a willingness to work. Basically, that's all we need and we'll train you to the point where you can grow into our company." He's proud to report, "We've got people making some pretty large money," and adds, "Experience is a big plus factor, if you have service experience within the pool industry at all, or come from any kind of construction-oriented background, you can usually excel quite quickly."
Glenn states proudly, "We take care of our people," including benefits like great insurance packages, retirement plans, paid vacations and 6 paid holidays from the first day that you start. They'll even help pay moving expenses for the right candidates who want to make New Buffalo or neighboring vicinities their home. He also appreciates self-starters, saying, "We give bonuses out probably two to three times a year, and when I see some guys working — and I know that they're really putting in the effort — they get a nice little surprise in their next check. We do that quite frequently. So, that's why I'm able to keep my people here. I'm truly blessed with a great group of people and we want to continue to have that to grow."
He can directly empathize, explaining, "I punched a clock for many years, right? Some places I hated going to work. I just knew I had to deal with that boss and 'Why are you two minutes late or whatever?' and my stomach would turn and I hated going to those jobs, but I still did my job, but eventually I thought, If I'm going to get this business going, I want my people to be happy to come to work. I don't want my employees having that bad feeling so I make it a good one."
When it comes to fulfilling customer's dreams, Pristine Pool & Spa is fully prepared, as Glenn suggests, "We do whatever. If you can conceive it we can build it to high custom levels. We've created pools in the shape of the state of Illinois, the state of Texas, grand piano shapes, guitars, and even those featuring all kinds of wild waterfalls, tunnels, you name it. If you can perceive it, we'll build it, like the stuff you see on those exotic TV pool shows."
As for the future of this dynamic company in our midst? Glenn says, "We have five-year and ten-year goal plans. There's a demand in South Bend, there's demand in Indianapolis. There's demand in Valparaiso. We're getting a lot of calls from South Haven, and Cassopolis, and St. Joe. People are calling more frequently now, and I'm bidding jobs in those areas so, I really see our company getting a couple little satellites within a hundred-mile radius." Plus, he notes, "I have a strong desire to get into the Indianapolis market. There's a giant demand for pools there. Every time we go to a pool conference, we literally have Indianapolis people race up to us and say 'We need you! Can you come down this way?' So I plan to continue to grow. That's the biggest thing that I want to do, and we're looking for people that want to move along with us."
Pristine players have ambition, they have energy, and Glenn says, "They want to be a part of us, you can just tell they want it, they have ownership in what they do, even if it is just carrying a shovel out of a truck down to a job, or a wheelbarrow, they have ownership. They want to do well."
The dreams are real at Pristine Pool & Spa, and whether you want them to go to work for you, or you want to go to work for them, the future is brilliant. Learn more by clicking this link:
http://www.pristinepoolspa.com/
---
Would you like more information about Pristine Pool & Spa? Let us know below and someone will be in touch with you soon.
---

---