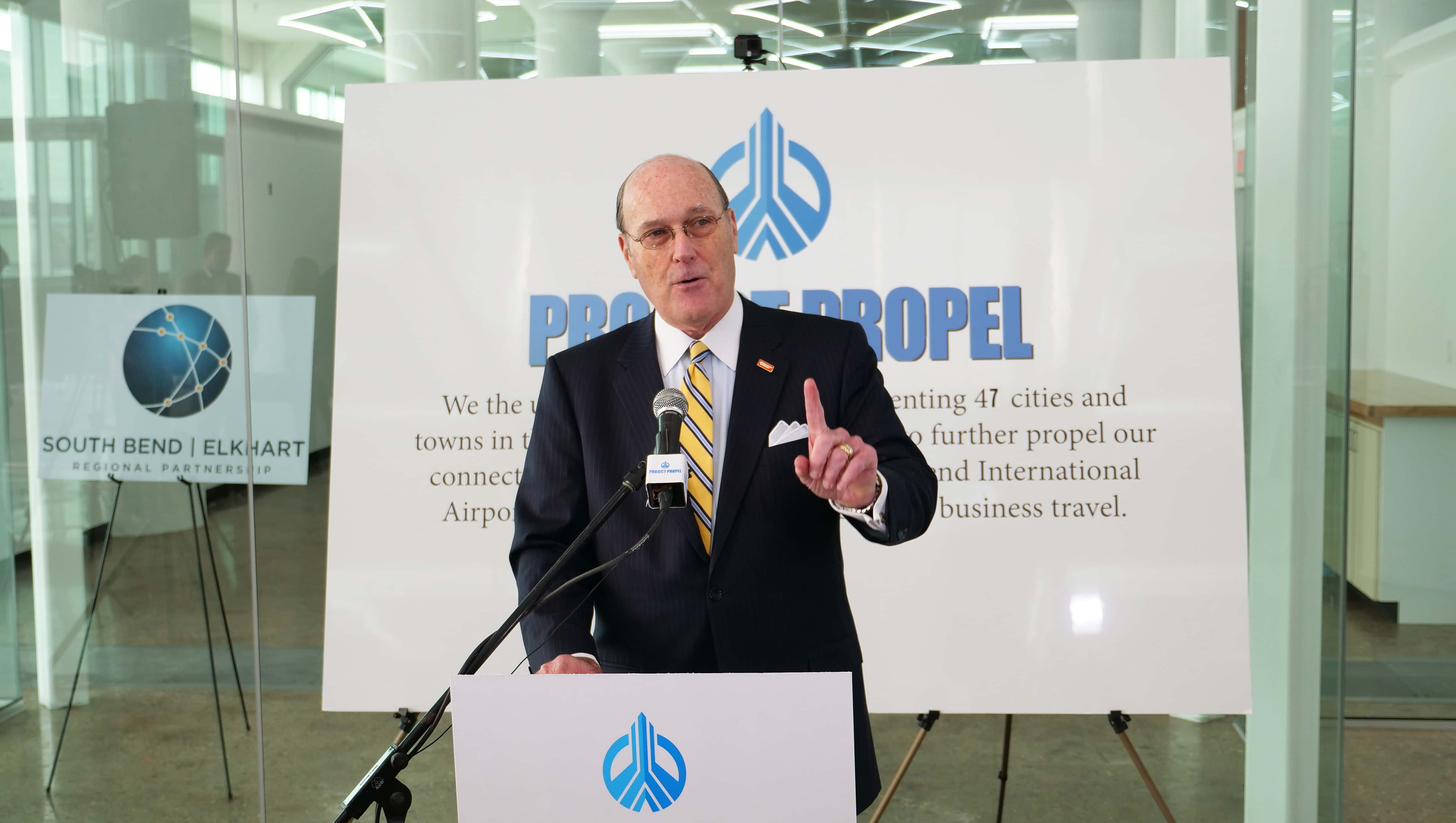 Thanks to hard work and diligence by 47 cities and towns across the region, efforts to boost traffic at South Bend International Airport are paying off. To the tune of a more than 20-percent increase in less than a year.
At a press conference held today at the future offices of the South Bend - Elkhart Regional Partnership in the Renaissance District, leaders representing those 47 cities and towns in the region gathered to hear the good news that their collective efforts are, in fact, paying dividends.
Chris Murphy, Chairman & CEO of 1st Source Bank says, "I am excited to announce that by working together, we've witnessed a 20.3-percent increase in less than one year at South Bend International Airport." Murphy adds, "This means that we've effectively lowered the cost of doing business for the entire region and earned the attention of national airlines who will look seriously at providing even more services, larger aircraft and new direct connections to economic hubs across the country."
Lou Pierce is a consultant to the project. He says, "This is precisely what the Project Propel initiative was meant to do," and adds, "We've spent months going from business to business across the region, proving that decisions to purchase lower priced tickets and then fly out of Chicago or Detroit merely create the illusion that your company is saving money. When you add the expense of tolls (which continue to go up), mileage, parking, meals, and especially the lost productivity when driving to and from these larger airports, it usually costs more to fly out of cities like Chicago or Detroit."
Regina Emberton is President & CEO of the South Bend-Elkhart Regional Partnership. She says, "Project Propel also keeps millions of dollars a year right here, in our own regional economy." Emberton notes, "That makes us more robust financially and more competitive across the nation and around the world. It's an investment in the 47 cities and towns that form our regional economy."
Chris Cotterill is Executive Vice President and Chief Operating Officer of the Indiana Economic Development Corporation. Cotterill tells us, "Under the leadership of Governor Holcomb, Indiana is driving change through state and regional collaboration and transforming Indiana into a nationally recognized destination for business, talent and connectivity," and adds, "Today's event is a terrific example of the kind of collaborations that are taking Indiana to the next level. This makes our state an even more competitive force in today's economy."
The Project Propel initiative was made public less than a year ago at a press conference in Elkhart, when leaders from across the region assembled on March 28, 2018 at the Greater Elkhart Chamber of Commerce to show their support for the effort which has now gathered dozens of single-page 'Fly Local' policy statements from companies, universities and government entities across the region.
Emberton says, "The 2018 results are exciting," and contends, "Today we have a new airline and two new direct connections that we've never had before-one to Dallas/Fort Worth, and another to Charlotte, North Carolina on American Airlines. This is the kind of thing that makes a big difference when it comes to living and doing business in our region. And it's just the beginning."
739,000 people traveled through South Bend International Airport (SBN) in 2018-a surge of 124,000. Broken down, the increase in travelers represents 10,000 new travelers a month, or 339 new travelers every day in 2018.
SBN was also the second-fastest growing airport among similar-sized airports in the Midwest in the third quarter of 2018. While fourth quarter figures are not yet available, SBN expects to remain in the upper tier of growth among its peers.
In fact, Mike Daigle, the CEO & Executive Director of South Bend International says, "Average growth for U.S. airports was between 3- and 7-percent in 2018," adding, "To see a 20-percent surge in such a short amount of time can only be attributed to the commitment of leaders across this region who are determined to make this one of the best places to live, work and invest in the Midwest."
Amish Shah is CEO at Elkhart-based Kem Krest. In a video used to explain the Project Propel initiative Shah says, "There isn't a thriving region anywhere in the world that doesn't have a great airport."
Murphy himself appears in the video suggesting, "We can't rely on somebody else to make our airport grow, we've got to do it ourselves."
The Project Propel initiative encourages leaders from across the South Bend - Elkhart region to adopt voluntary 'Fly Local' policies for business travel. Diverting dollars from Chicago and Detroit-based airports to the South Bend International Airport is estimated to create $100 million in economic impact for the region annually. Increased usage of the airport will result in additional airline investment in the form of more direct connections, more frequent services and larger aircraft deployment at the South Bend International Airport. To learn more about Project Propel, you can visit online at ProjectPropel.com.
The South Bend - Elkhart Regional Partnership (SBERP) is a collaboration of the economic development partners from 47 smart connected communities in Northern Indiana and Southwest Michigan. The Regional Partnership focuses on a long-term systemic approach to advance the region's economy by aligning the efforts of various stakeholders around five key areas:
Educating a world-class WORKFORCE
Recruiting and retaining great TALENT
Attracting and growing new economy companies in complement to our remarkably strong manufacturing INDUSTRIES
Promoting INCLUSION and sparking opportunities for minorities
Helping ENTREPRENEURS thrive.
The Regional Partnership seeks to unify and collaborate so that together, the communities across the region can work together to achieve what cannot be done individually. For more information about the Regional Partnership, visit online at SouthBendElkhart.org.