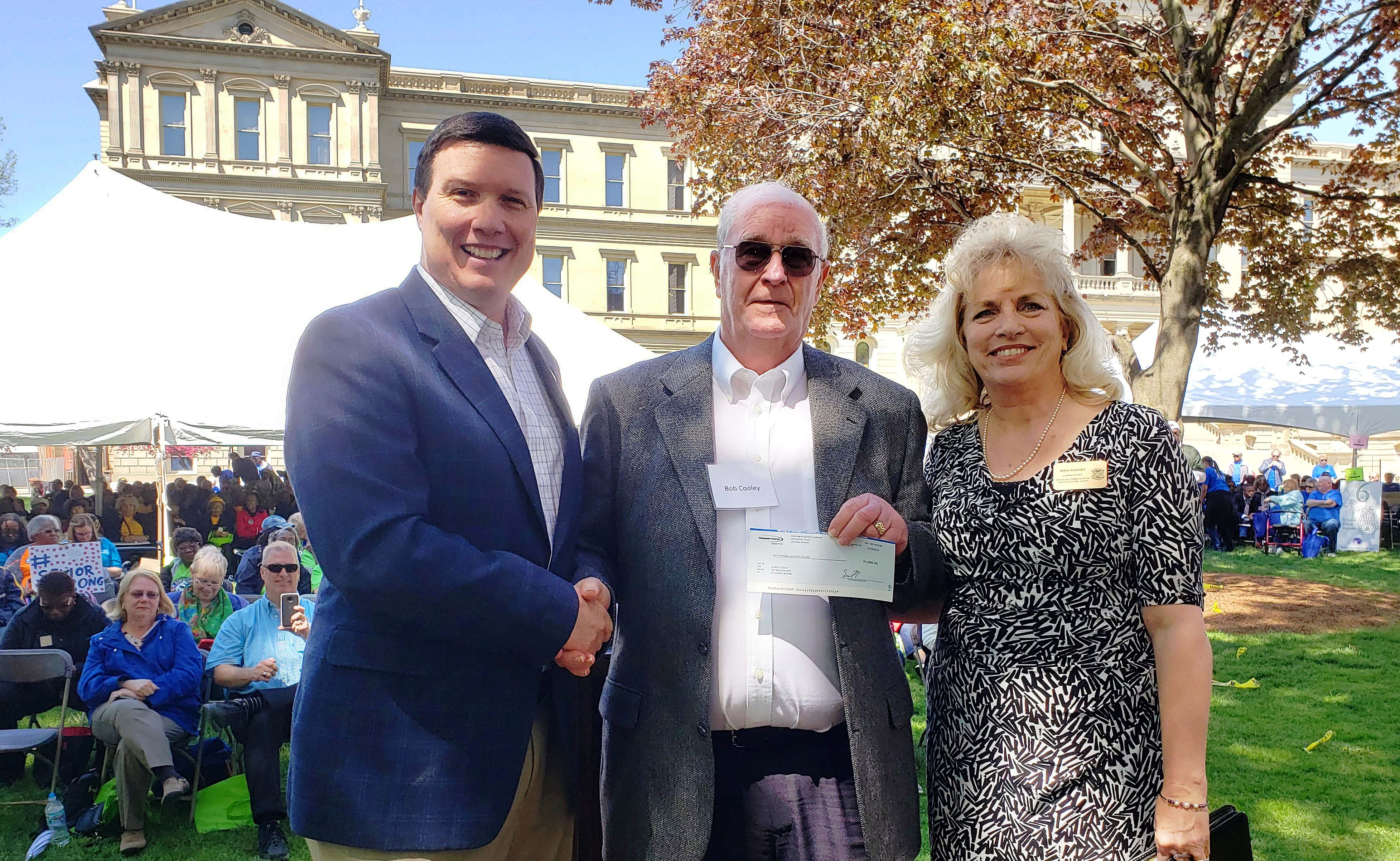 Bob Cooley of St. Joe is absolutely unending in giving back to his community and that ongoing support has paid off handsomely in his recent recognition by Consumers Energy as the Senior Citizen of the Year for all of Michigan.
The 76-year old Cooley is a Spectrum Health Lakeland volunteer assisting patients, family members, visitors and nursing staff at the Marie Yeager Cancer Center for Spectrum Health Lakeland.
The St. Joseph resident accepted the award last Wednesday, May 15th on the Capitol lawn in Lansing during Older Michiganians Day celebrations, which Consumers Energy co-sponsors. The award from the State of Michigan – Aging and Adult Services Agency, and the Michigan Commission on Services to the Aging includes a letter of congratulations from Gov. Gretchen Whitmer and a $1,000 check from Consumers Energy.
Greg Moore is Community Affairs Manager for Consumers Energy. Moore says, "Bob's tireless generosity, kindness and positive spirit are an inspiration to all generations for giving time and talent to make the world better by helping others."  Moore presented the check to Cooley on behalf of the energy provider, adding, "It's truly an honor to offer a heartfelt thank you and give something back to a compassionate individual who has done so much to support his community."
When Spectrum Health Lakeland sought volunteers to assist nursing staff and greet patients at the information desk in the infusion clinic of the newly-built Marie Yeager Cancer Center, Cooley – who was a Lucent Technologies retiree — became one of their very first volunteers, and he has been at the center since it opened in 2011, volunteering three shifts a week plus often filling in for other volunteers as a substitute.
Despite the sometimes heart-wrenching nature of working with patients who may lose their battles to disease, Cooley does not shy away from getting to personally know the patients. He always has a warm smile and is a comforting listener for those he provides refreshments and blankets to at the center, as well as for the patient's family members and other visitors.
For years, Cooley and his wife opened their home to the public to view an elaborate Christmas village display, where they had a Toys for Tots collection box.  Now, he sets up a Christmas village and other holiday displays at the Marie Yeager Cancer Center.
Cooley also volunteers to serve meals at the Soup Kitchen, helps the local Lions Club set up their annual car show, supports a women's shelter, mows at public parks, and provides a unique service for several Berrien County area cemeteries. He has researched and created directories to help family members find deceased loved ones' burial locations.
Cooley was nominated for the statewide award by the volunteer coordinator at Spectrum Health Lakeland.
Consumers Energy is an Older Michiganians Day co-sponsor and a Senior Citizen of the Year award partner. Businesses, community service and faith-based organizations, associations, fraternal organizations and other public and private entities can make nominations for the Senior Citizen of the Year. Individuals 60 or older are eligible for nomination for uncompensated work performed in the community.
Consumers Energy, Michigan's largest energy provider, is the principal subsidiary of CMS Energy, providing natural gas and/or electricity to 6.7 million of the state's 10 million residents in all 68 Lower Peninsula counties.