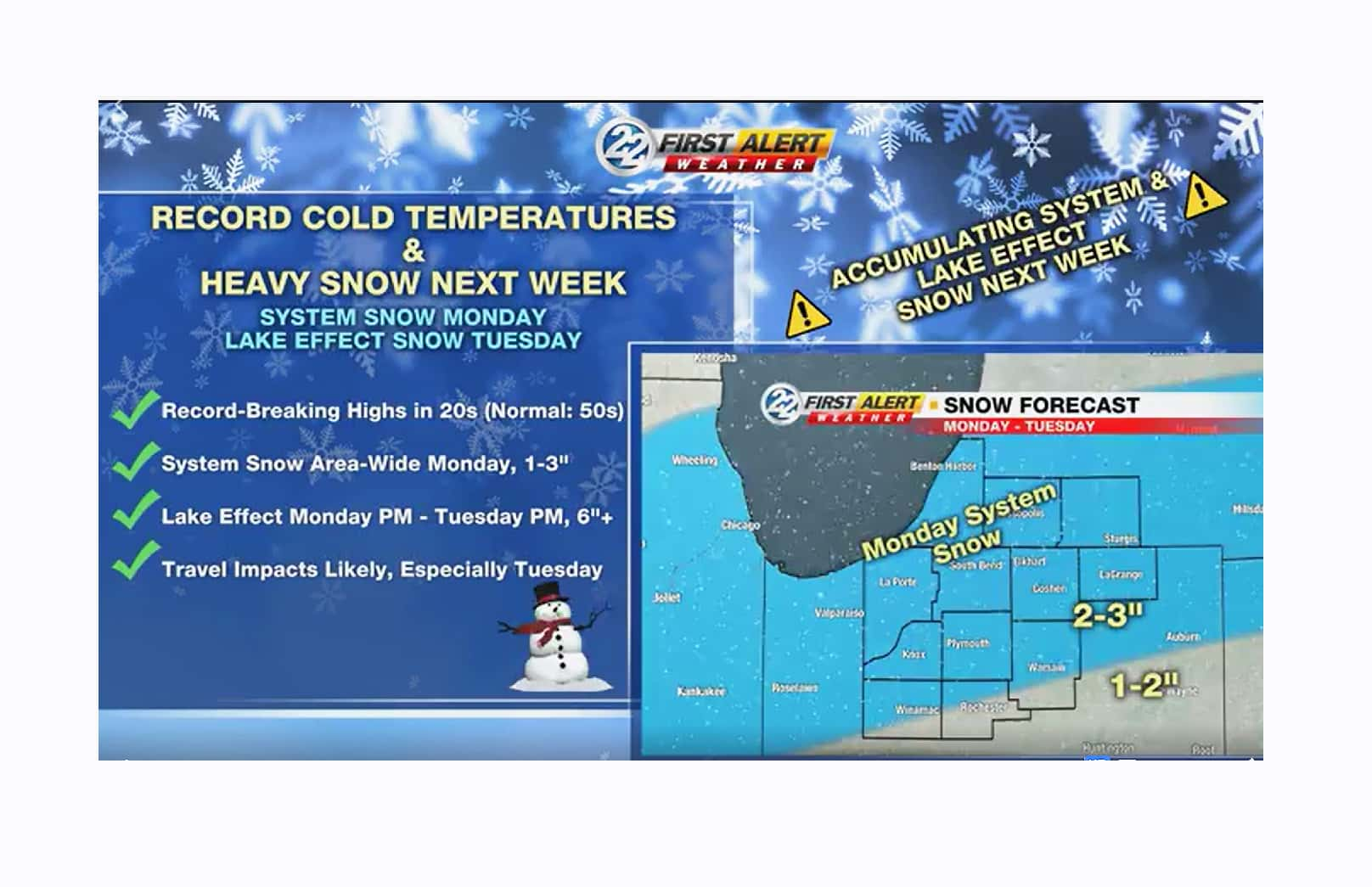 The first measurable snows of the season put a damper on leaf raking and other yard work over the past week, but if you don't get after it this weekend it might be a while before you'll get another shot. Heavy snow and cold are headed to the region after the weekend.
Meteorologist Matt Rudkin with Mid-West Family reporting partners at WSBT-TV in South Bend is predicting record breaking temperatures and rapidly accumulating system snow by the time Monday rolls into view, followed by a heavier wave of lake effect snowfall.
Rudkin says that daytime highs at the first of the week could turn into record breakers with highs only reaching the 20's when the normal readings would be in the 50's.
He's also calling for system snowfalls in the range of 1-to-3 inches on Monday, with lake effect snows moving in from Monday afternoon and evening through Tuesday afternoon and evening accumulating to 6-inches or more.
The South Bend meteorologist says the record cold temperatures and heavy snows will likely impact travel plans, "especially on Tuesday."
On Friday afternoon Rudkin posted, "A lake effect snow band will likely develop and push towards Chicago/NW Indiana Monday evening. As winds shift from NE to N/NW, this will push the band into Berrien, Cass, Porter, La Porte and Saint Joseph (IN) counties late Monday night and into much of the day on Tuesday. With several days between now and then, I am unable to get specific on what towns will be most impacted (or exactly how much), but from this vantage point, I see no reason why some in our area won't see an additional 6" of accumulation. In fact, that number is likely conservative… I'm just being cautious for now since we are still ~72hrs out." Stay tuned.
The photo graphic accompanying this story on Moody on the Market is courtesy of WSBT-TV Meteorologist Matt Rudkin.