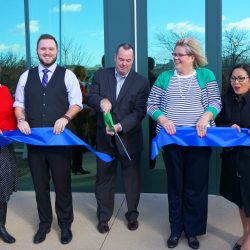 The great differentiators in the eye of Bruce Wirick is that his new Ruoff Mortgage Company office in the Edgewater District of St. Joseph features "the four P's and a T." Those would be People, Products, Passion, Processes and Technology.
Wirick is the new Vice President and Branch Manager for Ruoff Mortgage, a growing provider whose corporate headquarters are in Fort Wayne, Indiana, but whose reach has now extended to more than 30 branches across the region including his new office at 500 Renaissance Drive in St. Joseph.
Wirick is joined there by Senior Loan Officers Joe Daniel, Joy Cluff and Eileen Quigley. Wirick says the company's President, Mark Music is "very engaged and very aggressive in developing new markets," for the mortgage providers and continues to provide a platform for success to the growing cadre of branch offices in Southwest Michigan and Northwest Indiana. He also leads by example when it comes to delivery of quality customer service to get the desired results for clientele at Ruoff Mortgage.
With a track record of searching out the better people in the market for each branch, they have been successful in building significant market share in each market they establish offices in, oftentimes becoming the leader in their sector.
Ruoff employs a unique system called Encompass, which has been embraced by nearly 60-percent of the mortgage industry. It's a system that makes things easier on all fronts for everyone from the loan officers to the clients being served, including creation of online applications, and when combined with their cutting edge technology, clients are able to get regular status updates throughout the loan process, keeping the lines of communication wide open to not only assure everyone's on the same page, but timing is maintained to speed the process and avoid delays in buyers closing and moving into their new homes.
Automatic notices are dispensed at least half a dozen times as the mortgage process advances, and Realtors are also well-appraised of the status reports along the way.
Wirick says, "We can close a loan in 15-days or less, and we make that commitment." That pledge is conditional upon the client provided all required information in a timely manner as the loan progresses.
Ruoff Mortgage also offers a "really good mobile app," according to Wirick, who says it was just updated to make it even more user-friendly, he says there are many things withing the Ruoff proprietary system that allow his team to speed the mortgage process.
Ruoff President Mark Music is the son-in-law of the original founder, and he's been at the helm since around 1995. Under his leadership the company has grown enormously to 32 branches and growing. In Indiana, Ruoff is the largest purchase mortgage lender in the entire state, by far, according to Wirick. The goal is to be number one in the entire Midwest within the next 18-months.
Ruoff also has a branch in Niles and Wirick says they are currently keenly interested in a satellite office in Harbor Country, so stay tuned.
Ruoff is located in Suite 104B at 500 Renaissance Drive in St. Joseph, across from Edgewater Automation and portions of the Whirlpool Tech Center at Edgewater.
Wirick and his team held official ribbon cutting ceremonies today at noon with Cornerstone Chamber of Commerce.