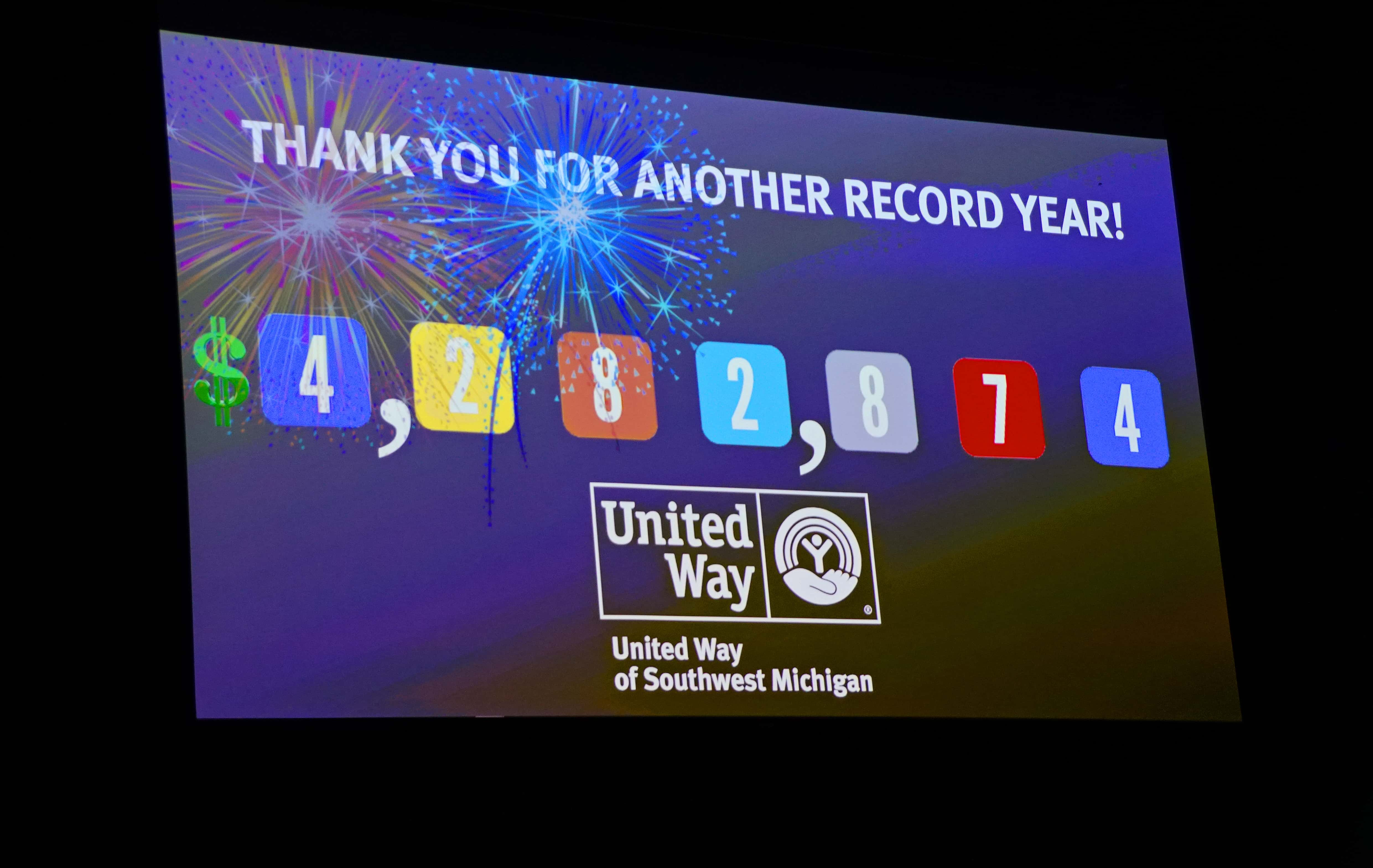 The United Way of Southwest Michigan is on a decided roll these days. Earlier this week the organization was named as one of the 20 Best Places to Work in Michigan's Great Southwest and last month their leader Anna Murphy was cited as the prestigious Pat Moody Award Winner from the Cornerstone Chamber of Commerce.
Tonight, with some 500 fans, supporters, donors and friends in tow, the powerhouse team at United Way of Southwest Michigan scored the trifecta to go along with those two achievements by celebrating yet another record breaking year for the annual campaign and reflected on the myriad parts and pieces that make that performance possible year after year.
The party scene at the Lake Michigan College Mendel Center was electric as the campaign total of $4,282,874 was rolled out by organizers and volunteers.
The event was hosted by Jonny Reinhardt of 98.3 The Coast and Matt Malone of 97.5 Y-Country—who made a surprising and entertaining entrance, after their "misadventures" getting to the venue, somewhat "late," were captured on video for the audience to watch.
One of the highlights of the evening was the revealing of that 2018 campaign total of $4,282,874. In 2017, the nonprofit also had a historic campaign season, raising $4,261,541.
As the largest non-governmental funder of health and human services in our local community, United Way of Southwest Michigan stewards millions of dollars and tens of thousands of volunteer hours every year.
Looking at 2018, "By the Numbers," you will find that:
Almost 10,000 children were enrolled in high quality early childhood programs.
Almost 500 people received job skills training. And of those who got a job, 89-percent of them were still employed one year later.
Almost 6,000 people were given better access to healthcare services and supports. And 84-percent of them increased their mental or emotional health.
Almost 350,000 meals were provided, and close to 20,000 nights of shelter were provided as well.
Importantly, the many organizations and individuals who helped make the 2018 campaign a success were recognized with the following awards:
Best Campaign Growth Awards
City of Niles
Spectrum Health Lakeland
Tyler Automotive
United Federal Credit Union
Watervliet Public Schools
Woodlands Behavioral Healthcare Network
Best Community Leadership Awards
Berrien County Cancer Service, Inc.
Gast Manufacturing, Inc.
Kinexus
Plante Moran
St. Joseph Public Schools
Wolverine Pipe Line Co.
Best Year-Round Partnership Awards
Berrien Regional Education Service Agency (RESA)
Competitive Edge
1st Source Bank
Lake Michigan College
LOGAN Autism Learning Center
Pri Mar Petroleum, Inc.
Corporate Champion of the Year - Large Business
Corporate Champion of the Year - Medium Business
Corporate Champion of the Year - Small Business
Employee Campaign Chair of the Year - Large Business
Jeff Blake - United Federal Credit Union
Dalry Payne - Andrews University
Employee Campaign Chair of the Year - Medium Business
Nia Ammeson & Ivan Price - Martin's Super Market, Stevensville
Employee Campaign Chair of the Year - Small Business
Lorraine Day - Mid-West Family Broadcasting
Inspired Giving Award
Campaign Cabinet Choice Awards
Harbor Graphics Corporation
K&M Machine-Fabricating, Inc.
Niles Precision Company, Inc.
David J. Weichhand Award
Whirlpool Community Commitment Award
Impact Cabinet Choice Award
Lewis Cass Intermediate School District
Excellence in Innovation Award
Excellence in Impact Award
Berrien County Sheriff's Office Emergency Management Department
Excellence in Collaboration Awards
Michigan Department of Health and Human Services
Michigan 2-1-1
LIVE UNITED Awards
Indiana Michigan Power Company, an AEP Company
Andy Janson 2017-2018 Board Chair
United Way of Southwest Michigan fights for the Health, Education and Financial Stability of every person in every community. They have the influence and relationships to make sustainable change a reality. By harnessing resources from corporate, nonprofit and public partners, they provide immediate assistance to the most vulnerable populations among us while addressing the root causes of the community's longstanding challenges and changing lives for the better. To join the fight—through giving, advocacy and volunteering—visit online at: www.uwsm.org.