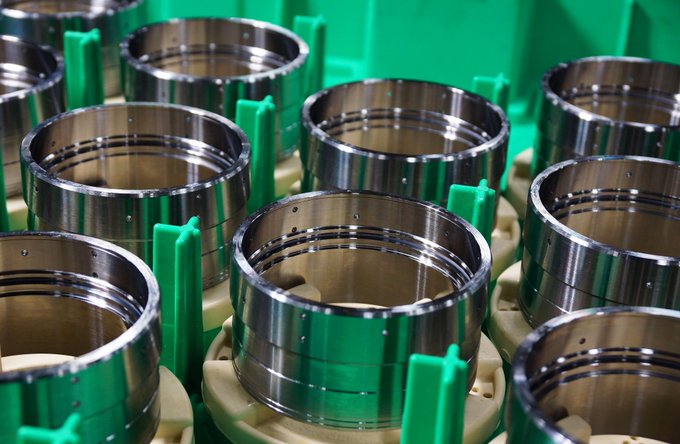 While the recovery from the Great Recession took six years for the West Michigan Industrial Economy, the man who has been on top of the numbers for the past 42 years in the region contends that "the recovery from the current recession should be much quicker," as he caps off his final report of 2020 and puts on his forecasting cap for 2021.
Dr. Brian Long, Director of Supply Management Research at Grand Valley State University says that the current recovery for the West Michigan Industrial Economy is picking up steam, noting we "clearly ended 2020 on a positive note."
Professor Long says that according to the data collected in the third and fourth weeks of December, his closely watched New Orders Index, a solid measure of business improvement, jumped to +31 from +19. His Production Index, which is termed "output" by many economists, bounced to +33, up sharply from November's +2.
Meanwhile, activity in the purchasing offices, His Purchasing Index, closed out the year at +26, up nicely from +9. Long says, "Just as last month, our survey participants continue to complain that the supply chains, both foreign and domestic, are still far from getting back to normal."
Looking his Lead Times Index for December, that metric posted at +64, slightly below the all-time record high of +66 set last month. Long says that trucking companies are still reporting shortages of trucks and drivers, and delays in the inspection of incoming overseas containers are still being reported. Additionally he says that some configurations of rail cars are now in short supply. However, he notes, "Most industrial firms, although constrained by social distancing, constant disinfecting, and sporadic absenteeism, are still managing to function. The apparent success of the recently-shipped vaccines has boosted morale, but there is universal agreement that the problem posed by the pandemic will not go away until the vaccines finally reach a large portion of the population."
Turning his focus to the all-important automotive sector for Michigan, Dr. Long says that total auto sales for 2020 were down by 14.5-percent, but the decline turned out to be far less severe than originally forecast. Industry sales for the last quarter of 2020 were down only 2.1-percent compared to the fourth quarter of 2019. The professor suggests, "All of this is good news for our local auto parts suppliers." For the Detroit Three, fourth quarter sales at FCI Chrysler fell 8.1-percent, and declined by 10.0-percent at Ford. Buoyed by strong truck and SUV sales, GM posted a quarterly gain of 4.8-percent. For other major nameplates, fourth quarter sales by Hyundai-Kia advanced 1.2-percent, Volkswagen gained 4.1-percent, and Toyota added a hefty 9.4-percent. Quarterly losers included Honda, down by 8.9-percent, Nissan shed 21.1-percent, and BMW slipped 2.2-percent.
Long's report shows that auto dealer inventories remain slim, and most firms are still reporting recurring parts shortages at many assembly plants. Elaine Buckberg, the Chief Economist at General Motors, summarized the hope of the entire auto industry by commenting: "We look forward to an inflection point for the U.S. economy in spring. Widening vaccination rates and warmer weather should enable consumers and businesses to return to a more normal range of activities, lifting the job market, consumer sentiment, and auto demand."
Turning to his Employment Index, Dr. Long says, "Growth for our West Michigan Employment Index improved to +11 from November's +4." and adds, "At the state level, Michigan's DTMB December 29th unemployment tabulation for November (earliest month available) reported that the seasonally adjusted state-wide unemployment rate rose to 6.9-percent from 6.1-percent, largely because of the resurgence of the COVID-19 virus. Because of daycare problems caused by school closings as well as ongoing concern about keeping safe from the virus, the worker absentee rate continues to distort normal operations for many firms."
Professor Long contends that "With the rise of the Lead Times Index, the traditional law of supply and demand has forced West Michigan's Pricing Index up to +43 from November's +26. Price increases in some of the major commodities like most grades of steel, aluminum, and plastic resins are starting to stifle profitability." He notes that the ISM national Pricing Index rose sharply to +55 from +31. At the international level, the JPM Pricing Index vaulted to 60.9 from 57.5. Timothy Fiore, ISM's survey committee chair, further comments: "Aluminum, copper, steel, petroleum-based products including plastics, transportation costs, electronic components, corrugated, temporary labor, wood and lumber products all continued to record price increases."
Moving onto the confidence factor among West Michigan industrial firms, Professor Long says that his Short Term Business Outlook Index, which asks local firms about their business perception for the next three to six months, bounced to +19 from +3 for December. Meanwhile his Long Term Business Outlook Index, which queries the perception for the next three to five years, rose sharply to +41 from +23. Long notes, "Business confidence is partially driven by the news cycle, and the widely publicized shipment of the first COVID-19 vaccines gave everyone hope that the end of the crisis may be in sight, even if we must endure a few more months before we have reached 'herd immunity.'"
Summarizing his monthly report, Dr. Long says, "So far, the resurgence of COVID-19 cases has not dampened the industrial economy in West Michigan. By mandating face masks, dividing work areas for social distancing, and devoting cleanup crews to perpetual cleaning, many of our local firms have resumed near-normal operations. The incoming Biden administration is inheriting an economy headed in the right direction, so it is unlikely that we will see any immediate changes inhibiting the recovery. However, there will be changes, and we will continue to monitor their impact is as they unfold."
Long also includes with this month's survey results, his Outlook for 2021, wherein he suggests, "From an economic view of the COVID-19 recession, almost everyone agrees that the sooner we can reopen, the less the damage there will be. However, most everyone also agrees that some of the changes brought on by the pandemic are here to stay. More people will permanently work from home, and others may split their efforts between working from home some days while going to the formal office only on certain occasions. Video conferencing, which used to cost thousands of dollars to set up, is now virtually free with products like Zoom. Just like the internet itself, desk-top video conferencing constitutes a major shift in how business meetings will be conducted in the workplace of the future."
Turning to the direction of the West Michigan economy for 2021, the Professor writes, "I always note that West Michigan has three 'cyclical' industries, namely automotive parts producers, office furniture, and aerospace. We have a myriad of other firms that manufacture everything from sprinkler heads to cookies and cornflakes, but they are not impacted as much by the business cycle. We should probably add capital equipment as a fourth cyclical industry, but the pattern of this cycle generally corresponds to the same pattern as the recession itself. Our agricultural industry also is cyclical, with good and bad years and market price fluctuation, but these cycles seldom correspond to economic recessions."
Long addresses the three major cyclical sectors in this manor:
Automotive. We obviously do not assemble automobiles in West Michigan, but we manufacture many automotive components and component assemblies. Job growth in West Michigan over the past 10 years has been greater than 90-percent of the country, and a significant portion of this new growth has been in the automotive sector. As production operations have gradually reopened, West Michigan's automotive industry has recovered better than expected. The worker shortage has already returned, and some firms are again finding it difficult to find new qualified workers.
Office Furniture. We have seen a wave of layoffs in the office furniture industry, and the entire concept of the traditional corporate "office" is now being redefined. About 17-percent of the aforementioned office people pushed home by the pandemic have now set up more or less permanent offices in small rooms, basements, garages, bedrooms, and other places where a desk can be squeezed and the door shut for silence. It is regrettable that our major local office furniture firms have practically no product lines for the "home office" market.  Sauder (Archbold, Ohio) and Hon (Muscatine, Iowa) are two of the major domestic players. There is, however, an emerging market for "social distancing" office configurations that separates office workers from directly breathing each other's air while still reducing space requirements. Bottom line: The office furniture industry will be going through a refocus phase for the next few years. But the pandemic paranoia will not last forever, and there will still be some traditional offices and some traditional office furniture. Over time, some displaced workers from the office furniture industry will migrate to cover the shortages in the aforementioned automotive firms, but this transition will not always be easy.
Aerospace. With half the airliners still parked on the ground, new airplanes, except for the military, are not selling well. Fifty years ago, only about 25-percent of all Americans had ever flown in an airplane. That number has now increased to 80-percent. Air travel has become more commonplace, but it will probably take two or three years for air traffic to get back to pre-pandemic levels. When COVID-19 came around in April, about 80-percent of all airliners were parked on the ground. New deliveries virtually went to zero. But the recovery of the industry will kindle the demand for newer, more efficient aircraft. Hence, some of our local aerospace fabricators will recover. Others will be gone forever. It is also noteworthy that all of the newer commercial aircraft are now equipped with high-efficiency air filtration systems to prevent colds and flu from being recirculated in the cabin. Prior to this new upgrade, there were instances of one person with the flu infecting as many as half the other people riding on the same flight.
Long briefly looks at other issues from unemployment to what to expect when the economy is once again totally open, as well as supply chain issues, re-shoring of manufacturing operations in America and some other items, but then concludes with these comments:
"In conclusion, no one knows exactly were the economy is going in 2021. There are simply too many variables. However, our best guess is that the recovery in the industrial market will edge slightly higher until we reach the oft-quoted 'herd immunity' and the inefficiencies imposed by the pandemic begin to dissipate. Most estimates are now projecting that we still have another six months or so to go. In the meantime, many firms will continue to be challenged by erratic behavior at almost every level in the entire supply chain. Because of the government stimulus packages and at least some consumers stuck at home with no place to spend it, consumer liquidity has risen sharply. Hence, we can probably expect a late-summer economic boom when we shake off many months of pandemic fatigue. However, it is worth remembering that some retail businesses, some restaurants, some movie theaters, and some segments of the office furniture business will not come back. Other businesses like Amazon and automotive parts suppliers appear poised to expand. Even this month's report mentions numerous firms that are again looking for new employees at all levels. What we don't know is how long it will take for the newly unemployed people to transition to available jobs in the post-pandemic West Michigan economy. Unlike the Great Recession, we can hope that this transaction will take place much more quickly."
As is Professor Long's routine practice, he shares a number of anonymous, verbatim, anecdotal comments from survey participants to gain a visceral feel for some of thoughts behind the numbers. Here are some of those from his December report:
"The fourth quarter is solid, and we are finishing the year strong. There's plenty of opportunities out there."
"We're seeing higher than expected seasonal demand."
"Thankfully, the vaccine is becoming a reality. Thanks to the current administration for working so hard to get it out in record time!"
"We're experiencing the annual Christmas bump in business at the same rate as previous years. Extended lead times on almost all goods continue to have an accordion like effect on the entire supply chain. Container hang-ups at major points of entry and rail car shortages seem to be the main problems for our suppliers."
"It's starting to look more promising for 2021."
"2020 has been a really challenging year."
"We're very busy headed into holidays. 2021 will be flat compared to 2020, but new orders for 2022 will create larger sales growth. The automotive and heavy diesel businesses remain busy and steady."
"Our fourth quarter has continued to be stronger than expected. We hope that this strength continues into 2021."
"We are still holding our own, although it does seem a little softer now than it did a few months ago. Hopefully, the newly approved vaccine will do its job on all fronts."
"We've had a flat month and a flat outlook."
"We are finishing strong this year."
"Our expansion plans have been put on hold until the post-COVID economy."
"There's a seasonal slowdown but, but sales are holding overall."
"The slowdown continues. We're hanging on. Let's hope we are climbing out of this with the vaccine approvals."
You can see Professor Long's complete December survey report at the link below: