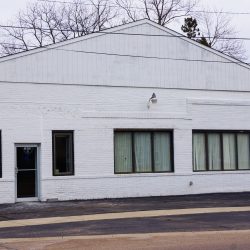 Bill Bancroft's years at the helm at Supreme Casting, Inc. of Stevensville clearly taught him to take control of every situation possible and determine his own destiny in search of the desired outcome. Those who remember and revere the history of Dale's Donuts on Red Arrow Highway will soon be grateful for Mr. Bancroft's drive and diligence as he has created a new partnership to bring Red Coach Donuts to downtown Stevensville.
It was a sad, almost traumatic day for Bill when his beloved Dale's Donuts faded into history, ending years of happy breakfast sessions before heading off to Supreme Casting to take on the day. Undoubtedly, the feeling was mutual for Bill's wife Joy Bancroft who had actually worked at Dale's before Dale Jewell stepped away. For anyone else whose cravings still ache for the unmistakable flavor of a Dale's Donut, your long personal nightmare will end this summer.
Bill and Joy Bancroft have established a partnership with Stacie Schultz to create Red Coach Donuts coming this summer to 5811 St. Joseph Avenue, half a block away from Watermark Brewing in the village's central business district.
The Red Coach name itself is a throwback nod to the village's longtime Red Coach Inn, a popular bar and restaurant on St. Joseph Avenue downtown that was operated for years by Bancroft's family. That was in the space that is now known as Woodies Tavern.
Stacie tells me that because of Bill's love for the gathering place nature of his old stomping grounds, they sought out a space that would allow them to mold Red Coach Donuts into a similar setting. As a result, the new Red Coach Donut shop will seat anywhere from 75 to 90 people and will exclusively serve donuts, coffee and smoothies. She says, "We're sticking to what we know, and keeping it pure and simple." She has been advised by, and training with, Dale Jewell in preparation for her role as General Manager of the new shop.
Red Coach will craft at least 20 to 30 or more varieties and types of donuts daily once they are up and running. She says, "By mid-summer," is the target. Like Dale's they will feature both yeast and cake donuts and plan to enlist the creativity of their customers and fans by hosting a "Donut of the Month" program. Another feature they'd like to employ is the sale of special "Giveback Cards" that will allow patrons to pay it forward by purchasing a cup of coffee or a donut, or both, and place it into a "bank" for someone who perhaps doesn't have the resources to buy on their own.
A huge bonus for fans in a hurry is that the new shop will also offer a drive-thru window for speedy pick up service when open. Additionally, Stacie hopes to offer delivery to business or organizations hosting meetings, conferences and the like for larger orders.
Stacie Schultz is a Lakeshore High School grad who had been gone from the community for about 15 years working for companies like the Big Ass Fan Company of Lexington, Kentucky, creators of ceiling fans for residential and commercial settings. She returned home six years ago and is excited about the great opportunities ahead running Red Coach Donuts for her partners Bill and Joy. She has been long time friends of the Bancroft family, and says Bill recruited her to take on the new task. She comes from an advertising, marketing and design background and says now that all approvals for construction have been greenlighted, work will get underway in earnest to open up shop as quickly as possible.
Stacie is delighted to see the resurgence in downtown Stevensville with newcomers like Watermark, Woodies and the Full Circle Cafe in the district and hopes to become a major part of that resurgence herself.
The photo accompanying this story shows the building that will be converted to Red Coach Donuts in the coming days. Stay tuned.