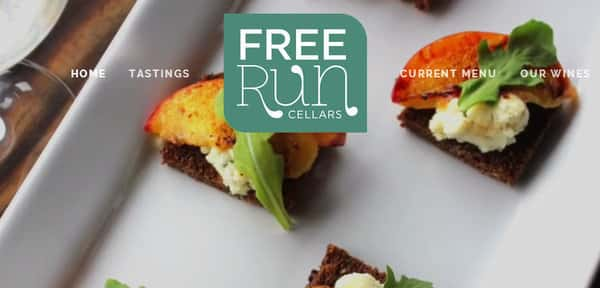 Free Run Cellars fans who have been without their tasting room for several months now in anticipation of a major re-launch have arrived at the end of their long national nightmare today. It's finally opening day for the Moersch brothers remake of their ten year old brand of outstanding wines, now with a whole new atmosphere, an entirely new approach, and a full-on Epicurean Experience with their new Culinary Director Ryan Thornburg.
Matthew & Chris Moersch literally gutted their Burgoyne Road tasting room and started from scratch to re-tool the entire tasting experience to bring you something never done before. After a great ten year run, the family-owned winery has re-branded itself from the floor to the rafters in order to bring visitors an innovative paired tasting adventure.
Today, Friday, August 12th, marks the beginning of this amazing new chapter in the Free Run Cellars story, wherein guests will delight in delicious food pairings from Culinary Director Ryan Thornburg alongside small batch wines and spirits which have been consistently rated among the best in the area. Never overcrowded, never hurried, all under the watchful eye of your personal tasting consultant, food & wine lovers can unleash their worries and relish in the new on-trend epicurean experience.
Here's how the new Free Run program runs. Each guest will be lead through an unforgettable 45-minute prix fixe tasting of four of Free Run's wines in 2-ounce pours, each carefully paired with seasonal gourmet creations from the hand of Ryan Thornburg using locally sourced ingredients designed to bring out the finest flavors of each.
Nicole Moersch is Marketing Director for Free Run. She tells me, "This year marks our 10th anniversary and we wanted to offer something entirely new, something that could elevate both the flavors and the experience for our customers." She adds, "We're happy to create a destination designed specifically for wine and food lovers here in beautiful and bountiful Southwest Michigan." As Nicole readily points out, "Many don't realize we're located in the second most agriculturally diverse area in the U.S., so tapping into this beyond winemaking has us over the moon."
All guests, whether arriving as individuals, couples, groups and the like, are encouraged to schedule a visit online at the link below. The option is available to sit at custom made high-top tables capable of seating up to eight, or nestled into cozy bench seating capable of handling up to twelve. Additionally, spur of the moment walk-ins will be happily accommodated whenever open availabilities present themselves.
All guests, whether experiencing a tasting or not, are welcome to open a bottle and relax on the large outdoor patio tucked among the vineyards and overlooking Free Run's beautiful pond. Nosh options such as charcuterie plates will also be available for enjoying outdoors.
Fans of Ryan Thornburg know that he is no stranger to the culinary scene. He first hit the market back in the 90s at Caffe Tosi as Lead Chef and then went on to serve as Executive Chef at Tosi's restaurant for seven years and then the Bistro on the Boulevard for another seven before establishing his own Thornburg & Company in 2011 with his wife Julie. Together they took advantage of all the local produce that Berrien County has to offer, producing locally made fruit jams, barrel-aged syrups & vinegars, varietal honey, and other chef driven retail products.
Having long been Thornburg fans, the Moersch family actually created a role for him this year as Culinary Director for not only Free Run Cellars, but also their popular Round Barn Public House restaurant in Baroda.
Chef Thornburg is excited about his new role, saying, "The most successful food and wine pairings feature complementary components, such as our Dry Riesling with a mango-crab stack & wasabi mayo or the Lake Michigan Shore Syrah with a locally sourced smoked duck breast & whipped goat cheese on puff pastry."
The newly re-branded Free Run Cellar tasting room at 10062 Burgoyne Road in Berrien Springs, will be open Friday through Sunday so click the link below for more and to schedule a visit for that experience. You can also reach them by phone at 269-471-1737.
Here's the link: http://www.FreeRunCellars.com