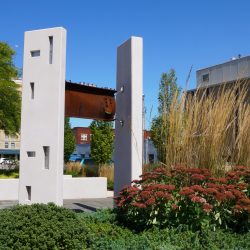 Organizers from Berrien County Strong - Community in Action will be pleased to know that the forecast for Tuesday morning, September 11, 2018 will be considerably closer to the crystal clear blue skies of 9/11 than it will to the day that Resiliency Plaza in downtown Benton Harbor was dedicated. That rainy, drizzly day -- while a nuisance from the weather point of view -- was a seminal day in the history of Benton Harbor and all of Michigan's Great Southwest when firefighters and first responders from multiple agencies across Michigan's Great Southwest turned out with hundreds of spectators for the revealing of a World Trade Center artifact that is now memorialized there.
At 12:15pm tomorrow, Tuesday, September 11th, a Remembrance Ceremony will take place at Resiliency Plaza at 201 E. Wall Street at City Centre, across from the Benton Harbor Fire Department at City Hall.
That Plaza hosts the 500-pound steel beam obtained from the Port Authority of New York & New Jersey and the September 11th Families Association. The beam was recovered following the terrorist attacks on September 11, 2001 which killed nearly 3,000 people, many of them first responders racing in to help others to get out.
Berrien County Strong- Community In Action will be hosting a wreath placement ceremony at 12:15pm tomorrow, in a short remembrance ceremony featuring local leaders, the Honor Guard, Fire/Police and EMT personnel in downtown Benton Harbor.
Speakers for tomorrow's even include State Senator John Proos, Berrien County Judge Gary Bruce, St. Joseph Mayor Mike Garey, Benton Harbor City Commissioner Edward Isom,  and Breeze Ettl from the American Red Cross Berrien County Chapter.
Peter and Cynthia Colovos and Christine Wilke, all from Prairie Real Estate, and the team from Pearson Construction were all instrumental in creation of World Trade Firmitas, the non-profit agency created in 2014 to construct Resiliency Plaza and maintain the display in perpetuity. Peter Colovos says the decision to anchor the artifact in Benton Harbor and call it Resiliency Plaza is because the city has been resilient through hard times, and it is just steps away from the home of many hometown first responders at the Benton Harbor Fire Department.
The public is invited and encouraged to unify once again by turning out for the Remembrance Ceremony at Resiliency Plaza at 12:15 tomorrow, Tuesday, September 11th, the 17th anniversary of the 9/11 attacks on our nation.
Even if you can't make it to the event tomorrow, you can help maintain the artifact well into the future by clicking the link below and then on the donation button found there. Here's the link: