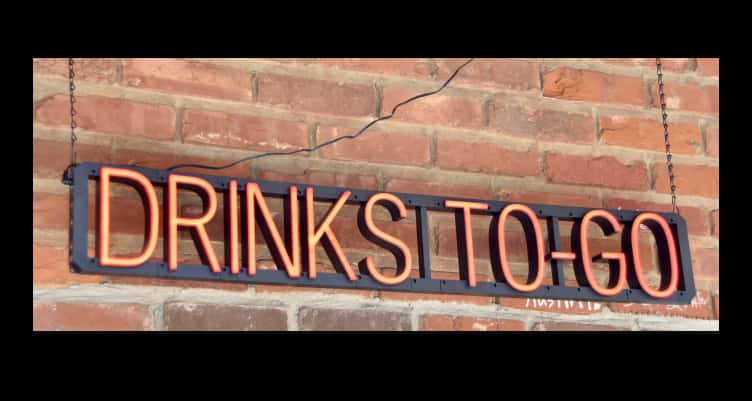 The impact of the coronavirus pandemic has hit doubly hard for those restaurants and businesses that ordinarily would be able to serve you a cocktail with your meal, even if it's just a gin & tonic with your burger from your favorite watering hole. After surveying the state regarding those who would still like to enjoy a cocktail with your carryout meal during the restaurant and bar shutdown and beyond, the industry is stepping up to get the rules changed to let you do so.
The Michigan Restaurant & Lodging Association (MRLA) has released research results this afternoon tracking consumer sentiment about off-premise alcoholic beverage purchases. The data, which was localized to Michigan based upon a survey conducted by the National Restaurant Association, showed the vast majority of Michigan adults support a proposal that would allow customers to purchase cocktails or mixed drinks made with distilled spirits with their restaurant takeout and delivery food orders.
There currently are proposed bills in the Michigan House and Senate that would allow for food service or retail food establishments to fill and sell qualified containers with beer, wine, mixed spirit drink or spirits for off-premise consumption provided the business abides by all Michigan Liquor Control Commission regulations. The drinks must be sold in a qualified container marked with a label stating "Contains Alcohol. Must be delivered to a person 21 years of age or older." The qualified container must be for off-premise consumption with a liquid capacity that does not exceed one gallon.
Justin Winslow, President and CEO of the MRLA, says, "We would like to thank Senators Irwin, Nesbitt and McMorrow and Representatives Webber and Anthony for their bipartisan efforts on the issue. This is proof that we truly are in this together. It is through collective efforts like this with shared purpose and dedication to finding creative solutions that will enable the hospitality industry and Michigan's economy to thrive once again."
Currently in Michigan, beer and wine are permitted for sale for off-premise consumption. The bills would extend sales to include mixed cocktails and liquor. According to information obtained from the Distilled Spirits Council of the United States, more than 30 states are already operating with some form of alcohol carryout and delivery from on-premise establishments like restaurants.
Winslow says, "The indefinite closure of Michigan's economy in the majority of the state has had a crippling effect on restaurateurs with many being forced to permanently close without incoming customer revenue. Enabling restaurants to sell cocktails and spirits with takeout and delivery will incentivize customers to patronize local restaurants, thereby generating additional sales to help keep doors open and more employees on payroll."
A large percentage of Michigan adults—78-percent—favor liquor-to-go from restaurants with the highest support from Millennials ages 24 to 39 (87-percent) and Gen X ages 40 to 55 (83-percent). Urban and suburban residents support this concept with 86-percent and 78-percent in favor, respectively. Seventy-two-percent of rural residents also support the proposal.
Significant survey results include the following:
Of the 78-percent of Michigan adults in favor, 34-percent strongly favor the proposal
Only 8-percent of Michigan adults strongly oppose such a proposal
Men and women were similarly in favor of a proposal with 79-percent and 76-percent in support, respectively
Both House Bill No. 5781 and Senate Bill No. 939, if passed, would allow municipalities to designate social districts where restaurant customers can consume purchased alcoholic beverages outside the four walls of the business.
Winslow says, "We stand by our statement—the hospitality industry is simply too big to fail in Michigan," and adds, "While we are pleased that Regions 6 and 8 have begun to reopen, we need ways to support all of the 18,000 private businesses statewide for which the summer months is normally a boon to business. It's a new normal in terms of business models for restaurants, and we need to throw them a lifeline. As our industry continues to find creative ways to generate revenue, authorizing liquor-to-go sales at restaurants is a step in the right direction."
Michigan Restaurant & Lodging Association (MRLA) is the recognized leader of Michigan's hospitality industry, providing essential services to the foodservice and lodging community. Founded in 1921 as the Michigan Restaurant Association and now known as the MRLA, the Association represents over 5,000 Michigan foodservice and lodging establishments. The industry plays an integral role in Michigan's economy, employing nearly 600,000 people and creating $40 billion in annual revenue. For more information, visit www.mrla.org.