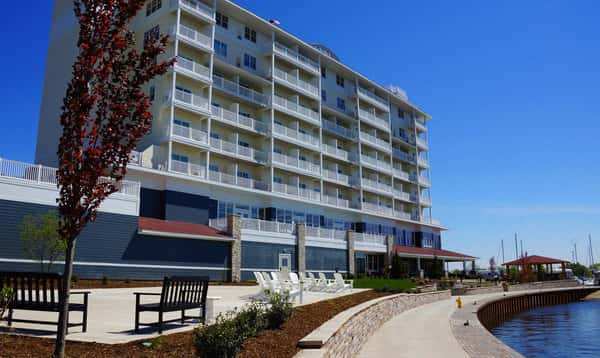 The ever growing presence of the Harbor Shores brand in Michigan's Great Southwest will pick up a new member of the family this spring in the form of the forthcoming Rise & Vine inside The Inn at Harbor Shores. The best part of that plan could be in the hands of skilled illustrators and/or design artists willing to enter the competition to design a new logo for the shop in the next month.
Rise & Vine is slated to become the latest amenity at The Inn at Harbor Shores this spring where facilitators will brew coffee beans by day and offer up sophisticated grapes by night. Management at The Inn at Harbor Shores say that both guests of the resort facility and the public alike will enjoy the new space located on the first floor with access from both the lobby of the hotel itself or a separate entrance leading directly to the parking lot.
Rise & Vine is designed to be a coffee shop, a retail space and a wine tasting center where you can sip, sit and savor the beverage of your choice.
Interestingly, the successful creator of a new logo for Rise & Vine will enjoy half-priced coffees for a full year there, earn an overnight stay at The Inn at Harbor Shores, $100 in credit toward food & beverages at Plank's Tavern, the ground floor restaurant at The Inn, and…of course…bragging rights for successful creation of the new logo for years to come. You have until the March 18th deadline to submit your proposed artwork to management at The Inn at Harbor Shores.
Before you begin free-handing your potential design, take a look at the rules by clicking the link below as there are standards you will have to meet. The Harbor Shores Resort community continues to grow exponentially in the community of Michigan's Great Southwest with amenities that include golf, a pro shop, a marina, hotel, banquet & meeting facilities, spa and fitness offerings, multiple private home development neighborhoods, condo options, restaurants and bars, walking trails and more.
Here's the link for the contest rules: http://www.innatharborshores.com/logocontest.html